News that Texas Gov. Greg Abbot sent scores of immigrants by bus to Denver took center stage in the latest debate between mayoral aspirants Kelly Brough and Mike Johnston on Thursday night, with both candidates offering largely similar approaches to the crisis. 
The 41 immigrants sent by the Abbot administration to the Mile High City is but a fraction of the 10,000 immigrants who have arrived in Denver since December, straining the city's resources and prompting pleas by Colorado leaders to the federal government for direct action at the border and financial aid for cities bearing the brunt of the crisis, such as Denver. 
Both Brough and Johnston said the solution is collaboration.  
Denver mayor's race: Brough and Johnston confronted over voting records, statements at previous jobs in 9News debate
"We can't stop people that would rather play political games with human lives," Johnston said. "What we can do is refuse to be a part of it, which means we can treat those people with dignity."
"We have to make partnerships with those who are willing to be partners," he added.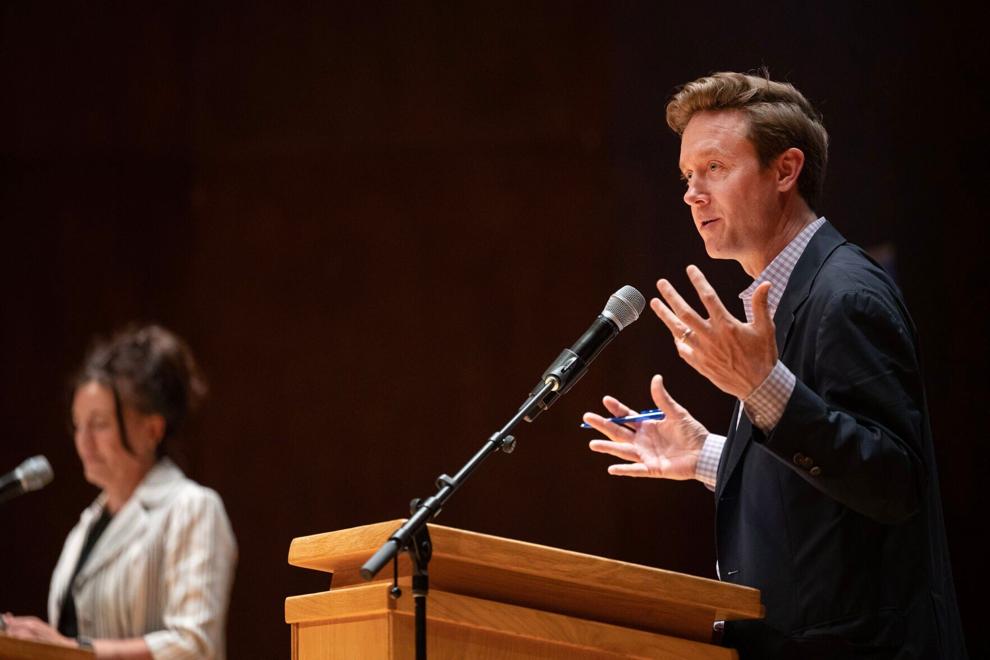 Johnston specifically suggested collaborating with El Paso in Texas, which he described as a community "trying to figure it out." Johnston said his approach would focus on connecting people to services, as well as getting them where they want to go, even if it means using city funds to send them outside of Colorado. 
Brough, too, agreed to the concept of using city funds to send people where they want to go.
"This is where the federal government is critical, in that we demand reimbursement of cost that only goes to cities that show up and do the real work," Brough said. "I also think this could be on the ground, where we partner with El Paso to help get people where they're trying to go, instead of using them as pawns to send around the nation."
The debate — hosted by the Denver Gazette, and the Scrivner Institute of Public Policy and the Center on American Politics at the Josef Korbel School of International Studies at The University of Denver, in partnership with Biennial of the Americas — also delved into the most pressing problems Denver faces. 
The debate also occurred at a crucial time: Ballots went out this week.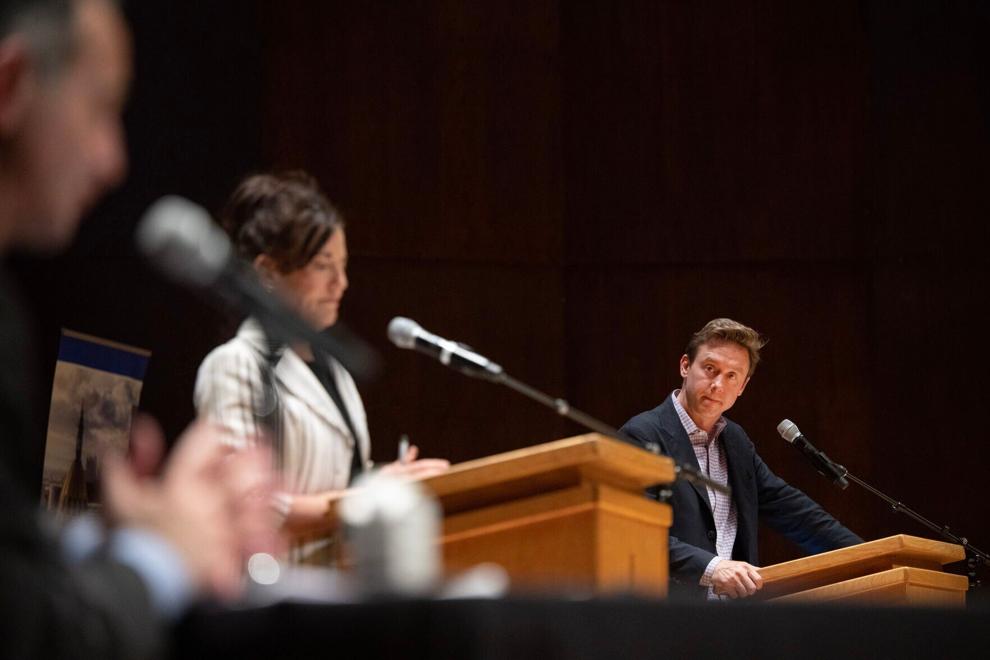 The exchange between the two candidates was civil, even when the subjects were heavy, and the pace of the conversation was quick.    
Both, for example, acknowledged downtown's struggles, notably with the perception of pervasive crime and rampant homelessness. 
Progressive stalwart Lisa Calderón endorses Mike Johnston for Denver mayor
"I would focus on ending unsanctioned camping and getting people to safer locations quickly, improving both the feeling of safety and the reality of safety," Brough said. 
She also called for more companies to reinvest in downtown, bring employees back and build residential neighborhoods, which, she said, would usher in vibrancy to the area.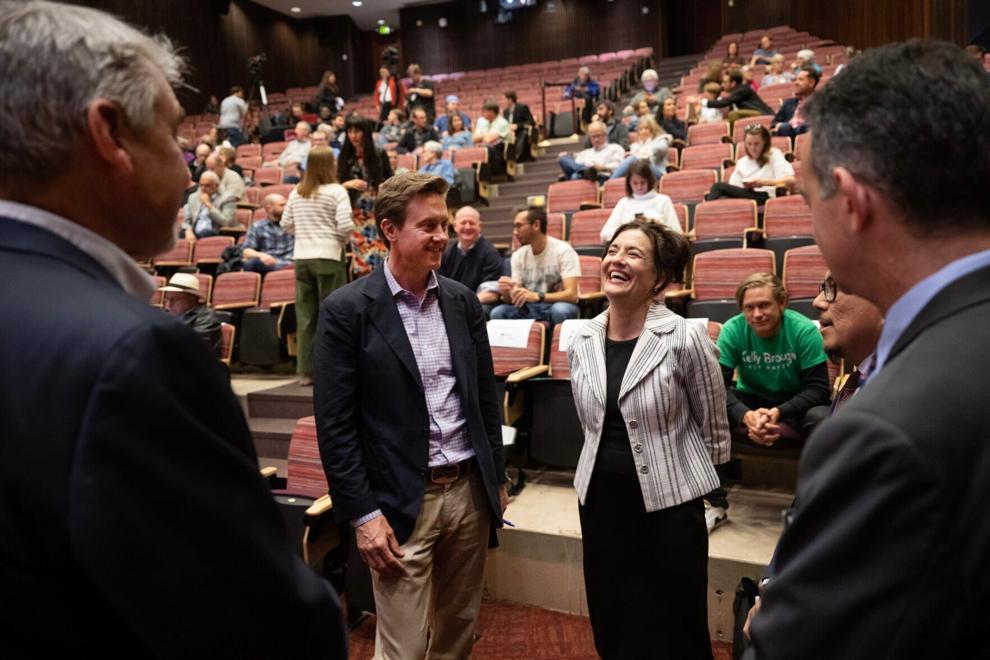 Johnston said he wants to focus on adding 200 first responders, including police officers, to Denver's ranks so as to increase what he called "authentic community based policing."
Johnston said the increased visibility and presence of first responders and officers would give people a sense of safety in downtown Denver. 
Several students from the University of Denver, where the debate took place, also asked the two candidates several questions. The group included Jacob Topping, Kania Campbell, Colin Karp, Robin Bilodeau and Clarie Yockey, who pressed the candidates on housing, public safety, transportation and climate change.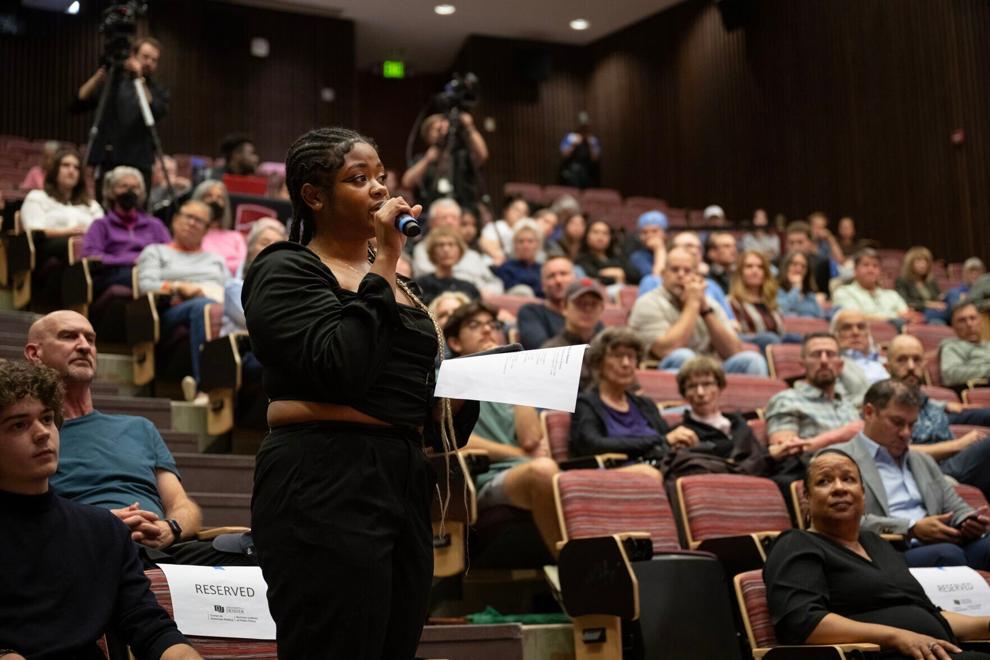 Kania Campbell wanted to know how each candidate would address gang violence in different communities around Denver. 
"I had an office in north Park Hill for 10 years, which is one of the hardest hit gang neighborhoods in the city," Johnston responded. "What I found is the most powerful way to keep a gun out of the hands of a 17-year-old is helping make sure that the 12-year-old finds a passion and purpose."
Kelly Brough points to experience as chamber CEO, mayoral chief of staff in Denver race
As solutions, he emphasized prevention, and increasing access and opportunity to athletics, arts, science and music.
Brough pointed to her experience as then-Mayor John Hickenlooper's chief of staff. The city had seen a worrying rise in gun violence, and police feared the city would see another summer of violence. So, the city, she said, made recreation centers free. 
"What you could expect in my administration is every member of my cabinet will be thinking about what is our role and responsibility to provide for our kids," she said. "I'm also really interested in paid internships and paid apprenticeships. This model works around the world."
The runoff election is June 6.