Nearly 500 more homeless people were found in the city and county of Denver this year than last year, according to a new report.
The 2019 Everyone Counts report, compiled by the Metro Denver Homeless Initiative, noted a 14.5% increase in homelessness — larger than the 8.2% noted for the entire Denver metro area, which includes all eight counties around the city.
The organization sends volunteers out every year in January to locate and note homeless citizens. In January, 3,943 people were recorded in Denver only, compared to 3,445 in 2018.
This year, 86% were living in some form of shelter, up from 84% in 2018.
The number of families living without a home has slightly decreased, with families comprising 20% of the total compared to 21% in 2018 and 24% in 2017. The number of unaccompanied youths is up slightly from last year, with 6% contributing to the total compared to 5% in 2018, but down from 8% in 2017.
The number of homeless veterans has remained fairly steady, contributing to 14% of the total this year, compared to 12% in 2018 and 14% in 2017.
This year's survey day was much colder than those in 2018 and 2017, the organization noted on its website.
Of the citizens surveyed, concerns regarding mental health were recorded for 36%, substance abuse for 31.6% and domestic violence for 9%.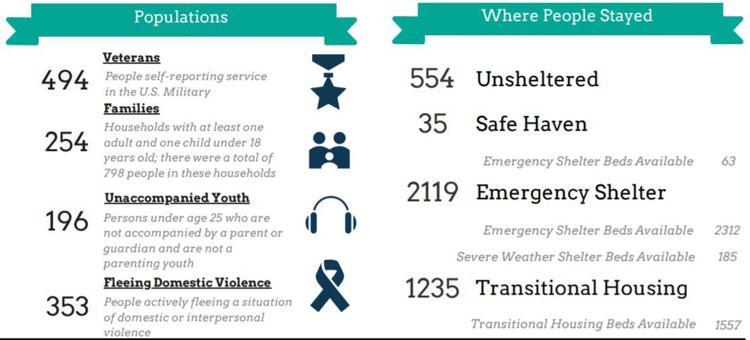 The report is used to "provide a snapshot of homelessness on a given night in the winter, which provides information on the scope of homelessness in metro Denver, increases community understanding, and helps inform efforts to respond to the needs of our unhoused neighbors," according to the organization.