Denver should more precisely determine the needs of syringe users, improve oversight of its service providers, and bring its ordinance governing syringe access in line with those of other cities, Denver Auditor Timothy M. O'Brien's office recommended in a new audit.
"I recognize data on people who use drugs or inject substances can be difficult to collect and that both the people using the services and those providing them might be hesitant to share too much," said O'Brien. "However, my audit analytics team was able to find useful ways to combine multiple data methods and sources as an example of how to reach a fuller understanding of the population."
The goals of the city's opioid response plan include harm reduction, prevention of drug misuse and improved access to treatment. In 2020, the Denver Department of Public Health and Environment awarded more than $912,000 to contracts for its syringe access and kiosk programs. 
Although the state legislature has not permitted supervised injection sites, Denver voters first authorized an access program for clean syringes in 1997. Harm Reduction Action Center and the Denver Colorado AIDS Project operate two fixed locations, and Vivent Health has a mobile unit. In late 2019, the department received approval to start up its own program through the "Wellness Winnebago." The Centers for Disease Control and Prevention has found a greater likelihood that people will enter treatment if they participate in such initiatives.
In 2019, the city also spent $12,000 to install four kiosk locations, all near downtown, to collect needles and other injectors to mitigate public health risk and the potential that sharps would enter the trash stream.
Auditors found DPHE uses a "decentralized approach" to managing its contracts, and that four divisions are responsible for monitoring providers. Further, there is inconsistent collection of program data and an "unstructured approach" to assessing the volume of people using the programs.
"To assess need and determine appropriate site locations and outreach routes, program managers should seek out information on where their potential participants purchase drugs and are likely to use them," the report noted. "The sites considered should be in close proximity to either activity to increase the chances an individual will also obtain sterile injection supplies and safe-use supplies when purchasing or planning to use substances."
When originally placing the kiosks, DPHE relied on park rangers and program workers about syringe collection to inform their decision, but did not subsequently perform a more accurate analysis. The department's data did not also factor in syringes found on private property, in the trash or through a large number of reports to 3-1-1, O'Brien's office said.
The audit analyzed 17,700 reports of drug activity, overdoses or sharps throughout the city between 2016 and 2019. Although downtown neighborhoods had the most reports, and also locations for kiosks and access sites, neighborhoods in the far northeast, southeast, and western sections of the city also had elevated reports relative to the city as a whole. The programs provide no service to those areas.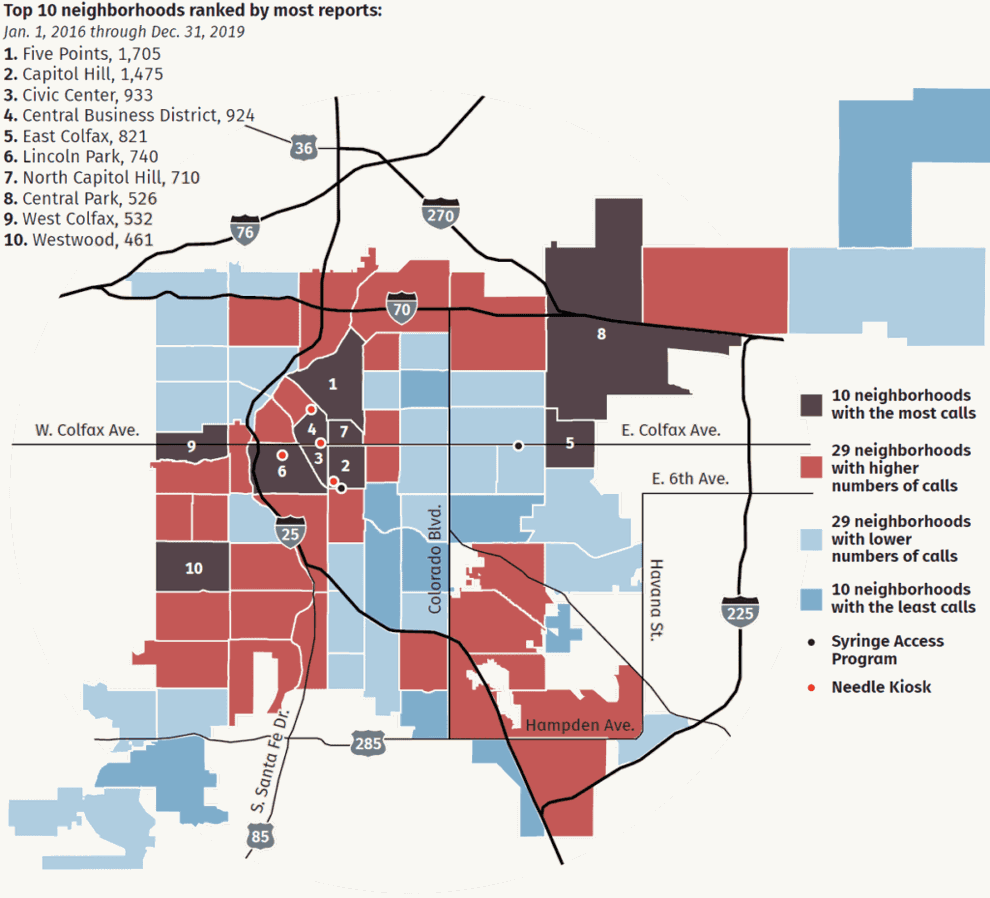 O'Brien's office recommended using researchers, police and public health data, or conducting a census to better understand needs and behaviors of needle users — keeping in mind that the kiosks and the syringe access programs may not serve the same populations. There were also multiple methods of estimating the items collected from kiosks, leading auditors to advise standardized collection and reporting procedures.
"A lack of communication and coordination with providers could contribute to the providers' distrust of the health department regarding data and whether program data is shared with police to guide law enforcement activities," the report observed.
Confusion among city offices about oversight responsibilities was a further concern, as was the fact that "providers did not submit reports on time, and Public Health and Environment staff did not review the content provided — which we found to be incomplete."
In addition to recommending "open lines of communication, a clear understanding of expectations, and a willingness to listen and learn from one another" between program operators and the city, O'Brien's office also posited that an update to city ordinance might be in order. Currently, the number of providers is capped at three, with a 1,000-foot restriction on operations near schools — something that other programs from San Francisco to Vancouver did not prescribe.
In responding to the report, Robert M. McDonald, DPHE's executive director, agreed to review staffing and oversight activities. He also mentioned the city was pursing changes to its ordinance prior to the COVID-19 pandemic, and gave a target completion date of Dec. 31.
However, McDonald doubted the feasibility of assessing the needs of syringe users to the degree the audit envisioned, and defended the use of existing data.
"While the Department understands the need for formal assessment of the needs of people who use substances, particularly those who inject substances, existing resources do not allow for the expansive analysis envisioned in the Audit Report," McDonald wrote. "It is important to point out that needs assessment findings on the location and placement of syringe access programs and sharps kiosks, may be very difficult to implement due to stigma towards people who use substances."
The audit came as a record number of Coloradans is dying of overdoses, with fatalities from the synthetic opioid fentanyl increasing by 282% in the first five months of the year in Denver. 9News reported that between city staff and existing sharps boxes in public building restrooms, Denver collected more than 144,000 sharps in 2018.