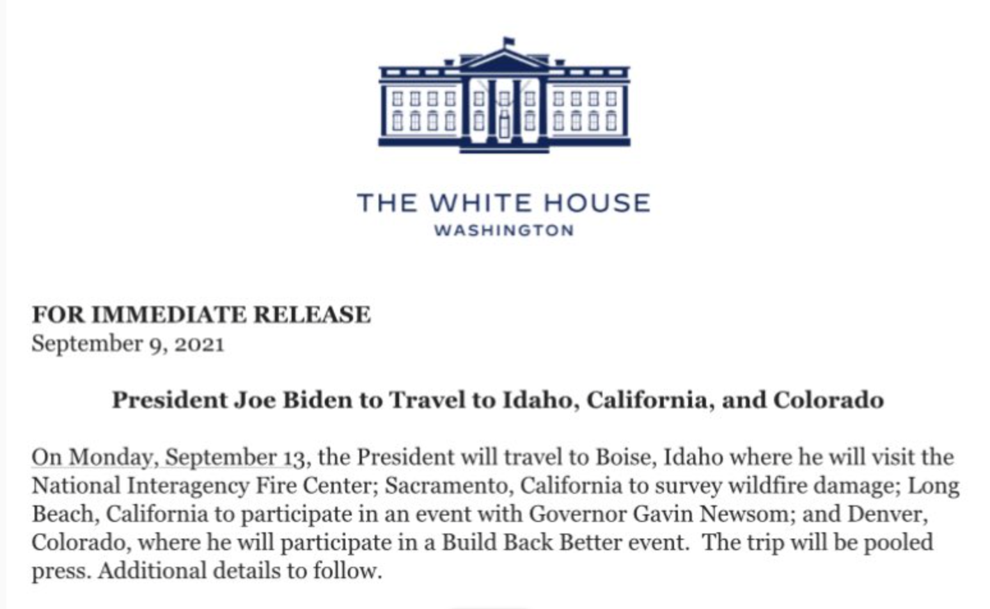 President Joe Biden is expected to visit Denver on Tuesday to talk about his economic policies, but it's not yet clear where or when.
The White House issued a briefly worded notice of the trip Thursday morning.
Press secretary Jen Psaki told reporters in Washington, D.C. that the president would tout his Build Back Better agenda to spend trillions in federal stimulus dollars to jumpstart the economy after the pandemic.
It will be Biden's first visit to Colorado since taking office in January.
Biden also is expected to visit Boise, Idaho; Sacramento, Calif.; and Long Beach, Calif., where he will campaign with Democratic California Gov. Gavin Newsom, who is facing a recall election that finishes on Tuesday.
Vice President Kamala Harris, who hails from California, campaigned with Newsom on Wednesday.
The Western tour is scheduled to begin Monday, with the stops in Idaho and California before the stop in Colorado on the way back to Washington.
Biden is expected to address wildfire relief in Idaho and California.
Harris made a stop in Denver in March to promote the $1.9 trillion American Rescue Plan, legislation meant to help the country emerge from the coronavirus pandemic.
Democrats are currently pushing a $3.5 trillion budget reconciliation measure through Congress, which is also considering a $1 trillion bipartisan infrastructure package.
This is a breaking story that will be updated as more information becomes available.