Denver's mobile coronavirus testing unit, Wellness Winnie, rolled up on a sunny Thursday morning in front of Grace Apartments in East Colfax, an area home to many of the city's immigrants.
The purple and blue Winnebago, which hit the road in mid-May, is run by the city's public health department and brings free COVID-19 tests to vulnerable and underserved communities, many of which have been disproportionately affected by the virus. Data from the state health department shows that black and brown residents make up an outsized number of COVID-19 cases and deaths, reflecting a similar trend across the country and around Denver.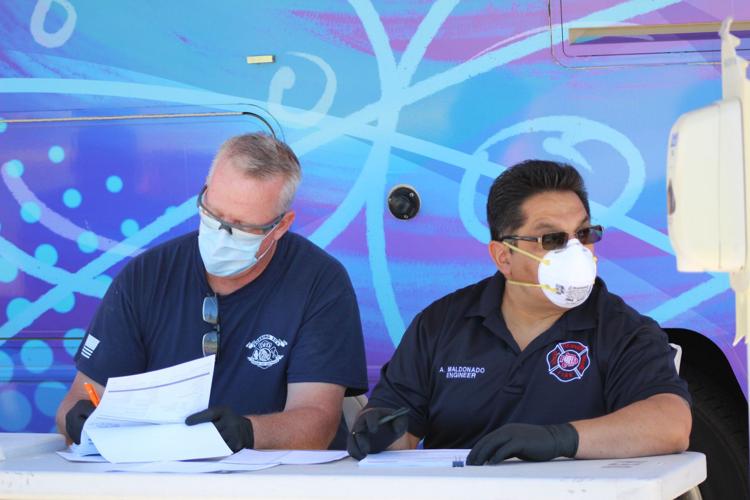 Grace Apartments is a 53-unit affordable housing community for immigrant and refugee families in need, and more than two dozen languages can be heard throughout the two-building complex.
"Not one of them is Spanish," said Quaneisha Collins, Grace Apartments' resident services coordinator, who helped organize the testing event. Many of the 300 or so people who live there are from southeast Asia and Africa.
That's where Emmanuel Kamabela, who emigrated from the Democratic Republic of the Congo, steps in. He lives at Grace Apartments and works there as a translator.
Kamabela helped communicate to residents earlier in the week that they could be tested for the virus just outside of the apartment Thursday morning, free of charge and without needing insurance. He could also relay the message that their immigration status would not be asked, which he said was a worry for some residents.
In addition to Wellness Winnie, the city offers free in-home delivery tests for people in need who schedule them by calling 311.
Denver also expanded its drive-up testing sites to six, including its largest at the Pepsi Center, which were identified by the city's Racial Equity Council as benefiting underserved communities. All city-run testing sites return results within about two days, are available to everyone and remain confidential.
For Kamabela, who wanted to get tested himself Thursday morning, his biggest fear was how badly it might hurt.  
"No poke, right?" he double-checked with public health officers, only half-seriously this time, with a toothy grin.
"I don't like the poke," he said as he jabbed his index finger into his arm, making himself laugh. Another woman waiting to get tested chortled behind her mask and said she agreed.
Betsy Chanthapaseuth, who works for Denver's health department, was there to ease his worries. She assured him the test would only include a nasal swab, and that she would be with him through the process, should he need her.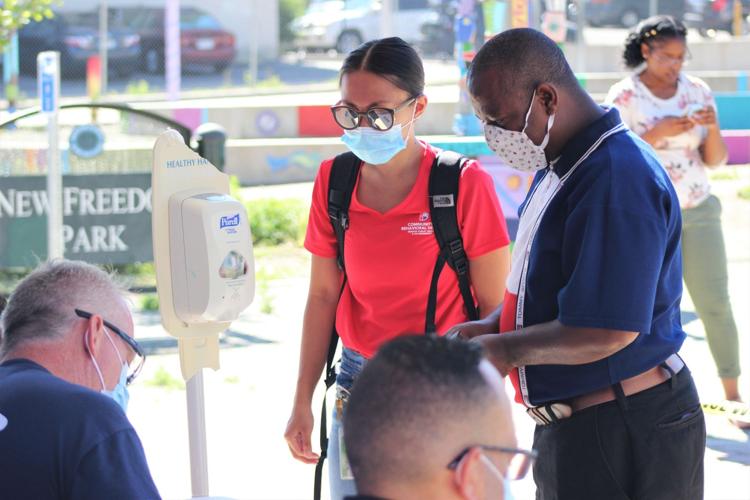 After a mother and her three boys, ages 9, 11 and 14, from Senegal were tested within five minutes, Kamabela mustered up the courage to step to the front of the line.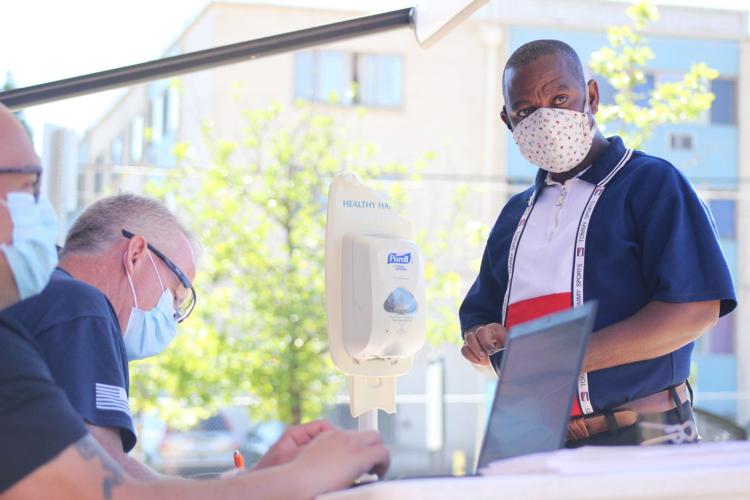 Chanthapaseuth guided him through the testing registration process, which can be completed online before a person is tested, or when they show up to be. The city requires name verification and accepts numerous forms of documentation, including a passport and library card. Health officials also ask for symptoms (Kamabela felt fine) and demographics, for data-gathering purposes.
After Kamabela registered, which took about a minute, he walked a few feet down a pathway lined with construction tape (for one-way traffic control) and met volunteers from Denver Fire Department under red tents who were helping conduct tests.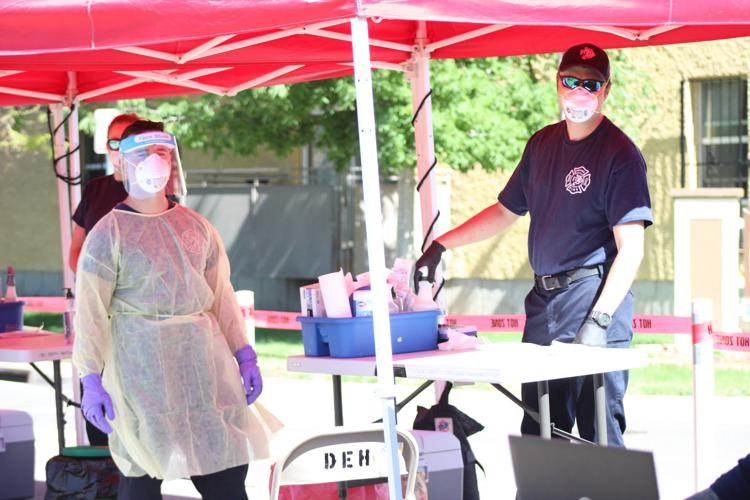 "No poke?" he asked for the third time, flashing his bright smile again, as he settled in the white metal foldup chair and waited to be tested.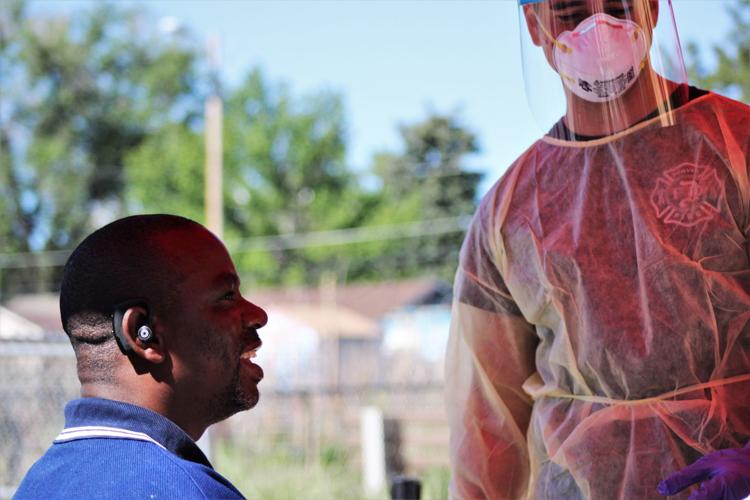 Denver Fire's Kai Halsey-Mendez laughed, as he grabbed the long nasal swab from another volunteer who was helping him administer the test. He assured him what he saw was what he would get.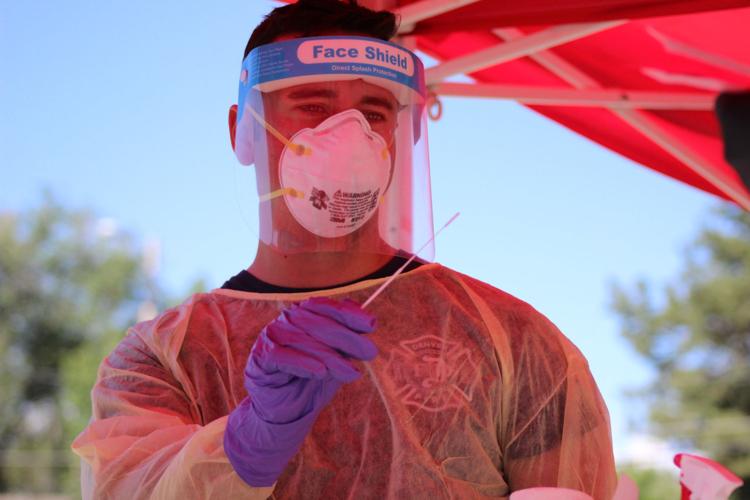 Halsey-Mendez lightly held the right shoulder of Kamabela, who tilted his head back for the test. The nasal swab was inserted deeply into both of his nostrils, a process that took less than 30 seconds, and Kamabela barely flinched, although his eyes watered up afterward.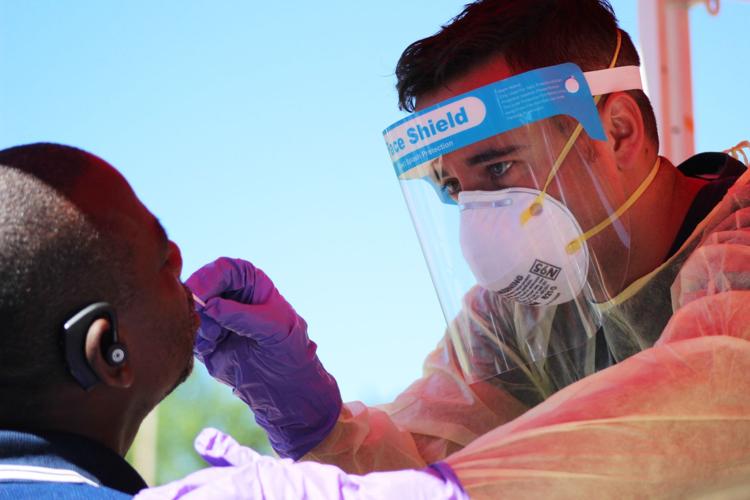 He flashed a smile again, relieved to be done and to free his mind, knowing he'll have his test results in about 48 hours. 
There are more than 6,100 positive cases of COVID-19 in Denver, according to the latest data from Denver Public Health, and at least 264 deaths. Although in Denver and across Colorado, COVID-19 cases and hospitalizations are both trending downwards, Gov. Jared Polis said this week that he's closely watching neighboring states, including Arizona and Utah, that are beginning to see upticks.