Together Denver, the campaign against Denver's Initiative 300 — which would repeal the city's urban camping ban and assert the right of the homeless to live on the streets — has raised $1,517,834 to defeat the measure, according to new campaign finance documents.
The new fundraising report sparked discussion Thursday night at the latest debate of Denver mayoral candidates.
Alvina Vasquez, a spokeswoman for Together Denver, said that the group's total through March 31 is more than two and a half times the $588,784 in campaign funds the group reported as of March 2.
It included 362 contributions, of which 77 percent were from individuals and 187 were for $250 or less, she said.
The major contributors to Together Denver read like a who's who of downtown Denver and the surrounding neighborhoods.
The Colorado Rockies contributed $10,000; Visit Denver, the city's convention and tourism bureau, contributed $50,000; the Larimer Square Management Group contributed $10,000 and the Denver Center for the Performing Arts kicked in $50,000.
The Downtown Denver Partnership contributed another $100,000, bringing its total contribution to $200,000.
Other large contributors included the Apartment Association of Metro Denver, $25,000; Donald Sturm, $25,000; the Denver Mountain Parks Foundation, $5,000; and the Taubman Company, $25,000.
Meanwhile, the Right to Survive Initiative has raised $79,189, which means Together Denver has widened its fundraising lead to a ratio of 19-to-1.
"This level of financial support demonstrates the level of concern in the community," Vasquez said.
Initiative 300 will appear on ballots that go into the mail to Denver voters starting April 15. Election day is May 7.
Roger Sherman, manager for Together Denver, said the level of financial support demonstrates serious concern over the ballot measure, which supporters have dubbed the "right to survive" initiative.
"However, the success of our campaign isn't based on the amount raised, but the conversations generated," Sherman said. "Together Denver has attended 97 presentations and community meetings and knocked on more than 51,000 doors. We are proud of the civic engagement and dialogue happening across the city."
Sherman said a computer glitch Thursday resulted in the campaign finance report becoming visible a day before it would normally be made public.
The fundraising by Together Denver in this municipal election is second only to that of Mayor Michael Hancock, who is seeking a third term. Hancock's most recent campaign finance report shows he has raised $1.74 million.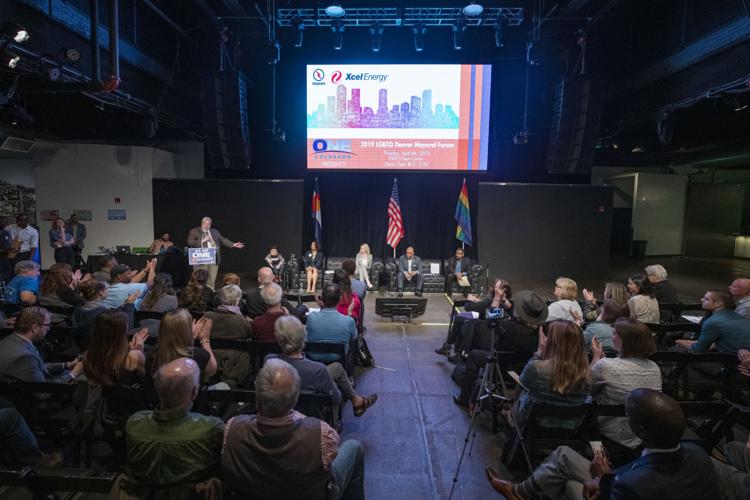 The anti-300 fundraising effort came up in the debate Thursday night sponsored by One Colorado, an LGBTQ advocacy group. This reporter was the moderator.
Kalyn Rose Heffernan, a community activist and one of the six candidates running for mayor, brought up the campaign spending after the candidates were asked for their positions on Initiative 300, which she supports.
 "To me, it's like, what we could do with that money, what those same businesses could do to house people?" Heffernan told a crowd of more than 150 people at the Exdo Events Center.
Mayoral candidate Lisa Calderon, a Regis University criminal justice professor, chimed in.
"All of the money that's going to defeat grass-roots organizers is shameful," Calderon said. "And instead, people need to come together on real solutions."
Sherman, the Together Denver manager, said this about Calderon's comment: "Grass-roots organizers certainly have a position that they feel is the right position. But that doesn't give them a pass just because it's a grass-roots effort," he said.
"I respect the passion that the opponents clearly have around this issue," he added. "But we feel they have put forward to the voters not only a non-solution, but something that could very well be the equivalent of a step backwards, not a step forward."
Candidate Jaime Giellis said she does not support Initiative 300 but added that she also opposes the city's urban camping ban, which the initiative seeks to overturn. The camping ban — enacted in 2012 — prohibits the homeless and anyone else from sleeping overnight on public property.
Penfield Tate III, who is opposed to Initiative 300, also criticized the Together Denver campaign fund-raising.
"Kalyn's right about one thing," Tate said. "It is shameful that people are spending $1.5 million to defeat an initiative that I don't think is the solution. And the [Together Denver] signs say, 'We can do better,' but they aren't spending $1.5 million to do something better.
"They're just spending $1.5 million to say no," Tate added. "The answer sometimes isn't to say yes or no. The answer is to work harder and find a better solution."
That comment prompted Hancock, an opponent of Initiative 300, to defend some of the businesses that have contributed to the Together Denver campaign.
"The philanthropic foundation community and the private sector have donated millions to address the issue of homelessness in this city," Hancock said. "And I don't know of any candidate up here that has written a check to help support and fight and deal with the issue of homelessness in the city of Denver."
"But I've got to tell you that the $1.5 million that they are talking about pales in comparison to the tens of millions of dollars that they have devoted to the issue of homelessness," Hancock said.
Sherman added this in response to Tate's comment: "I think it's fair to say that no one is happy that we're having to spend resources for this," he said.
"Everyone would rather, certainly our coalition members, would rather be focusing on something that is productive and solution oriented rather than having to fight an overly broad and poorly written initiative."
---
RELATED COPO COVERAGE:
> COVER STORY 2 | Occupy Denver fights camping ban with protests, boycotts
> Denver Mayor Hancock's 1st campaign ad features homelessness (VIDEO)
> Denver mayoral candidates debate growth, development
> Mayoral candidates offer their take on Denver — and who they would take on a tour
> Denver at-large council candidates debate development, gentrification