Say this about the new Denver City Council. They care.
And when you've got the kind of progressive mandate many of the 13 brought to the job, you expect policies that  lean to the most vulnerable members of society, and that's the kind of council this is.
Their votes have tilted progressive, and that should make advocates for the homeless feel more optimistic than ever that they can make bolder steps on an ongoing plight prioritized by mayors Michael Hancock and, before him, John Hickenlooper.
> RELATED: Denver council passes rules for tiny homes in bid to combat homelessness
At Christmastime each year, politicians join with advocates on the steps under the holiday lights of the Denver City and County Building and read aloud the names of dozens of homeless people who died on the street in the metro area. "We will remember," the candlelit crowd repeats after each name is called out.
The new council remembers, it would seem.
First came the the members' letter to Hancock last Friday. If the city is going to spend nearly a billion and a half dollars next year, the council wrote, then taking better care of the homeless should be in the mix.
And the letter had specific requests, not aspirational platitudes.
"As advocates for our constituents and the community, our goal is to ensure that the Mayor's $1.49 billion 2020 Budget allows all Denverites, in every neighborhood, to have the opportunity to share in our city's prosperity," the council wrote.
> RELATED: Denver City Council takes up proposed regulations for tiny home villages
The council wants $1 million for housing and rent support for the homeless, first off.
A super majority of members supported a request for $50,000 for free 24-hour lockers, so wanderers can store a few belongings. The council wants $180,000 to equip public restrooms and hand-washing stations for extremely cold weather.
"We must be as concerned with freezing people as we are with freezing pipes, and therefore must provide public restrooms during winter months," the council told the mayor.
The council also wants $200,000 for Denver Day Works, a program that allows homeless people to work cleaning streets with mutual benefits, "including employment and trash abatement," the council said.
Hancock will consider the council members' requests and submit his final budget to them before Oct. 21, setting up a public hearing on Oct. 28. The mayor could accept or reject any of a list of proposed amendments, but the 13-member council could override Hancock with nine votes.
The budget is due by Nov. 12.
I wanted to talk to the mayor's office about Hancock's take on the requests, but a spokesman said the administration is working on its response to the requests and passed on the opportunity to discuss the council's proposals. We'll see what that means, eventually.
Friday's budget offensive was followed by a Monday night council meeting of historic proportion, a broad diversification of the city's residential zoning code to allow villages of tiny homes (basically, a shotgun shed) populated by those who otherwise might not have a roof over their head.
The measure allows the villages on a site for up to four years, often in land waiting to be developed, said Councilmember Robin Kniech, who drove the proposal.
Denverite after Denverite spoke up for the idea and no one against it before the council voted unanimously in favor. But in reality there's no specific waiting list of people waiting to build the villages, which would cost about $600,000 at about $30,000 a unit of about 400 square foot. It doesn't have a bathroom or a kitchen, but it has a front door with a lock, a roof and a stitch of dignity.
And it's the progressive thing to do.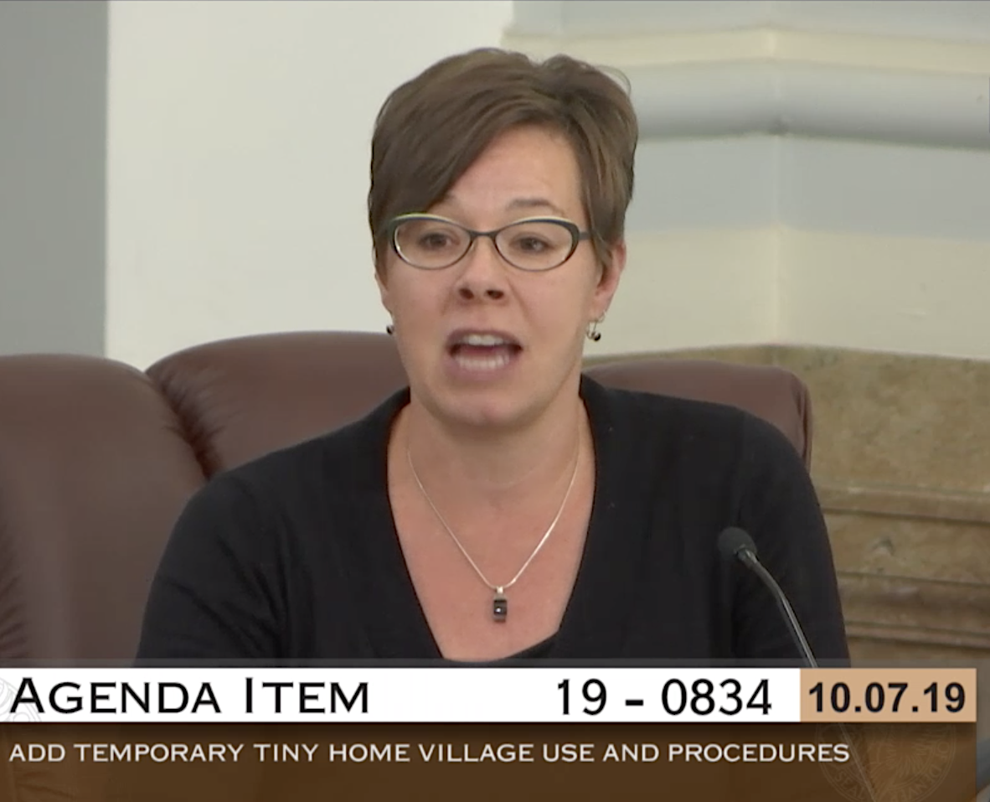 Paul Bindel, the co-founder of Queen City Cooperative and Colorado Solidarity Fund, told the council about micro-solidarity, "small groups of people banding together and supporting each other economically and emotionally."
He said people have been doing it since colonization, from the Underground Railroad "to today, small groups of people trying to survive."
Today, that includes Denver's runaway real estate prices "and the neoliberal policies we've inherited."
John Hayden owns property a few blocks from where the first Beloved Community of tiny homes was built in Five Points.
"What a difference it made for the people in that village to have that sense of community, versus what we've seen in the larger shelters on the other end of our neighborhood," he told the council.
"We have this view of these two very different views on ways of treating people experiencing homelessness."
He said putting the villages across the city will do good things in not so apparent ways.
"It will reduce the sense of the homeless are other from us," Hayden said. "People need to understand that people experiencing homelessness are, in fact, our neighbors."
The Colorado Village Collaborative is looking for a site for a women's village with 25 units.
Councilwoman Robin Kniech and Councilman Chris Hinds called the tiny homes "one more tool in the toolbox" to addressing homelessness, and he said that now it's time for communities to step up and welcome in the villages and its residents, rather than relishing them to the outdoors in their alleys.
"As we diversify our neighborhoods, I think we become healthier as a city," Hinds said before the vote. "We become healthier as a neighborhood, and, frankly, I think we become healthier as individuals."