The Denver City Council is expected to pass a resolution Monday night that will funnel additional federal COVID-19 relief dollars into the city's Nonprofit Emergency Relief Fund, a move meant to ensure local organizations can continue programs and services across a spectrum of needs for residents during the pandemic.
If approved, a contract between Denver Economic Development and Opportunity and the Colorado Nonprofit Development Center would be amended to increase funding by $750,000 for a new total of $4.75 million. The extra support comes as a response to "significant demand" from local, small nonprofits, according to DEDO.
The Colorado Nonprofit Development Center receives up to 5% of the program cost for its services, including financial review, issuing and disbursing grant funds, and following up with grantees as needed. 
The program provides one-time grant assistance up to $15,000 per grantee. As of Oct. 1, the NPERF had completed three rounds of funding for a total of $1.8 million in grants to 184 Denver nonprofits. The majority of the grants, about 38%, were awarded to nonprofits generating a revenue of $300,000 or less annually.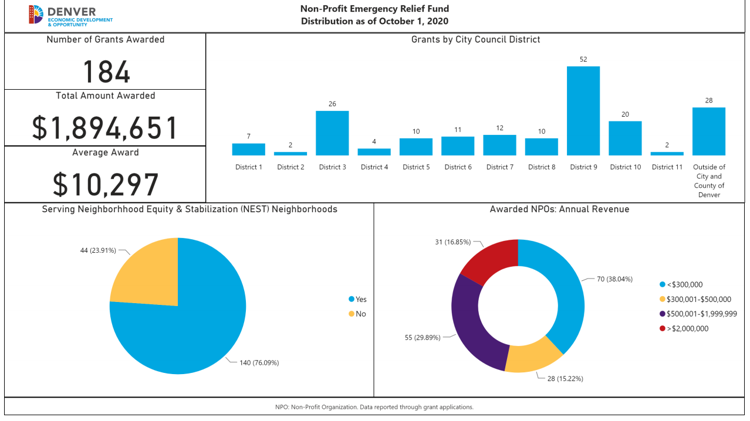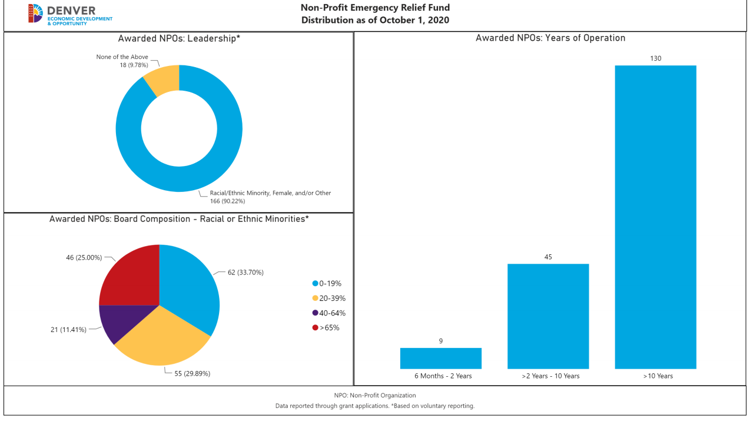 Nonprofit applicants are reviewed based on disruption of services and programs, increased demands, decreased donations, and new or expanded services in response to the pandemic. 
Priority is given to nonprofits that serve vulnerable and historically marginalized populations, including people of color, residents experiencing homelessness and people living with disabilities, as well as those that work within the city's "priority" neighborhoods, such as Elyria-Swansea, Globeville, Northeast Park Hill, East Colfax, Montbello, Sun Valley, Valverde, Villa Park, West Colfax and Westwood. Nonprofits whose staff and board members reflect the communities they serve, may lack access to traditional public funding, or may provide programs or support directly related to COVID-19 relief, will also be prioritized. 
The NPERF program is expected to serve about 400 local nonprofits with individual grants through the end of the year, when the contract term is set to expire. 
Applications are accepted and reviewed on a rolling basis. Nonprofits can "expect to be notified" if awarded within three weeks of submitting an application, according to DEDO. Eligible nonprofits are encouraged to reapply if they have been previously denied.
For a full list of NPERF grant awardees as of Oct. 1, click here.