Denver leaders are bracing for a "sobering" and "heartbreaking" winter, one they suspect could bring another dreaded lockdown as coronavirus cases climb to new heights across the city.
The state on Monday downgraded Denver to Colorado's safer-at-home Level 3 status, which forces businesses, gyms and offices to reduce their capacity — one step above returning to the stay-at-home order that was issued in late March. 
On Thursday, the Denver City Council's Budget and Policy Committee met with the city's public health director to talk about what happens next.
"We followed Europe to a T in the spring — to a T — and I can see what is happening in Europe now," Councilwoman At-Large Robin Kniech said, referring to a new wave of lockdowns sweeping through the western countries. 
Of restaurants, bars, salons and other businesses staying open, she predicted, "these things are going to come to an end. And the question is: Do they come to an end all at once, [or] do they come to an end in phases?"
Bob McDonald, executive director of Denver's Department of Public Health and Environment, said Kniech was right.
"I don't think there's anything there that I would disagree with," he said. "But there are things that we can do before we get to the stay-at-home order … It does not have to be feast or famine, and we shouldn't take that approach." 
The next round of restrictions, for example, might include suspending athletic programs, McDonald said, which are reporting outbreaks. 
"Public health comes first, and we're going to continue to try and strike the right balance every step of the way," he said. "That being said, we know that if there's more unemployment, more businesses go under, people can't pay their rent, they can't pay for their housing, they can't pay for food for their families, or utilities, well, now we have more public health problems. 
"But that is not what drives the decision," he said. 
City and state health officials largely look to three metrics to make their calls: the city's two-week cumulative case count, the two-week average positivity rate, and its one-week hospitalization average.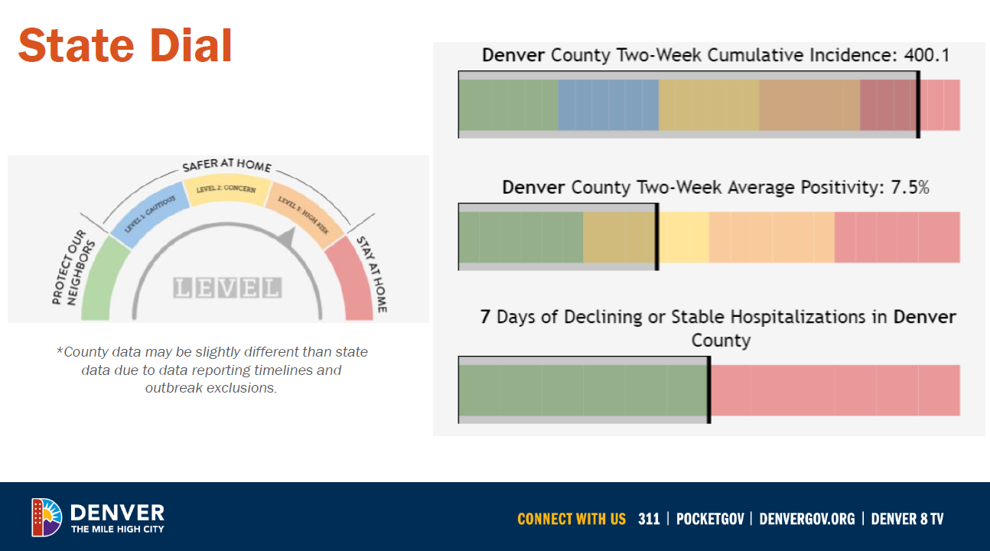 On Monday, Denver Mayor Michael Hancock reported that the city confirmed 375 cases Sunday, the most recorded of any single day since the start of the pandemic. The previous high was set Saturday, topping the record set Friday. 
Hospitalizations are rising rapidly, too. As of Sunday, 98 were hospitalized, the most since late May. McDonald on Monday warned that hospitals are headed for trouble and will face capacity problems within weeks under current projections.
Under the second most-severe set of restrictions put in place Monday, Denver Public Schools is recommended to stop in-person learning and the number of people who can gather together in places of worship, businesses, restaurants, retail stores and other public-facing businesses are now limited at 25% capacity.
Less than two weeks earlier, the city mandated masks outdoors, with the exception of when walking alone or with a household member. Denver officials also cut the number of unrelated people who could gather together to five instead of 10. 
On Wednesday, the city revised its guidelines around gathering to align with state guidelines: Now no more than 10 people from no more than two different households are allowed to gather, and masks must be worn when mixing households, even when outdoors.
In nearly every instance, Denver has remained more aggressive than the state in its public health orders and more restrictive than most surrounding communities — a strategy that will continue going forward, McDonald said. 
The city has shifted its COVID-19 testing strategy by subverting testing resources to smaller community testing sites. The health department at the end of September closed the mass testing site at the Pepsi Center, which opened in May, to focus on community-based testing in underserved communities. 
Two sites, Paco Sanchez Park and Montbello Recreation Center, opened this month to improve testing among people of color — particularly Black and Latino residents — who are experiencing disproportionately higher rates of the virus.
Compared to the Pepsi Center location, McDonald said the two smaller sites are drawing in higher testing rates among both groups. Of people served at Paco Sanchez, 32% identified as Latino, a roughly 40% higher rate than those tested at the Pepsi Center. More than 10%, or nearly three times as many people who identified as Black at the Pepsi Center site, have been tested at the Montbello location.
McDonald said the city is "working quickly" toward setting up another static site as well to help with demand, which has overwhelmed the sites and presented traffic challenges. 
"It's not every day, but we tend to see that on Mondays … after a furlough day or holiday or something like that where there's that downtime," he said. 
City employees, who man the testing sites, were furloughed Monday, Oct. 16, one of eight unpaid workdays required this year to help close a $220 million budget gap caused by the pandemic. That meant someone who might have been symptomatic Friday night could not have received a free test at a city site until Tuesday morning. 
"There is an epidemiological aspect to having testing open on weekends," said Kniech, who has been advocating for fixed testing sites with predictable hours. "Everyone has made very clear that the longer the lag time in terms of testing results, the more difficult it is for someone to quarantine, particularly if they have minor symptoms and they're very unsure that, you know, they're potentially spreading."
McDonald told Kniech he was "committed to doing testing seven days a week in every location that we have," but that the sites will need to be cut off at 4 p.m., to get that day's samples to FedEx, where they can be shipped to a testing lab. 
While McDonald did not provide any hard timelines, he said that hours at the Montbello site, which is not open on weekends, would be expanded sometime "in the next couple of weeks." The site initially was open on weekends but had to be closed due to traffic conflicting with weekend events in the area.
Council President Stacie Gilmore told McDonald there was "unfortunately" no communication between his office and hers around the launch of the Montbello site, which is in her district. 
"If we can shore up those communication lines, we stand here ready to help get that information out," she said.
McDonald said his office would be reaching out to council members to partner on a new communications campaign around community testing. 
"It stems from a meeting that I've had with a couple of you regarding how do we overcome that communication barrier in underserved communities, or communities where there's a high percentage of people of color … and the challenges with those communications and perhaps even trust at times," he said. 
The new campaign would include a series of videos with pandemic-related messaging from a health department official and each council member. McDonald said the effort is being coordinated in partnership with the mayor's office.