Denver's health department and the state's restaurant industry are butting heads when it comes to whether eateries are safe amid a raging pandemic. 
The clash comes as the city and 14 other counties face new public health orders that will, among other restrictions, temporarily ban indoor dining and move last call for alcoholic beverages from 10 p.m. to 8 p.m. 
Sonia Riggs, president and CEO of the Colorado Restaurant Association, warned the new restrictions would be "catastrophic" for the industry, with the association's most recent survey among stakeholders indicating nearly a quarter of restaurants in counties entering this new "Severe Risk" level could close in less than a month. 
"This feels like an especially difficult blow considering there is little evidence tying dining to surging cases," Riggs told Colorado Politics on Tuesday. "Most spread is happening in private gatherings."
However, Danica Lee, the public health investigations director of Denver's Department of Public Health and Environment, disputed that claim, citing recent outbreak data. 
Of potential outbreaks reported to DDPHE over the past 6 weeks, Lee said, 23% have been associated with restaurant settings — and that percentage is likely an undercount.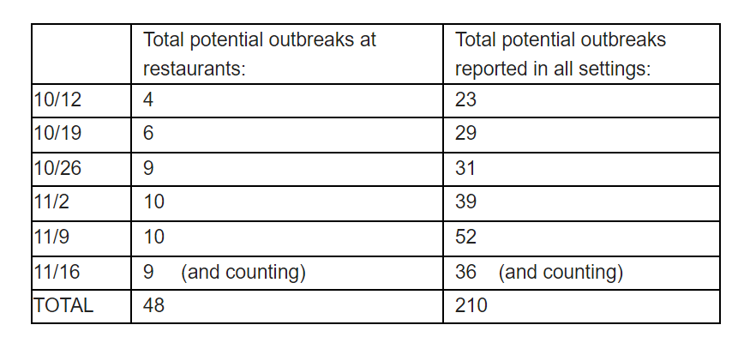 Due to the soaring number of outbreaks reported to local public health departments across all types of settings, most local health departments, under guidance from the Colorado Department of Public Health and Environment, are prioritizing their outbreak response to address the "most vulnerable" locations, including long-term care facilities, schools, prisons, homeless shelters, hospitals, government buildings and the airport.
As a result, Lee said, many outbreaks in other settings, including restaurants and offices, may no longer be confirmed and appear on the state health department's website. 
"What is concerning about this is even if a restaurant is not confirmed as an exposure location, there's high probability those employees who tested positive for COVID worked during their infectious period," she told Colorado Politics on Thursday. "Restaurant workers are considered critical, so even if they are a close contact of a positive case, they are allowed to work with vigilant controls in place. 
"Working in a restaurant while infectious is somewhat risky because staff come in contact with customers who are not wearing masks and they are likely not 6 feet away from customers, which leads to a potential exposure," she added. "This reinforces the fact that any public setting is a risk factor, even riskier are indoor setting without facial coverings."
The restaurant association said if the industry is to survive, "significant cash help" is needed, and needed now. 
"We ask the state to pass meaningful relief for this industry as quickly as they can, and we ask local governments to continue to support local restaurants with grants and loans, rent and mortgage assistance, and reduced regulatory costs," Riggs said. "And we ask the public to avoid private gatherings, to wear masks, and to wash hands to get these numbers down as quickly as possible so we can reopen. 
"We also ask the public to please continue to order takeout and delivery and dine outdoors — consider what you'd lose if you lost your favorite restaurants and understand that they are on the brink. They need your help to get through."