The city of Denver in partnership with Denver Public Schools awarded $123,000 in microgrant funding to curb rising rates of youth violence.
The Tuesday announcement trails a deadly week in which four teenagers were shot and killed in Denver. At least 10 teens have died from gun violence this year.
"These community organizations are critical in keeping our neighborhoods safe for everyone," Mayor Michael Hancock said in a statement.  "The pandemic has made their work even more difficult.  Without this support, some of these programs would have faced an uncertain future during the summer months when the need for youth engagement is highest, especially now."
The city prioritized grantees that primarily serve young people in the Southwest, North and Northeast portions of Denver, although some provide services citywide.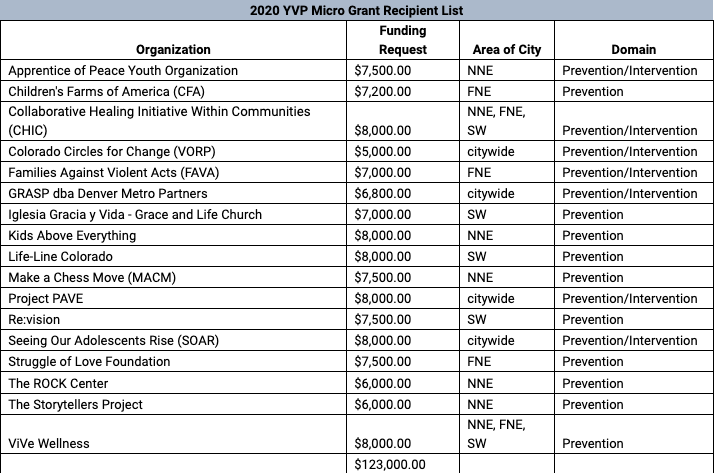 In February, Hancock announced the city would match DPS' $100,000 commitment toward safety solutions, for a total of $200,000. The Department of Public Safety later allocated an additional $25,000 toward the partnership.
The city has reserved $2,000 "to help organizations with insurance if necessary since the city now requires cybersecurity insurance, which many organizations do not have," Ryan Luby, spokesman for the City Attorney's Office, wrote in an email. "We did not want that to be a barrier for them."
Denver's grants are funded through the Department of Public Safety Youth Programs to build out summer activities for kids. Teachers, principals, community organizations and leaders were eligible to apply for up to $10,000 for "safe and healthy activities" for students.
Grant distribution through DPS, which was intended to help develop school-based youth programming, has been put on hold due to the coronavirus pandemic, Luby said. 
Earlier this year, Hancock convened the Youth Violence Prevention Action Table to enhance youth violence prevention strategies and identify new ways to help tackle the issue. Part of his efforts have included launching a 1,200 gun lock giveaway and leading a phone call with the community on the issue.  
The committee is following a "public health approach" to addressing youth violence and will submit a final report with a "detailed set" of deliverables and recommended strategies to Hancock and the Denver City Council by the end of the year.
Between 2016 and 2019, the city has seen a 160% increase in juveniles charged with possession of a handgun, according to court statistics. Last year, five kids were charged with first-degree murder.
In 2019, at least 570 guns were stolen from cars and homes in the City and County of Denver, according to Denver Police Chief Paul Pazen. Although that figure represents a nearly 11% decrease in gun theft since 2017, he said it's still too many.
The microgrant funding "is but a step of multiple steps that we're going to take bring folks together to improve what we're doing to come up with new ways to address the challenge," Hancock said in February.