Following a scheduled 30-minute public comment and right before Denver City Council commenced its regular Monday evening meeting, council chambers were overtaken by protesters demanding racial justice and calling for the defunding of the police.
Council President Jolon Clark of District 7 at first tried to compromise, but his efforts weren't kindly received.
He proposed to one of the leaders of the group, who wore a red "Party for Socialism and Liberation" T-shirt, that the council carry out its legally required business and then resume public comment afterward, as has been done in the past three council meetings following local protests spawned by the death of George Floyd.
But the crowd erupted in anger in response to Clark's olive branch. One person screamed, "Business as usual is the problem!" followed by another who yelled, "The community is your business!"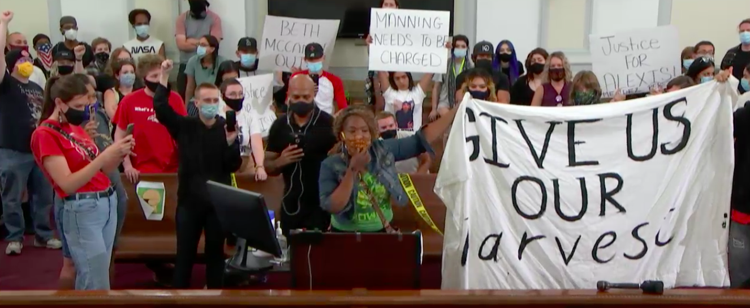 Clark suspended decorum rules and handed over control to the protesters, which included activists from Black Lives Matter 5280 and the Party for Socialism and Liberation. Council members on the dais sat silently and listened, as members of the group repeatedly listed off people of color who have been killed by officers and deputies within Denver's police and sheriff departments, including Michael Marshall, Marvin Booker and William DeBose. 
Two sisters of Alexis Mendez-Perez — a 16-year-old who was shot and killed in May by an off-duty Department of Corrections employee while Mendez-Perez ran across his backyard after allegedly breaking into a nearby home — held back tears while demanding justice for their little brother. No charges were filed in the incident.
Meanwhile, Councilwoman Candi CdeBaca of District 9 cheered protesters on by raising her fist in the air, clapping and filming the protesters.  
"This is what democracy looks like," she said after the 2 1/2-hour public comment session came to a close.