Denver City Council members on Monday night grappled with a choice: Should the city continue doing business with the Colorado State Judicial Department to keep two full-time probation officers in schools, despite Denver Public Schools' recent plans to sever ties with police officers, or kick them out without a backup plan?
Their decision loomed large over council chambers, which had been flooded by angry protesters demanding the defunding of the police.
In a surprising victory for Councilwoman Candi CdeBaca of District 9, who took issue with the contract during the bill's first reading a week earlier, the council killed the bill in an 8-4 vote. In CdeBaca's corner were council members Stacie Gilmore, Chris Hinds, Paul Kashmann, Robin Kniech, Amanda Sandoval, Amanda Sawyer and Jamie Torres.
Across the aisle were council members Kendra Black, Jolon Clark, Kevin Flynn and Chris Herndon. (Councilwoman At Large Debbie Ortega was absent for a surgical procedure.)
Earlier, as the council commenced its meeting after 2.5 hours of unrestricted public comment, CdeBaca implored protesters who were exiting council chambers to stay and hold her and the rest of City Council accountable. See "if they listened" to demands, she said. Most stopped in their tracks to listen to her, cheered, then sat and stayed. 
"To residents and constituents who came to council tonight and STAYED beyond their comments, I hope you all witnessed what happens the minute the public turns," CdeBaca tweeted around 9:30 p.m., shortly after the vote. "If it were not for your presence for the votes, everything I called out would've passed."
The nearly $76,000 contract amendment with the state's judicial department would have paid for two full-time probation officers as part of the city's decade-old Gang Reduction Initiative of Denver program, a group of federal, state and local government agencies, as well as Denver businesses and community-based organizations, that "work in a collaborative manner" to tackle gang violence. 
CdeBaca and several other council members raised concerns with the contract, in part, because of its timing: The contract expires June 30. 
"I'm troubled that we're being asked to approve a contract when it's already over," Torres of District 3 told Michael Sapp, the safety department's government and community affairs director, on Monday night. "We're being asked to fund something that's already been happening, and for a contract to come through after the work has started, that puts us in a difficult position."
"You could have brought this to us in October, November, December, and we could have — through our committee process — asked these questions," said Gilmore of District 11. "It's so disrespectful."
Other council members said they felt compelled to vote in favor of the contract to ensure employees did not go unpaid for their work. 
"We missed the mark," Sapp, who was booed and heckled by protesters, conceded before council members.
He explained that the contract delay was related not only to GRID's executive director resigning in December, but also to the coronavirus pandemic. The virus caused the contract term, which was initially planned to run through the end of December, to be shortened by six months.
Still, he told Colorado Politics, the safety department "could have communicated early and often about this particular contract. … We have to identify spaces where we can provide context and background on the scope of these contracts."
The contract amendment would have covered salary for one probation officer in GRID's Gang Resistance Education and Training program, as well as another in GRID's Juvenile Intensive Supervision Program for juvenile handgun-related crime.
Because the bill failed, the salaries of those two workers will have to be covered by other funding, Sapp told Colorado Politics on Tuesday.
"We are working with our finance department, with Safety, and with our city attorney's office to figure out how to pay those invoices," Sapp said in a phone interview. "Obviously, with the contracts not being renewed last night, these conversations are still ongoing."
Once funds are identified, Sapp said, "we need to figure out a procurement strategy for the two programs," whether it be pursuing a "sole-source contract" or going through a bidding process.
However, choosing to abandon GRID and its programs, which have cost nearly $1 million over the last 10 years, is currently not an option, he said.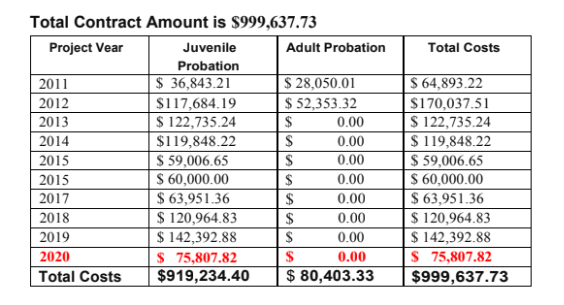 "We want to continue to promote prevention programs in partnership with our public schools," Sapp said, especially when police officers will be phased out of Denver Public Schools by June 2021.
"The reality is that there are young people who bring handguns into schools, and there are young people who have beef or friction with other youth at schools," he said. "This is a resource and a tool to help mitigate that violence. But, more importantly, it's a tool to help get to the root cause of that violence" through a "restorative justice approach." The overarching goal is to "help to end the school-to-prison pipeline."
Sapp pointed to the fact that Denver saw a 160% increase in juvenile handgun-related crime between 2016 and 2019. But the councilors who spoke up during the meeting Monday weren't convinced.
"I was very supportive of school board directors Tay Anderson and Jennifer Bacon ending the contract with the Denver Police Department for police officers to be within our school, and in learning more about this contract, there's no way I can support it," Gilmore told Sapp on Monday night. "There's no place for probation officers to be within our schools."
DPS Superintendent Susana Cordova told Colorado Politics that Denver City Council's decision to end the contract with the state judicial department is "in alignment with our recent move" to remove officers from schools. 
Earlier this year, Cordova said, the district enlisted longtime community leader Elbra Wedgeworth to work on solutions to ending youth violence. 
"The safety of our students remains a top priority, and we will continue to work with our trained staff of 135 DPS Department of Safety employees and the community on tackling youth violence head on," she said. 
The council's sudden move on Monday night is reminiscent of what unfolded in council chambers last August, when CdeBaca drove enough votes to cancel $10 million of private prison contracts for CoreCivic and GEO Group, a gesture at President Donald Trump's support for the companies, especially at the U.S.-Mexico border.
Similar to Monday night, the council made their decision last summer without a plan for what comes next.
"It upended the whole system," Troy Riggs, Denver's former public safety director, told Colorado Politics earlier this year.  
Sapp isn't discouraged and pledged to soon "sit down with all stakeholders, including the City Council," to collaboratively shape the safety department's procurement plan for the state judicial program and the future of restorative justice in Denver.
What's ahead, he said, is "an opportunity to turn a page."