A vision three years in the making to reimagine a park in a historically underserved area in west Denver has been brought to life. 
The $12.5 million "Re-Imagine Play" project at Paco Sanchez Park features eye-catching playground equipment, including a zipline, walking loops, and play "pods," all built large enough for adults to get in on the fun. The community-led design infuses vibrant colors, music-themed elements and a 30-foot, 1950s microphone-inspired climbing tower as an homage to the late former state legislator and local Spanish radio pioneer Francisco "Paco" Sanchez, after whom the park is named.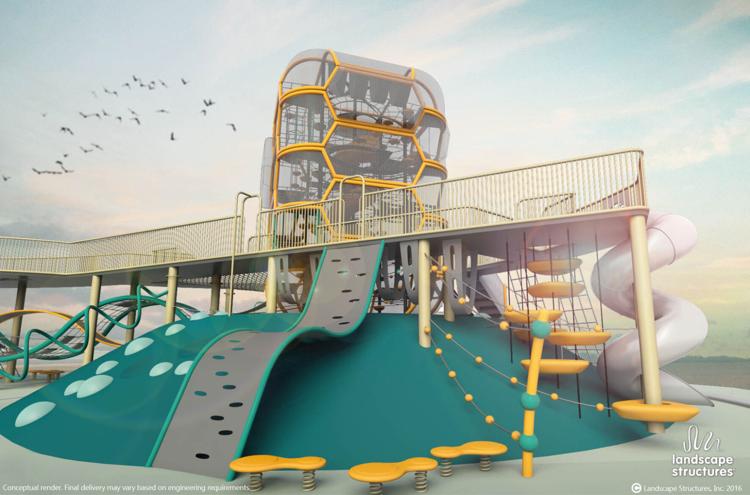 "It was our vision a few years ago to build an amazing park that brought together all of the best elements of play, adventure and outdoor fun," said Happy Haynes, executive director of Denver Parks and Recreation, during the virtual ribbon-cutting ceremony, which aired Thursday night. "As we were dreaming about this vision, former Councilman Paul López said, 'Bring it to West Denver!' And so we did." 
López, now the city's clerk and recorder, dedicated his time when representing District 3, in which the park sits, to get the project off the ground.
"I know how badly the kids need this in this community," he said. "And that's what we did: We responded and we delivered." 
Councilwoman Jamie Torres, who was elected to represent District 3 in 2019, helped see the project through.
"That we have a park that both celebrates the professional impact of Paco Sanchez and the cultural one is really meaningful," Torres said. "You can't miss it, that this is an homage to music, to culture and to what it brings to our lives."
The park features a new plaza and stage, designed to accommodate future live music performances, festivals, food trucks and more. The intent is for the 30-acre park located just west of Federal Boulevard and south of Colfax Avenue to become a central meeting and event space for the neighborhood.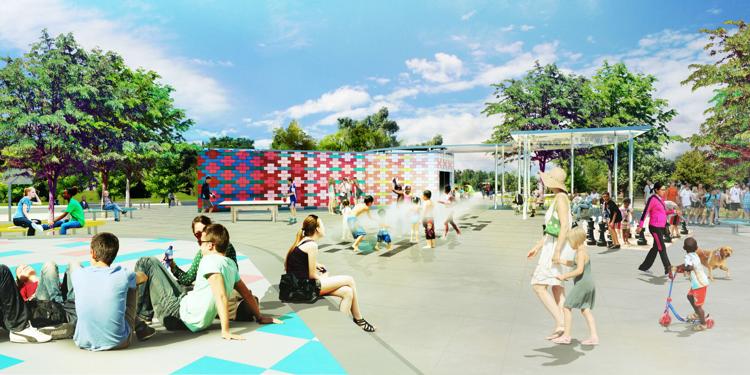 Investing in this location — near public transit, trails, affordable housing and the Corky Gonzales library — reflects the city's broader strategy of focusing park and green-space efforts on low-income and historically disadvantaged areas. City data shows residents in west Denver more often lack access to cars and are more likely to be obese or chronically ill.
"Equity is a very important principle here," López said. "Access to open space means you have access to open air, access to recreation. We need to make sure that no matter what zip code you live in, you have the same access that everyone else does to things like parks." 
The reimagined park was designed by Dig Studio and constructed in two phases by PCL Construction Services.
Phase I of the project, completed in 2018, included portions of the "Play Loop" and the "Play Plateau," which features the park's focal point, the Mic Tower.
Phase II of the project, completed Thursday, incorporated new play pods, an ADA walking loop, a kiosk building, community plaza, mist fountain, restrooms, outdoor classroom space, shade structures, Paco climber, basketball court, skate park, updated parking lot, stage, public art, picnic area, water quality area, native grass conversion area, landscaping, and irrigation improvements.  
The second phase, which cost about $6.5 million, was funded through the Elevate Denver Bond, a 10-year, $937 million bond approved by voters in 2017. The remaining costs were covered by private donors, according to Yolanda Quesada, spokesperson for Parks and Recreation. 
"This is something that took a lot of hard work. It took a lot of dreaming,"  López said, flashing a bright smile.   
The virtual ribbon-cutting ceremony can be viewed on Facebook here.