On July 15, Denver Mayor Michael Hancock will have three years left in office, sealing the end of the first year of his third and final term — one that's collided with a national civil rights movement, a global pandemic and a crushing economic crisis.
Many residents are angry, some have rioted, and calls to defund police reverberate across the city. Meanwhile, nearly 400 people in Denver have died from the coronavirus, and the city is bracing for a revenue loss of at least $226 million.
"Yeah, I've had a 'why me?' moment," the city's 45th mayor said, uncharacteristically letting down his guard during a phone interview with Colorado Politics. "But it's not from a moment of distress or frustration. It's from a moment of faith. It's more of a prayer, like, 'Lord, what is it? Why am in this place at this time? Why have I been called for a moment such as this?"
A voice in his head replied, "Why not you?" he said.
"You're familiar with it. You are a Black man. But not only that, you're in a position to do something about it. … It speaks to the perfect formula to begin to address this, to lean in from a very authentic, genuine way and not have to explain why you're in this space."
Hancock knows turbulent times, some personal and professional crises of his own making. 
In 2018, he admitted to sending "inappropriate" text messages to a member of his security detail years earlier, who later sued the city on grounds of sexual harassment. The city paid the officer $75,000 as part of the settlement. 
Before his first term, Hancock also was reported to have ties with an escort service associated with the club Denver Players, but the scandal fizzled out after The Denver Post and 9News failed to definitively make the connection based on public phone records.
Still, Denver's second Black mayor, only after Wellington Webb, admits he isn't "immune to the stress and emotionality of this time," but says it's a "real privilege" to be at the helm of the city he considers his hometown during some of its toughest times.
"The opportunities that exist are really powerful. Those are things I transition to, to get me through the difficult times, like finally addressing the pandemic of racism and the things that allow what we saw in Minneapolis to occur," the Democrat said, referring to George Floyd, an unarmed Black man, who died at the hands of police officers. "You know, finally sharing the real pain of people who are overlooked in this economy and how we might demonstrate through our efforts and through the job an opportunity to lift them up."
First of the last
On July 16, 2019, the day after he was sworn in for his last term, Hancock sat down in his City and County Building office with the late John C. Ensslin of Colorado Politics to preview his next four years in office.
He said his top priority was economic equity, a theme his critics used against him during the general and runoff election victory over newcomer Jamie Giellis, and he still hears the knocks today. The mayor has taken major flak over gentrification, unplanned growth and his response to homelessness.
In that interview, Hancock pledged to take bold steps around housing, access to jobs and higher wages that would reflect his focus.
"Thank you for mentioning John, because he was such a special man," began Hancock, who wrote on social media last August that he was "personally sad to hear of John's passing," calling him "a good man, a fair and curious journalist and dedicated public servant."
Hancock remembered the interview and the values he had stressed that Tuesday morning. Despite the circumstances a year later, Hancock affirms his mission remains unchanged.
"I think if anything, it's been made further crystal clear," he said. "What the campaign showed me was that … there's a lot of pain in this community, and I think the pandemic further exacerbated that pain."
Floyd's death was "the final spark that ignited the pain to action," he said.
The first year of this term has been reflective, Hancock said, to try to understand what he heard on the campaign trail and better understand "where we were as a city" and what next steps needed to be taken as a result.
"First and foremost, it was about getting the Great Hall back on point and getting our ducks in a row with regards to our other major projects we had in the city of Denver," Hancock said, referring to Denver International Airport's nearly $184 million settlement to end a contract last August with contractor Great Hall Partners for substantial renovation work on the airport.
"It was also about finding good people who could come in and infuse new energy and fine-tuned vision to mix with people who were well-established in Denver and been with me for a long time," he said. "You gotta have that good new sense of energy."
On May 20, for example, Hancock appointed Murphy Robinson to executive director of the Denver Department of Public Safety. Robinson, who is in his early 30s and graduated from Colorado Academy in 2006, has quickly shown openness in hearing from the community and the will to address shortcomings within the city's law enforcement agencies.
Hancock planned to pivot in 2020 toward "the globalization of our city," he said, "getting back to what really drove our economy as a city while at the same time improving Denver for the next 100 years."
Current events mean "a lot of that's been slowed," however, "but it doesn't mean that through this challenge we don't have some opportunities."
In Hancock's mind, the last 365 days have represented "a maturing moment for me personally, a maturing moment for the administration," and provided an opening "to get deep on some real important issues for not only Denver but for the rest of the country."
Bombshell of COVID-19
Hancock issued his first stay-at-home order on March 23, when Denver's coronavirus cases accounted for the highest of any county in the state.
On June 24, Hancock held a press conference to give updates on COVID-19.
"If we were at a Broncos game, we would still be in the first quarter," said the guy who was the team's official mascot. "COVID-19 may have pinned us up against the 1-yard line back in March, but it's taken everyone, while we were on that 1-yard line, to get us at least moving forward to where we now sit on the 20-yard line today."
On July 10, Hancock announced the city was "going in the wrong direction," as its positivity rate rose from 3% to 4.5%. 
A major factor in controlling the virus, he said, is maintaining steady testing and contact tracing efforts. About 2,000 people are tested for the virus in Denver every day.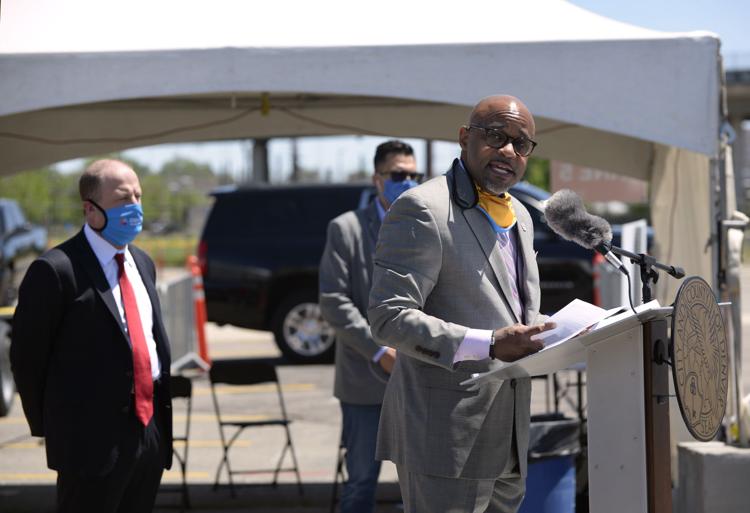 Hancock encourages the community to get tested for free at the Pepsi Center, the largest COVID-19 testing site in the state, which he and Gov. Jared Polis launched in late May. As of June 7, the site will now close after administering 2,000 tests each day to shorten delays in receiving test results.
Running that site is "very expensive," Hancock told Colorado Politics. It costs the city between $75,000 and $88,000 a day, or up to roughly $2.5 million a month. The testing center is funded by the city's first deployment of $20 million from the $126.8 million the city received in federal stimulus money.
"We've got to find a way to continue that on to keep people safe," he said. "People need to know if they are carrying the virus, so a coordinated approach to testing is huge. Obviously, contact tracing is a big one too. And then we need to make sure that the federal government is helping us to stockpile equipment."
Denver has spent just over $50 million in response to COVID-19, Hancock said.
To help weather the storm, the Hancock administration in April asked agency heads to identify 3% in budget reductions. But as the enormity of the economic downturn became clearer, the size of the cuts requested was more than doubled to 7.5% in an effort to carve out $100 million in savings.
Slashing agency budgets is one of a number of steps the city has taken to help absorb the financial shock from the virus, including requiring eight furlough days for city employees by the end of the year, which will save $16 million.
Hancock said leading his financial decisions, "first and foremost," is the health and safety of Denver residents. "Any discretionary efforts — whether they are projects or programs that you have going on  those are first and foremost on the chopping block."
Since evaluating agency proposals, Denver's finance department has transferred about $70 million in savings into the city's general fund, or an average of 5.4% in reductions per agency, Brendan Hanlon, the city's chief financial officer, said in mid-June. Additional proposals may be implemented through the summer, he said.
In early May, credit rating giant Fitch Ratings determined that Denver is positioned to bounce back and continue to meet its debt obligations post-pandemic.
"Denver's strong revenue growth prospects, ample revenue-raising flexibility, moderate carrying costs and long-term liability burden, and demonstrated superior financial resiliency during economic downturns" will help insulate the city during economic swings, Fitch's May 7 report stated.
Fitch's forecast is important, Hancock says, because "if cities don't recover, there's no national recovery."
Black Lives Matter protests
On May 25, George Floyd was killed and the rising tide of outrage soon enveloped the nation. Denver saw its violent share.
Three days after Floyd's death, Denver police in riot gear armed with foam bullets and tear gas clashed violently with protestors, some of whom had been vandalizing monuments and government buildings.
At least three federal lawsuits have since been filed against the city around law enforcement's excessive use of force. A sweeping statewide police reform bill was signed into law by Polis that bans chokeholds, requires police to wear body cameras when dealing with the public, outlaws deadly force unless they feel their lives are in imminent danger and mandates other officers to intervene if they feel that another is using deadly force. In Denver, the city's independent monitor is investigating every complaint against the police's response to protests.
"These are historic issues that I'm certainly not unaware of, that have been with me as an African American man, been with my brothers and sisters who I love dearly, and my community," he said.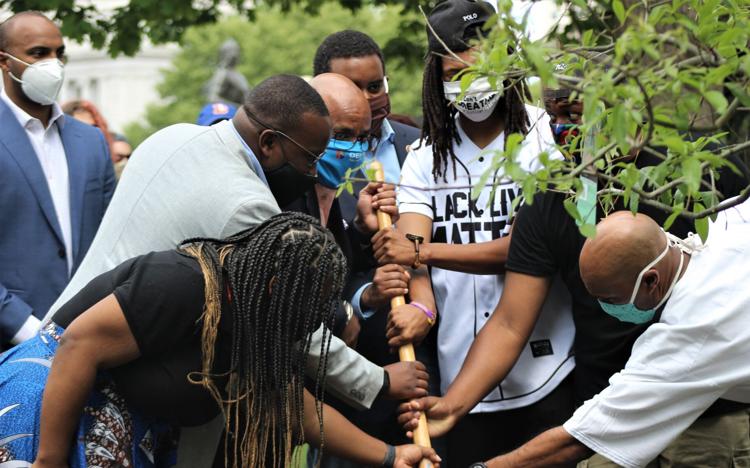 Hancock started his career in civil rights running the Denver Metro Urban League, an organization that advances economic and social opportunities for disadvantaged African Americans. "So these are issues that I have been with, dealt with, all of my life," Hancock said, slowing down to emphasize the last four words of his sentence.
He rambles, however, when asked directly if the police should be defunded.
"I think we ought to have a very good conversation about where the resources of the police department go," he said, "but we also have a responsibility to make sure that we have a well-equipped, well-trained police department that is ready and willing to respond to the needs of people — and that includes holding officers accountable for the mistakes they make on the street, intentionally or unintentionally. But I do not believe that you can reduce our actions around policing and safety to a hashtag and have it mean something."
Since recent clashes with police, protesters have stormed the City and County Building numerous times, including overrunning a City Council meeting on June 22 in the name of racial justice and nearly derailing Hancock's June 24 press conference on COVID-19 for allowing the city to dismantle homeless encampments during the pandemic, contrary to guidance from the Centers for Disease Control and Prevention.
Among their cries to defund the police are also demands for Hancock's resignation. Many shout that he does not care about Black lives.
"At some point, you've got to transform from demonstrating to sitting down and saying, 'Now we've got to fix this problem.' Otherwise, you don't get anything done," Hancock said. "Even during the civil rights movement, there were always meetings taking place with decision-makers that allowed for the focus on the issues."
He said his office is working to reach out to organizers in the Black Lives Matter movement to identify "three to four" issues organizers want to push forward.
"There are different sects or divisions, if you will, within Black Lives Matter," he said, so it takes time to figure out "who the appropriate people are to call in so we can have a good representation."
The bottom line is this, he says: "Do I care about police brutality? Absolutely."
City Council conflicts
On June 4, 2019, three incumbent City Council members lost their runoff races, and Hancock won a third term to close out a particularly contentious race.
In all, five fresh faces stepped onto the dais, three of whom defeated incumbents, including Councilwoman Candi CdeBaca of District 9, which covers RiNo, Five Points, Globeville and Elyria Swansea. She beat out Albus Brooks, an ally of Hancock's, and has since taken the mayor head on, criticizing Hancock and the "strong mayor" system that she sees as an impediment to progress, transparency and accountability.
Hancock said in October that CdeBaca is someone "who wants to just try to be disruptive," adding that he hadn't "heard one idea that really goes to the heart of how we keep Denver strong and how we address the issues of all people in our great city," he told 9News.
"Governing is different than being an activist," he said. "Quite frankly, the activist mentality and attitude doesn't necessarily translate when it comes time to making tough decisions."
When asked if his views had changed, Hancock said, "I'll let that comment stand."
Hancock didn't deny that there is an increasingly strained relationship between his office and the City Council.
Fueling the fire is a handful of charter changes the Council is pushing forward that chips away at his power. For example, one charter change expected to appear on the ballot this November would require Council's approval of 14 mayoral appointees, including the city's top four safety positions. Another would give Council the authority to make budget changes mid-year and is led by Councilwoman At Large Robin Kniech, who partnered with Hancock last year to raise the city's minimum wage.
"Listen," Hancock told Colorado Politics, "I sat on City Council, so I understand the ability for City Council to effect change, and I also know the limits of City Council's ability to effect change."
In Hancock's time on the City Council from 2003 to 2011, he served two terms as council president, the last of which ended in 2008.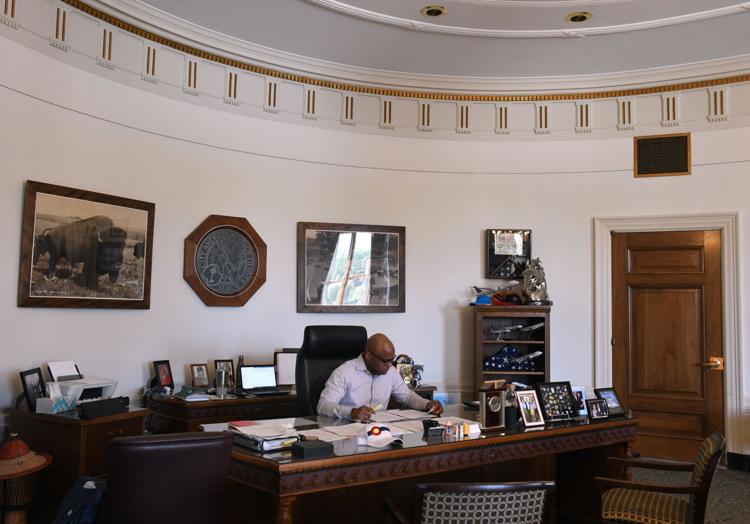 "I have a healthy respect for the role of City Council and City Council members," he said. "Again … at some point, the demonstrations, the pontifications have to end and you have to sit down and you have to form a policy to implement. You have to move forward.
"I don't think it's the vast majority of council members," he said, "but there are those who are less interested in actually having momentum and progress than they are about self-promotion and publication."
When asked point-blank if Denver's mayor system has too much power, Hancock laughed.
"Here's a better way for you to ask that question: Would these members of council be asking that question if the other person had won?"
One of nine candidates running against Hancock in the 2019 general election was Lisa Calderon, a Denver civil rights activist and longtime critic of Hancock, who is now CdeBaca's chief of staff. CdeBaca maintains that her efforts would look no different if Calderon were sitting in Hancock's seat today.
"Balanced and fully functioning branches of government is not a partisan or personality-driven goal," CdeBaca told Colorado Politics in a text message afterward. "It is the premise of our democracy."
Hancock says it comes down to the big picture, and accountability.
In addition to Denver, Hancock listed Los Angeles, Orlando, Houston and Chicago as "cities that are working today, that you're talking about today, and I think their governance structure has a lot to do with it. Because you know there is a person accountable for running the city. You don't have to ask who's in charge of parks, who's in charge of street lighting, safety. People know where that central government works."
Los Angeles, Houston and Chicago require council confirmation of mayoral appointments, according to a May 2020 fact sheet prepared by Denver City Council Legislative Services.
Hancock stresses, "You can't do it without City Council. City Council absolutely plays a role. And I have never come in here and acted like a dictator. It's always been a collaboration."
No time for legacy
In Denver politics in 2020, there are only shades of blue, and from the executive branch's perspective, reaching across the aisle means holding hands with its legislative branch, the Denver City Council. That's how Hancock sees the future.
Hancock says he doesn't spend a lot of time thinking about his past.
"At the end of the day, it'll be the people of Denver who will determine here's what we saw and what we believe was the legacy of Hancock."
He points to Webb and Federico Peña as examples. "It's not Federico Peña going around saying, 'I did this,' and beating his chest. It's people going, 'That happened on Federico's watch. We know what happened.'"
Hancock says he has no interest in dwelling on his legacy.
"One, it's distracting. Two, it's also not genuine. I'm here to serve, and I came to serve others, not to serve myself," he said. "I think when you get into worrying about legacy, that's exactly what you're doing. You're more focused on the way people will think about you.
"If anything," he said at the end of the 31-minute call, before running off to another meeting, "I want people to think … 'He was more of a workhorse than anything.' And I gave it everything I had every time I showed up."
Editor's note: This article has been updated to include peer city information from Denver City Council Legislative Services.