The Colorado Republican Party is calling on Democratic Denver City Councilwoman Candi Cdebaca's immediate resignation over a tweet in which she seemingly promoted spreading the coronavirus to supporters of President Donald Trump.
"Councilwoman CdeBaca praising a social media post calling for Trump supporters to be infected with the coronavirus is simply disgusting. There can be no room in our politics for wishing harm on Americans who have different political beliefs. Democrats in Colorado and across the country need to condemn this evil statement," Colorado GOP executive director Lx Fangonilo said in a statement Tuesday.
"In light of these comments," Fangonilo continued, "the Colorado Republican Party is calling on Councilwoman CdeBaca to resign immediately."   
The GOP's response came on Super Tuesday, several days after CdeBaca posted the tweet on the morning of Feb. 28.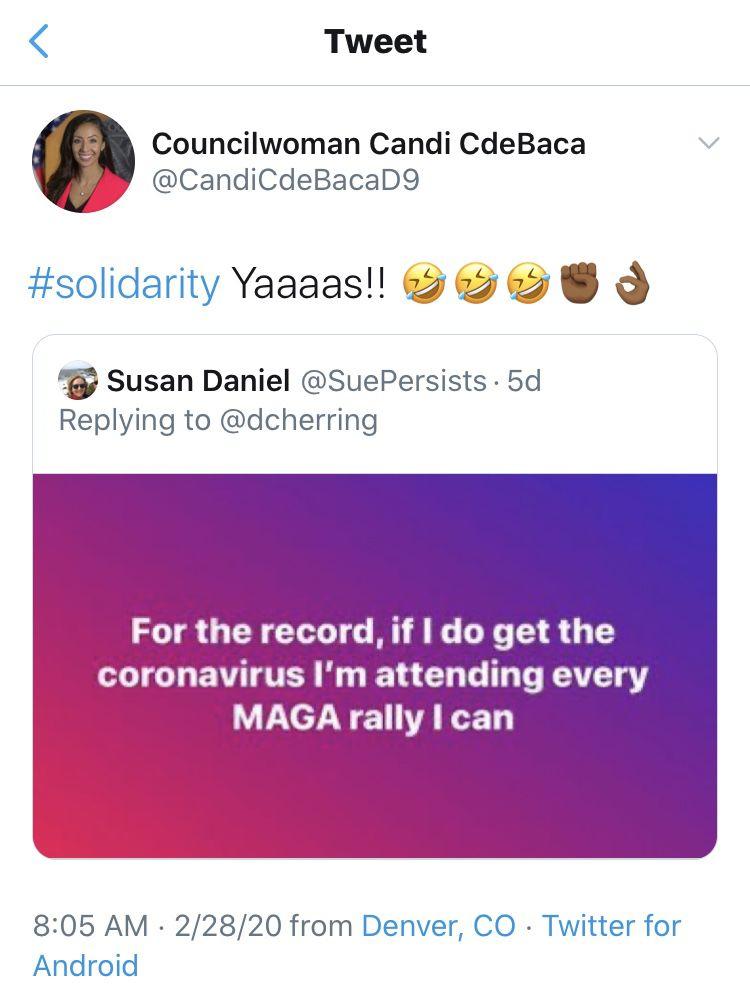 "They were calling for me to resign before I got elected!" CdeBaca told Colorado Politics in a text message. "If they are indeed worried about the severity of the coronavirus, then they should encourage our Republican president to take it more seriously.
"That re-tweet was a response to Trump's dismissal of the severity of the outbreak," she added. "It's the Democrats who they are condemning that are actually taking the issue seriously. I'm simply holding up the mirror."
CdeBaca's tweet embedded a post from another Twitter user, who wrote: "For the record, if I do get the coronavirus I'm attending every MAGA rally I can."
The councilwoman showed her support by tweeting "#solidarity Yaaaas!!" and an emoji string, including three laughing smileys. 
As of publish time, her post had been retweeted 446 times, received 267 likes and garnered nearly 6,500 comments, many of which fiercely opposed and attacked her position.
CdeBaca also drew criticism from Donald Trump Jr., who tweeted on Tuesday morning: "These people are sick."