Child care. Homelessness. Affordable housing. The issues that elected officials and concerned citizens discussed over tamales and bagels on a Saturday morning weren't too surprising — except for now and then.
The "Mega Town Hall," as it was billed, featured Denver state lawmakers, Denver City Council members and board members from the Regional Transportation District. Most hail from central and west Denver.
The biggest surprise for Rep. Alex Valdez:
"The number of people who communicated that they feel isolated by social media, and how they believe social media is leading people to lose the ability to have a productive conversation," he said. "People seem ready to feel a real sense of community again."
The meeting Feb. 8 at Valdez Elementary School in north Denver definitely felt like community.  Children played in one corner. David Sabados, co-editor of the new Denver North Star newspaper, took pictures.  Elected officials stayed put at tables and met with groups of constituents that rotated every 20  minutes. 
Transportation. Tiny houses. The Taxpayer's Bill of Rights, or TABOR, which they believe has crippled government from funding needed services.  The discussions were friendly but at times intense.
Lawmakers often hold town halls with peers in neighboring districts, but they get asked questions better directed at Denver City Council or RTD board members. That's why Sen. Julie Gonzales helped organize the Mega Town Hall.
She didn't think of inviting Denver school board members until the last minute and they couldn't attend. They will be given plenty of notice before the next meeting, Gonzales said.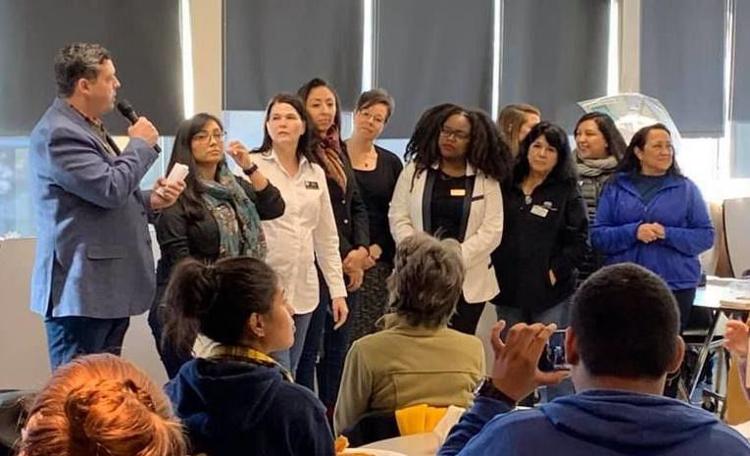 I lived in north Denver for more than 20 years so I wasn't surprised that the conversations veered left.
"I hope I never have to drive by a park again while a sweep is taking place; it's heartbreaking," Valdez said, referring to homeless camps.
And I thought to myself, "I hope I never have to drive by a park when the city is cleaning up after a sweep."
In mid-January, city officials evicted campers from Liberty Park across from the state Capitol because of "hundreds of rats." When Occupy Denver occupied that same park in 2011, stories about the feces clean-up were horrific. 
Among those attending the town hall:
Betsy Daniel, the chair of House District 4, represented by Serena Gonzales Gutierrez. Daniel is getting an award in April at the Colorado Democratic Party's Obama dinner for her volunteer work. "I have nothing but positive things to say about what Julia, Serena and Alex have started with public participation," Daniel said.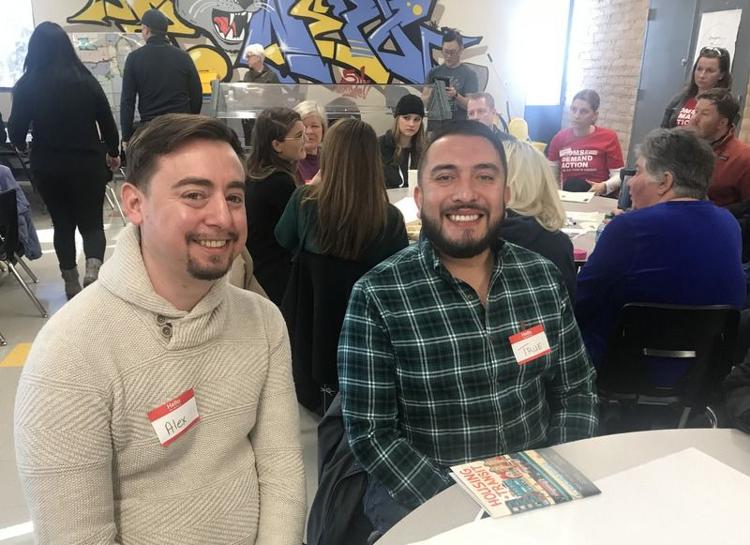 Alex Apodaca-Cobell and True Apodaca-Cobell,  who both grew up in north Denver. They briefly lived in Adams County and have moved back to north Denver. Their main concerns: being able to afford a house and having a reliable transit agency.
Mary Helen Sandoval, mother of north Denver City Councilwoman Amanda Sandoval. "Breaking into these small groups and having people say what was on their mind was really effective and energizing," the elder Sandoval said.
The councilwoman said neighbors met neighbors and talked about a "pay as you throw" trash policy based on the amount of trash generated, and the need for more bike and pedestrian infrastructure throughout Denver.
Councilman Chris Hinds had planned to attend but couldn't get out of his building because of the snow. Hinds uses a wheelchair and his predicament led to discussion about accessibility.
Income inequality. The proliferation of plastic. Rent control. 
"I loved that so many people came out in the cold weather to share their input on many important community topics with the hope and expectation that these issues find their way to policy changes in work we do in city and state government," Denver City Councilwoman Debbie Ortega said afterward.
Councilwoman Jamie Torres said her favorite moment was watching all the raised hands when Gonzales asked if this was their first town hall.
"Every day we are trying to reach new residents, and our job is to change our format and meet our residents in new ways. This was one great example of how we can do that," she said.  "Most town halls involve lots of speeches from electeds and I was excited that this one would not be that."
Rep. Serena Gonzales-Gutierrez said one of her constituents talked about "decolonizing" events and spaces by acknowledging the original indigenous people who occupied the land.
"I think it's important to never forget that, and I am even thinking of how this can be incorporated in our work every day," she said.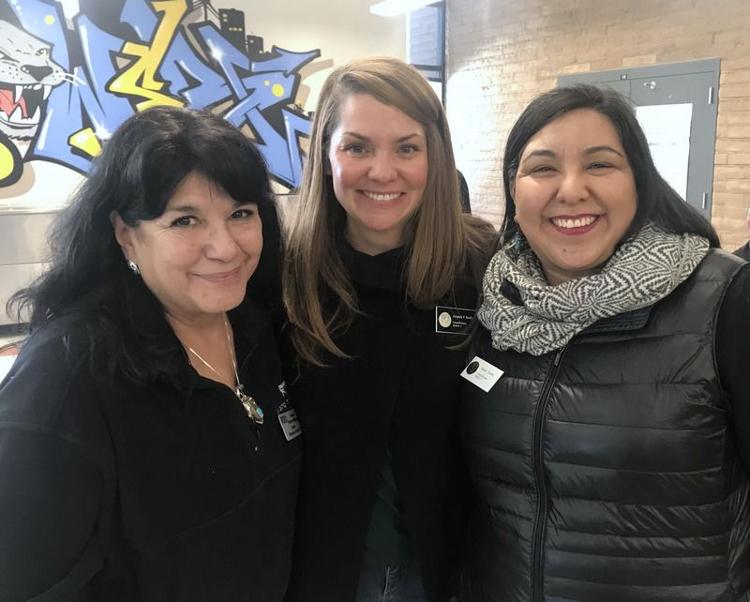 After meeting with community members, elected officials shared what they heard. 
RTD chairwoman Angie Rivera-Malpiede got a big laugh when she said she was heartened to hear how many people love the transit agency. The Regional Transportation District is going through rocky times. Ridership is down and fares are up.
The most worrisome moment for me: private prisons. It's no surprise that folks want them to close and are grateful the legislature has taken up the effort, but I was alarmed at what seemed to be a lack of compassion for the communities where they are located. 
Rural Colorado is not Denver. There aren't signs on every other business begging for workers. 
But for the most part, the town hall was exceptional in so many ways. 
"There was this moment in one of the breakouts when my small group realized that I wasn't going to respond to every individual comment, and the whole dynamic shifted," Gonzales said. 
"People started talking to each other. Within just a few minutes, one person talked about the importance of gun violence prevention policies, while another person said that they felt there was also a need for more mental health resources in schools. A third person chimed in to comment about the need to stop putting cops in schools and use the funding to instead hire more school psychologists and counselors."
That afternoon, Gonzales got an email: 
"That was the best organized and (most) worthwhile civic engagement event I've ever attended."
That's a sentiment shared by many who gave up their Saturday morning.