For the first time in Denver history, an entire neighborhood has been rezoned to allow for accessory dwelling units, also known as granny flats, carriage houses or casitas, on single-unit residential lots of at least 4,500 square feet. 
The Denver City Council unanimously approved the neighborhood-wide rezoning of Chaffee Park on Monday night, in alignment with recommendations laid out in Blueprint Denver, the city's long-term land use and transportation map, which promotes ADUs as a "wealth-building tool for low-and moderate-income homeowners" and a way to "add variety to the housing stock in low density residential neighborhoods without significantly changing existing character."
Absent a citywide rezoning approach in place, Blueprint Denver, adopted in 2002 and updated last year, recommends the development of "individual rezonings to enable ADUs in all residential areas, especially where proximate to transit, are appropriate." 
"I am excited to be blazing a path forward and creating a model for breaking down barriers to ADUs in Denver," Denver Councilwoman Amanda Sandoval, who led the effort, said in a statement Monday night. "My job is to be a conduit for the people of District One, and it has been incredibly gratifying to help the people of Chaffee Park realize their vision for their community."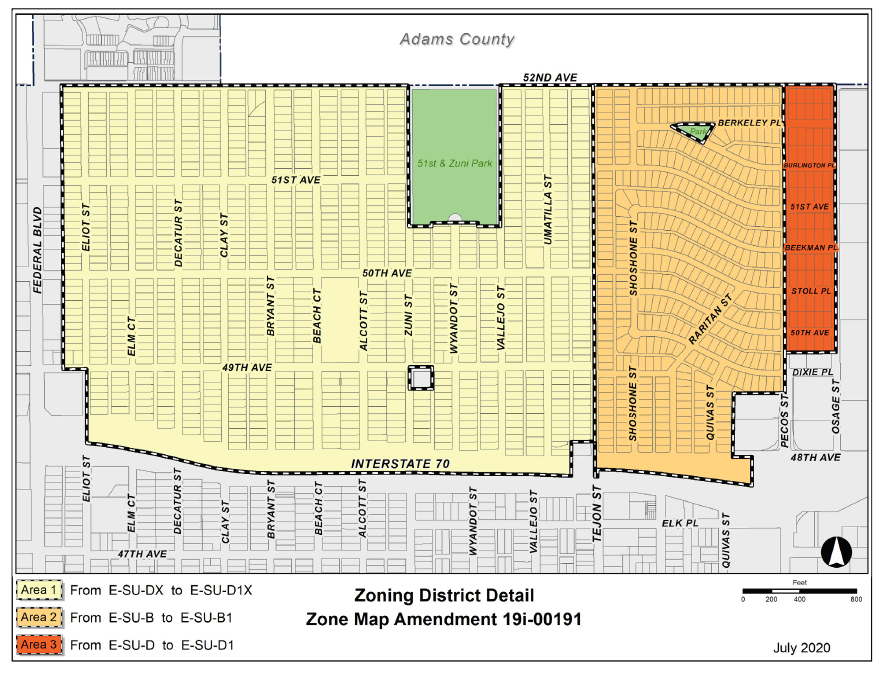 Not long after Sandoval was elected to the council last May, she was pitched the proposal by members of the Chaffee Park Neighborhood Association, who were eager for change. Passionate about increasing affordable housing options, she got to work and partnered with CPNA on a community outreach campaign that included mailers to all impacted property owners, an online survey drawing in nearly 400 responses, door-to-door canvassing and two town halls. Sandoval's office also met with several city agencies, ADU builders and local ADU experts to ensure there would not be unintended consequences from the rezoning.
Throughout the engagement process, Sandoval said her office received "overwhelming support" for the rezoning. The few concerns she did receive revolved around parking density, neighborhood character and short-term rentals.
"This type of gentle density is a win-win, helping Denver grow and adapt while retaining the overall character of neighborhoods," Sandoval's office said in a statement. "While adopted plans and policies encourage ADUs throughout Denver, property owners who need to rezone to build an ADU must go through a one-off rezoning process [that] can be confusing and expensive, costing $1,000 for each owner each time. With the council office carrying this application, Chaffee Park property owners who desire to build ADUs will save valuable time and money."
The rezoning will apply to approximately 1,400 parcels bounded by Federal Boulevard, Osage Street, 52nd Avenue and Interstate 70. 
District 8 Councilman Chris Herndon and District 5 Councilwoman Amanda Sawyer are following Sandoval's lead and looking to allow ADUs in East Colfax. 
"I would certainly say for my other colleagues, if this is something you feel is a fit for your district, I would encourage you to do it, because having individual homeowners go through this process, as we've seen before, is just something that they shouldn't have to go through," Herndon told a City Council committee in late September.
With the addition of the Chaffee Park neighborhood, about a quarter of Denver is now zoned to allow ADUs. Elsewhere in the city, homeowners can request zoning changes from City Council to develop an ADU on their property.
"ADUs should be legalized across the whole city without having to duplicate this effort neighborhood by neighborhood," Jason Hornyak, a board member of the Chaffee Park Neighborhood Association, told council members before their vote Monday evening.