The second effort to recall Gov. Jared Polis has had the same results as the first: None of the 631,266 valid signatures required to put a recall on the ballot were turned in by the deadline of Nov. 13, according to the Secretary of State's Office.
The second effort, begun Sept. 14, was launched by Lori Cutunilli of Summit County and Greg Merschel of Grand Junction, who was also involved with the 2019 effort.
The reasons for the recall are tied to how Polis has handled the state's response to COVID-19:
Polis "abused his emergency power by exceeding the scope of his powers under Colorado's Disaster Emergency Act by issuing a Disaster Declaration through executive order as a vehicle to legitimize confining residents to their homes, forbidding travel, closing businesses and mandating wearing of masks thereby depriving citizens of liberty and property without due process of law."
Polis spent $1.6 billion in CARES Act funds without consultation with the General Assembly
Polis issued an executive order to allow petition signatures to be collected online. The Colorado Supreme Court threw out the order on July 1.
Through his "Stay at Home" executive order on March 25, Polis "explicitly discriminated against houses of worship" and violated the First Amendment's free exercise of religion clause.
The recall's campaign finance committee, Recall Polis 2020, raised a total of $13,808.25, all but $2,625 through in-kind donations used to pay for petition printing from Cutunilli's employer, the Farmers Corner Kwik Stop of Frisco, as well as Cutunilli Installations of Breckenridge. Information on all those who made cash donations to the committee, except for those made by Cutunilli, were redacted by the committee, save for first and last name. Despite a 2019 boast by Republican U.S. Rep. Ken Buck of Windsor, the head of the state GOP, that Democrats would learn to spell r-e-c-a-l-l, the state GOP made no donations to the committee. 
But members of a Facebook group monitoring the recall alternately claim recall organizers either sought or were granted a 90-day extension, but it's unclear who they claim granted the extension. Some also claimed Polis closed the Secretary of State's office last Friday to block the recall group's effort to turn in signatures. A spokesperson for the secretary of state said the recall representatives failed to show up for a 3 p.m. scheduled appointment and that the office was open until 5 p.m. last Friday.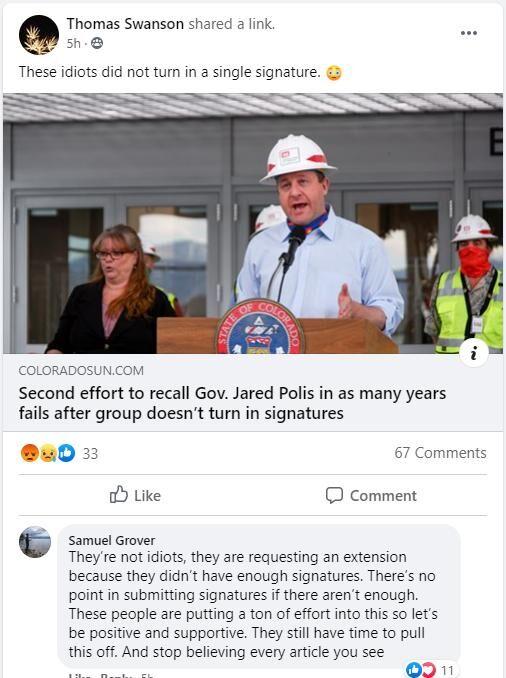 Cutunilli posted on the Recall Polis 2020 page Saturday that their attorney sought an extension on Nov. 12 through the Secretary of State's office.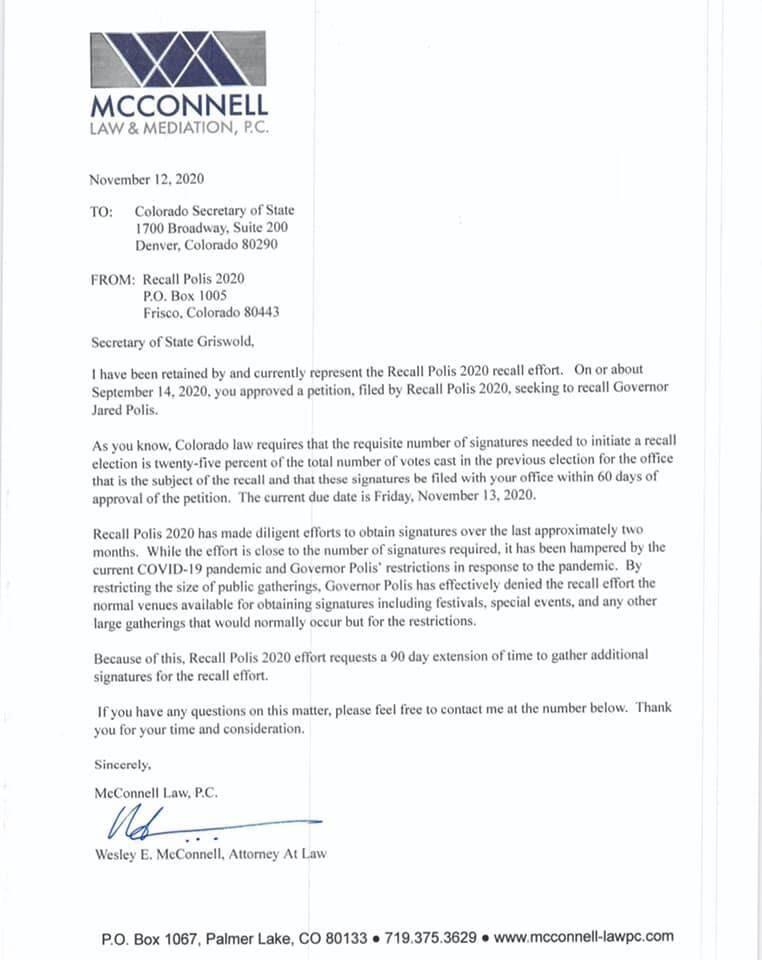 Spokeswoman Betsy Hart also said that any extension would have to be granted by a court, not the Secretary of State's office. That happened with Proposition 115 earlier this year, although they were short only about 10,000 signatures. Just how many signatures were collected by the second recall effort is unknown.
In related news, one of the groups from 2019 that took in more than $114,000 in donations but never actually participated in the first recall continues to shell out money in 2020 on some interesting expenditures.
Juli-Andra Fuentes launched the "Official Recall Colorado Governor Jared Polis" super PAC in 2019. Among the original group's spending: $11,000 in gifts to three members of the group's board. At the time, Fuentes said they needed the money but called reports about the gifts "fake news."
Fuentes started another super PAC about the same time, Colorado for Trump, which caught the attention of the Trump campaign, which made it clear Fuentes did not have permission to use the president's name.
The name was then modified to T.R.U.M.P., which is supposed to stand for "Truth Will Restore the Republic and Unbiased Media Gives Power to the People," or TWRRUMGPP.
The committee was started with an initial contribution from the Official Recall Polis committee of $29,657 and has taken in just over $200 in donations in 2020.
It's how the remaining funds are being spent that's interesting.
On Jan. 23, the committee issued a $250 check to Joseph Palmisano of Frankford, Delaware for advertising. The following day, another check for $4,750, also for advertising, was issued to BPUC, listed at the same address as Palmisano.
BPUC stands for Better Priced Used Cars, and Palmisano is the dealership's owner. It's not an advertising agency.
Jay, an employee of BPUC who would not give his last name, said Monday the most likely purchase would be for a commercial vehicle that can be wrapped with advertising, such as banners. He would not provide any further details on the transaction, stating it is not a matter of public record. The local Better Business Bureau lists a Jay Futrell as business manager.
Fuentes has not responded to an email seeking comment.