Some of the students at East High were in an assembly in the school auditorium when shots rang out on Wednesday.
Lydia Lee, 16, a sophomore at East, said she knew they were in danger. "It was terrifying ... there was no escape if they wanted to harm more people, we were in a very vulnerable place"
It's been only 19 days after the shooting of a classmate (Luis Garcia) who later died, said Addi Kirkland, 16, also a sophomore at East. "His funeral was Saturday; our community hasn't even have time to grieve," she said.
Some 200 students, parents and gun violence prevention advocates swarmed the state Capitol Thursday morning, pressing for lawmakers to pass a trio of gun violence prevention bills and begging for someone to keep them safe. While most were from East High, there were others, from West, Manual and Cherry Creek.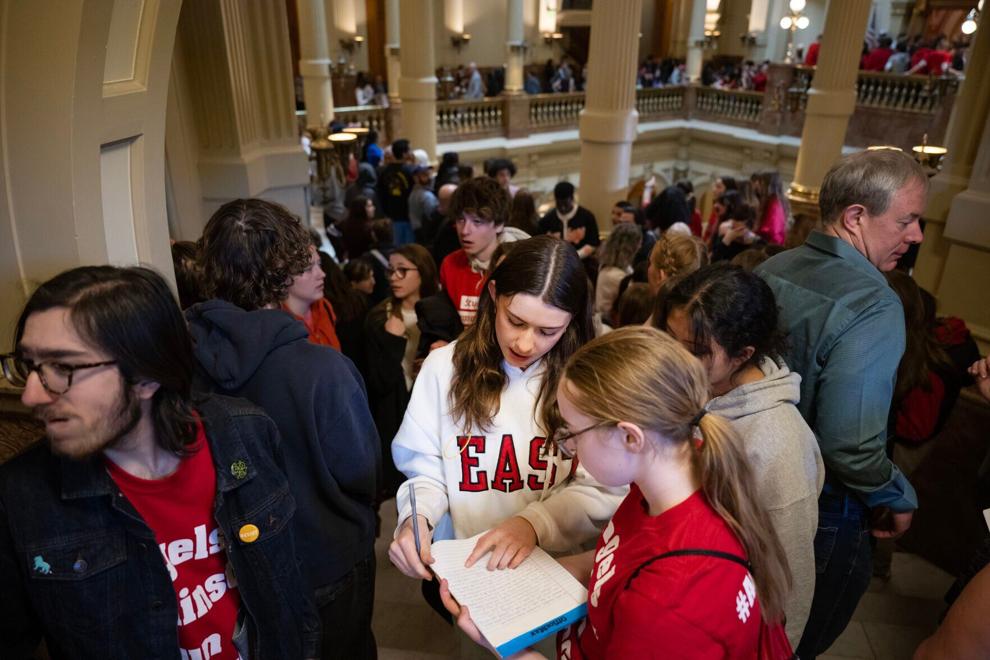 Kirkland claimed students know more about the gun violence prevention bills then some lawmakers.
"We have to face this every day. We have nothing protecting us," so that deans are now putting their lives on the line. Anytime lawmakers think about guns, "they should say it to our faces" and not hide behind it being controversial or someone else's problem. "It should be said to the student body because we have to deal with their missteps."
"Where is the line when profit matters more than our lives?" Lee asked. "All we're trying to do is get an education."
Students at East have been through eight to 10 active lockdowns in the current school year, and four so far in 2023, according to Kirkland. In one situation, they were locked on the football field for three hours. Kirkland tried to retrieve her backpack and said a SWAT officer pointed a gun in her face. "We aren't their priority," she said.
"They don't know how to deal with traumatizing situations," Lee said, adding that it doesn't feel like gun violence is a priority for DPS administrators or even the mayor. 
So far this year, they've seen shootings from a 19-year-old, 16-year-old and now a 17-year-old. Most of the seniors at East are 18 and old enough to vote and to buy a gun, Kirkland said. 
"We won't leave until these bills are passed!" said Clara Taub, 16, a sophomore at East who heads the Students Demand Action chapter with her twin sister, Grace, who was slated to testify Wednesday in the House hearing on the red flag bill, but instead sent a statement following the shooting.
"Some of these bills could have stopped the shooting," Clara Taub said, citing the red flag law. What happened Wednesday should be enough to pass those bills, but it isn't, given that it's not the first time this year gun violence has surfaced at East.
"If you don't pass these, you're a coward," she said. "These are children who are dying because you refuse to admit that lives are more important than carrying an AR-15."
Throughout the morning, students passed notes into the House and Senate chambers. Lawmakers, mostly Democrats, came out to talk to them, to hug and to bring support, and also to talk about the bills the students were advocating for.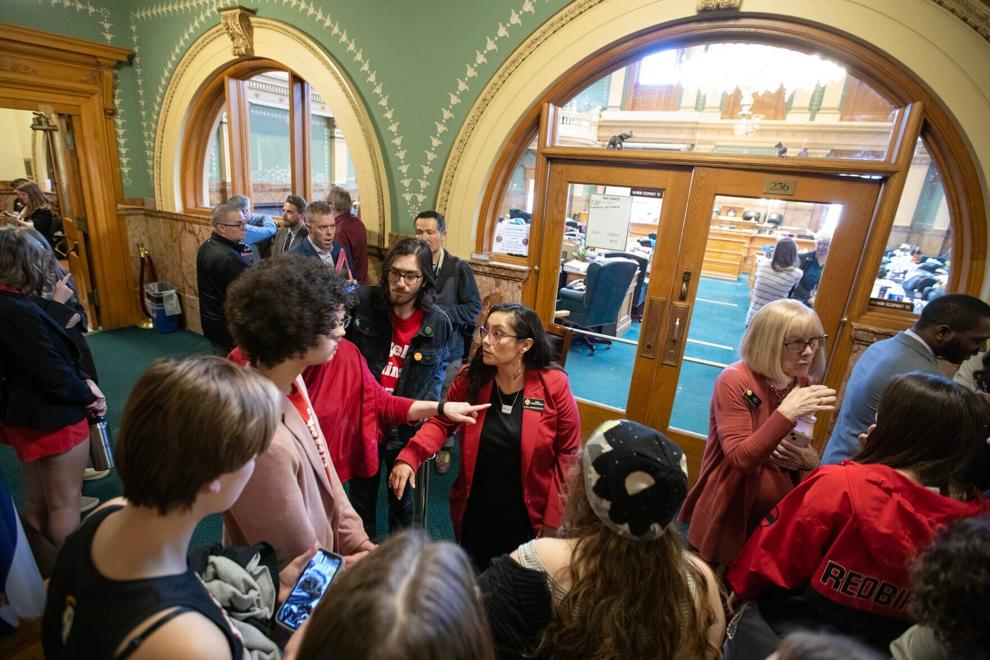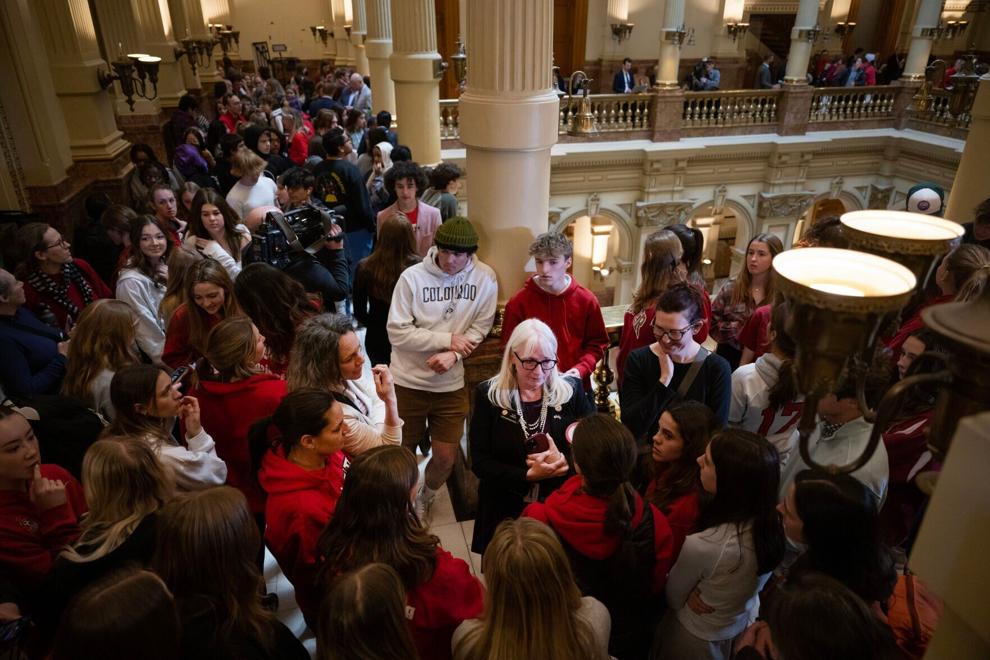 Not all of the exchanges were friendly.
Rep. Ken DeGraaf, R-Colorado Springs, talked to two students who told him they want to end the culture of guns. DeGraaf, an ardent opponent of the gun violence prevention bills currently working their way through the legislature, had a different view.
He first questioned the practice of allowing a student in the school who was deemed to be a threat and needs to be patted down everyday. "When I was in school, if somebody was creating an issue and was a threat to the school, they were expelled. They weren't allowed to come in and disrupt the education of everyone else. … It's creating a negative environment. Maybe there's something that needs to be thought of in that sense. Is this the best plan to deal with people?"  he asked.
One student responded that taking the gun out of the situation means no one gets shot. Another suggested that an environment free of the culture of guns would be a better solution.
DeGraaf challenged the student, stating "You think taking guns away from law-abiding citizens if going to foster this culture of less guns?" "So why do law-abiding citizens needs guns?" asked one of the students. 
DeGraaf's response was that a gun is a tool, and would be needed to defend against those who have illegal guns and will use them. 
He also asked the students if they've read the bills they were advocating for, and when they said they had, he asked if they had read them "fully."
Sen. Larry Liston, R-Colorado Springs, openly criticized the students he spoke with in a tweet posted Thursday afternoon. Liston called the teens "rude and impertinent," saying they "barged into (his) office unannounced and berated (him) for an unfortunate situation that (he) had nothing to do with."
The tweet garnered responses from more than 100 people condemning Liston's behavior, including a handful of Democratic lawmakers such as Rep. Chris deGruy Kennedy and Sens. Julie Gonzales, Faith Winter and Lisa Cutter.