The chief judge of Mesa County reportedly knew that courthouse protocols were putting people at risk for arrest based on expired protection orders. Now, he can be held liable for arrests that violated constitutional rights, a federal court has ruled.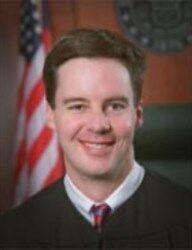 The alleged failure of District Court Chief Judge Brian J. Flynn to fix the problem led to repeated arrests of a Mesa County man without probable cause — a scenario the Fourth Amendment prohibits. This week, a judge in Colorado's federal trial court declined to grant qualified immunity to Flynn in the lawsuit of Elson Foster, who claimed he was arrested seven times after an outdated protection order remained in the court's system.
"What is most troubling is that Chief Judge Flynn was in a position to understand the consequences of his actions and to refrain from using the unconstitutional policy which he was responsible for maintaining, yet he simply refused to stop the ongoing violation of constitutional rights in the 21st Judicial District," said James P. Roberts, a Texas-based attorney for Foster. "He failed to uphold his position as expected and just like each individual he sentences in his courtroom, he should be held accountable for his actions."
Mesa County District Attorney Daniel P. Rubinstein, whose office is not a party to the lawsuit, confirmed to Colorado Politics that Flynn was notified there was a problem. Rubinstein's staff also discussed the issue of expired protection orders, dismissed the cases accordingly and notified the court clerk that a fix was necessary.
"It is a judicial responsibility to make sure protection orders are removed from the system when they expire," he said. "We were not made aware of what procedures they were using in order to make sure that happened."
Foster initiated a lawsuit in August 2020 alleging he was arrested seven times for intoxication in violation of a protection order. But at the time, Foster had actually completed parole and the expired protection order entered into law enforcement's central registry was not removed from the computer system. Police rely on the court's system, and arrests are mandatory for violations of protection orders.
On Monday, U.S. District Court Judge Raymond P. Moore signed off on a recommendation to dismiss Foster's claims against the 21st Judicial District's court clerk and a supervisor, but denied Flynn's request to toss the claims against him.
Prior to Moore's decision, U.S. Magistrate Judge S. Kato Crews reviewed allegations that the public defender's office sent an email in February 2016 to Flynn's predecessor as chief judge. The message warned the central registry was retaining protection orders that expired upon defendants' early completion of their sentences through earned time credits or other means. Consequently, people were being arrested based on the error.
After Flynn took over the district's top judicial and administrative job, deputy public defender Scott Burrill reportedly contacted him in June 2017 to repeat the concern about expired protection orders. He named four people who had been arrested in error. Flynn allegedly heard from Burrill again one year later about the ongoing problem.
Then in July 2018, Foster was discharged from parole. One month later, the first of his arrests began based on the protection order not yet cleared from the system.
The Colorado Attorney's General Office argued to the federal court in defending Flynn that nothing required him to take specific steps to implement a policy for immediately clearing protection orders when a defendant completes their sentence early. The judge, therefore, deserved qualified immunity, which shields government employees from liability unless they violate a clearly-established constitutional right.
Crews countered that the right to be arrested based on probable cause is clearly established. Although he found no prior court decision issued under circumstances similar to Foster's, the magistrate judge concluded no such decision was required to deny immunity to Flynn.
"In the Court's view, the wrongfulness of Judge Flynn's alleged actions is self-evident," Crews wrote in his June 18 recommendation. "Judge Flynn is not only a licensed attorney, but he is also a chief judicial officer in the Colorado court system. It should have been clear to any reasonable official, particularly a chief judge, that maintaining a policy which results in arrests lacking probable cause based on expired protection orders, violates those individuals' Fourth Amendment Due Process rights."
He added that Flynn allegedly did know of the danger and "nevertheless stayed the course." Neither the government nor Foster objected to Crews' findings.
Colorado Attorney General Phil Weiser's office said it would not respond to questions about its defense of Flynn amid the allegations of a constitutional violation.
A Judicial Department spokesperson declined to offer comment on behalf of Flynn, or discuss how widespread the problem of outdated protection orders is among judicial districts. He also did not answer whether Chief Justice Brian D. Boatright believed Flynn's conduct merited the chief judge's resignation.
"We are unable to comment on pending litigation as this information could become part of the litigation," said deputy public information officer Jon Sarché.
Criminal protection orders direct a person to stay away from victims or witnesses, prohibit consumption of alcohol and controlled substances, bar firearm possession, or impose other conditions necessary to protect the safety of victims or witnesses.
Rep. Mike Weissman, D-Aurora, who is the chair of the House Judiciary Committee, reviewed the magistrate judge's findings and said the lawsuit illustrated how important it is for the state's courts to function properly on the administrative level, in addition to their judicial decision-making.
"This is a situation where that seems not to have been happening, and it's something that warrants the General Assembly taking a closer look, especially where constitutional rights are implicated," he said.
A committee of legislators and executive branch officials is currently reviewing proposals for an independent investigation of the Judicial Department, after reports surfaced in February of an administrative coverup of alleged misconduct.
Flynn himself is also under scrutiny in a lawsuit the ACLU of Colorado filed in April alleging an order of Flynn's resulted in the illegal detention of a woman for 15 days without the opportunity to post bond. The charges in her case were later dropped.
Tristan Gorman, the legislative policy coordinator for the Colorado Criminal Defense Bar, said arrests without probable cause that are based on expired protection orders are not a problem isolated to Mesa County.
"Because each chief judge of each of the 22 judicial districts has the discretion to set policy," she said, "they're the ones that are responsible for this sort of result."
She added that inaction from the Judicial Department could conceivably prompt a class action lawsuit.
In his complaint, Foster alleged that the district court relied upon the State Court Administrator's Office and on defendants themselves to notify the court about when their sentences were complete in order to clear the protection orders.
"These policies caused law enforcement officers to arrest citizens without probable cause that a crime had been committed because this policy did not require mandatory protection orders to be vacated from the Central Registry upon successful completion of a criminal sentence," the lawsuit claims.
Gorman said she has never seen a defendant be required to report the end of their criminal sentence, calling the practice "absolutely absurd" if true. In cases where people are arrested and jailed, as Foster was repeatedly, they may "suffer harms like losing their jobs, losing their public benefits, any number of other consequences that are collateral to an arrest."
Flynn is a 2004 appointee of Republican Acting Gov. Keith King. He became chief judge in 2016, and 68% of Mesa County voters chose to retain Flynn in the 2020 general election.
Roberts, the attorney for Foster, said he did not know how many other people had their Fourth Amendment rights violated in Mesa County based on arrests lacking probable cause, but the discovery process for evidence would provide answers going forward.
The case is Foster v. Flynn.