Mary J. Mullarkey, the first female chief justice of the Colorado Supreme Court and its longest-serving, has died at age 77.
Many of her former law clerks on Wednesday spoke of how "the Chief," as they called her, was beloved and humble, even as she led the state's judicial system and held the power to shape the law through her written opinions in scores of cases.
"She never lost sight of the humanity of the participants. These weren't just litigants. They weren't just defendants. These were human beings," said Eileen Kiernan-Johnson, who worked for Mullarkey for eight years. "There wasn't such a thing as a small case for her."
An appointee of Gov. Roy Romer to the High Court in 1987, she was only the second woman at the time to ever serve. She became the chief justice in 1998, and remained in that role until her retirement in 2010. Her tenure included several lasting accomplishments for the state's judiciary.
"She dedicated her wisdom, knowledge and compassion to improving our justice system in countless ways, from requiring safe places for children in all the state's courthouses to making our state a leader in information technology for the courts," said Chief Justice Brian D. Boatright. "Outside of her legal work, she also will be remembered for her decade-long effort to replace the old and inadequate seat."
During her tenure on the Court, Mullarkey heard thousands of cases and was the author of 472 opinions. The number of judges increased by 27% under her watch, and Mullarkey regularly raised the need for more manpower in her annual addresses to the legislature.
"If you conduct business at one of our courts, almost universally you can expect delays that are excessive by anyone's standards. Most courts are closed to the public at noon and at 4 p.m. so that the staff can process the hundreds of new documents filed each day. Despite our best efforts, we cannot serve the public as well as we should," she told the General Assembly in 2007.
Those who knew her described Mullarkey as a skilled legal writer and a believer in public service, who wanted to mentor people and ensure underrepresented groups had a presence in the legal profession.
"I really thought she was a fair-minded jurist who considered both sides of issues and wanted to hear the arguments of colleagues who had different political views, which I think is not so much the case anymore," said Kimberly Spiering, Mullarkey's clerk from 2004 to 2005.
Annie T. Kao said she spoke with her former boss in September, unsure of her own professional path. That call prompted her in part to "pay it forward," by leaving her nearly two-decade career in the private sector and starting her own diversity, equity and inclusion consulting company.
"When I clerked for her, we could debate the hard stuff. We would debate the death penalty and indigenous land rights and affirmative action," Kao recalled. "She would just, with calm agility, make the arguments for both sides. That's what always impressed me."
In a statement, Attorney General Phil Weiser lauded Mullarkey's mentorship and support for the inclusion of diverse populations within the legal community.
"With her sharp intellect, tenacity, and compassion, Chief Justice Mullarkey was the definition of a public servant and our state is better because of her dedicated service. We will miss her greatly and her memory will be a blessing," Weiser said.
Mullarkey was born in 1943 in Wisconsin and graduated from Harvard Law School in 1968, where she was one of only a handful of female students. In her early career, she worked as an attorney for the U.S. Department of the Interior, and then the U.S. Equal Employment Opportunity Commission. Later on, she became Colorado's solicitor general and a legal adviser to Gov. Richard D. Lamm.
In the latter years of her life, she suffered from multiple sclerosis.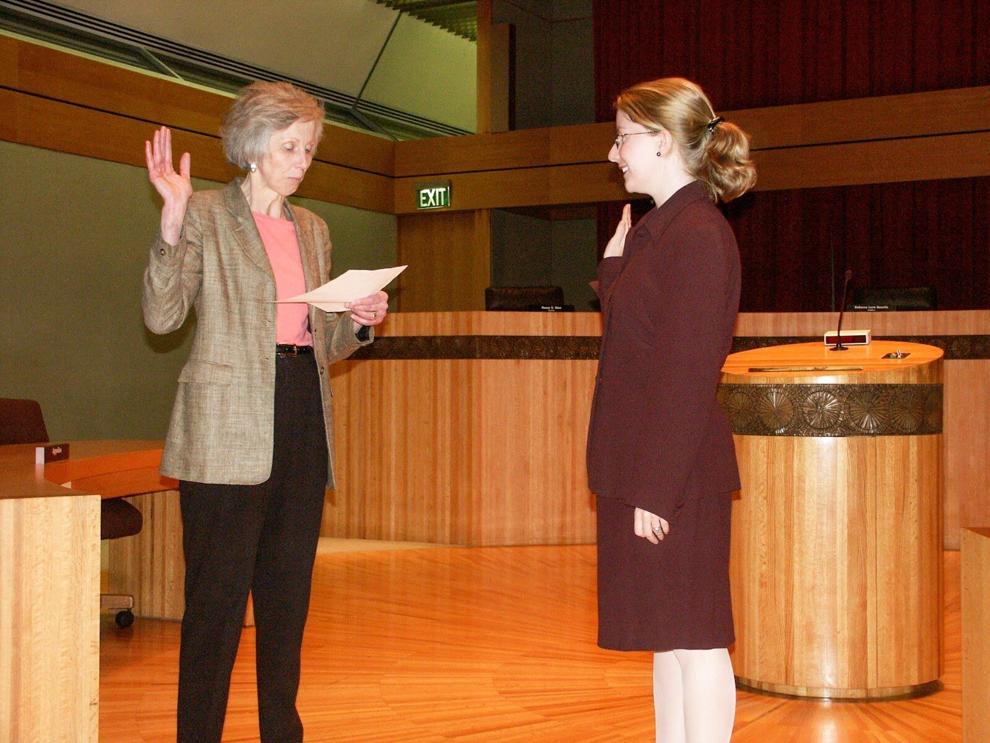 Kiernan-Johnson remembered that in her first year clerking for Mullarkey immediately after graduating from law school, her father was unable to make her swearing-in ceremony to the Colorado Bar. She asked Mullarkey to later hold a private ceremony, which she did.
"We all had a big celebratory dinner afterward with the Chief and her husband," Kiernan-Johnson said. "She was so willing to do things for people that were in her life."
Earlier this month, Mullarkey spoke to Colorado Politics about the virtue of having longevity at the top of the state's court system, which enabled her to implement major projects. She was proud of her efforts to construct the Ralph L. Carr Colorado Judicial Center, which now houses the Supreme Court, Court of Appeals and Attorney General's Office. It was her idea to name the building after Carr, the governor of Colorado who opposed the forced internment of Japanese-Americans during World War II.
She cited her written opinion in the Taylor Ranch litigation, a land-access dispute in the San Luis Valley involving rights that existed pre-statehood, as her most memorable case. Mullarkey authored the majority opinion that granted grazing and timber access to valley landowners as "a matter of judicial economy, and as a matter of fairness, given the forty-one year denial of access to the Taylor Ranch and this twenty-one year litigation."
In her personal life, Mullarkey was a patron of the arts, a book club attendee and a fan of music. She brought her clerks together regularly for social gatherings.
She is survived by her husband, Tom Korson; their son, Andrew Korson; daughter-in-law, Emily Korson; and two granddaughters.