Within the state's second-highest court, they are known as the "three amigos." Alternately: the "three stooges," the "three musketeers," or "chummy, yummy and gummy."
But to everyone outside the Court of Appeals' 22-member bench, they are known simply as "judge."
"They're very tight. They're very close," said Chief Judge Gilbert M. Román during Thursday's formal swearing-in ceremony for three appellate judges: Sueanna P. Johnson, Christina F. Gomez and David H. Yun.
Although such ceremonies, known as investitures, typically occur fairly soon after a judge's appointment, Johnson, Gomez and Yun took their seats immediately before the COVID-19 pandemic. While they have each been handling cases for more than two years, the June 30 ceremony was the first time friends and family celebrated their formal installation as judges.
All three were appointees of Gov. Jared Polis, who has named nearly one-third of the Court of Appeals' membership and will receive three more opportunities in the coming months with anticipated retirements. Kara Veitch, Polis' chief legal counsel, sent the governor's regards and reiterated his confidence in their appointments.
"We need judges that not only understand the impact of their decisions, but also that they directly influence the public's perception of our judicial system, which is particularly important now when there's growing distrust of all branches of government," Veitch said. "It is important to have thoughtful people with the highest ethics, integrity and respect for the rule of law."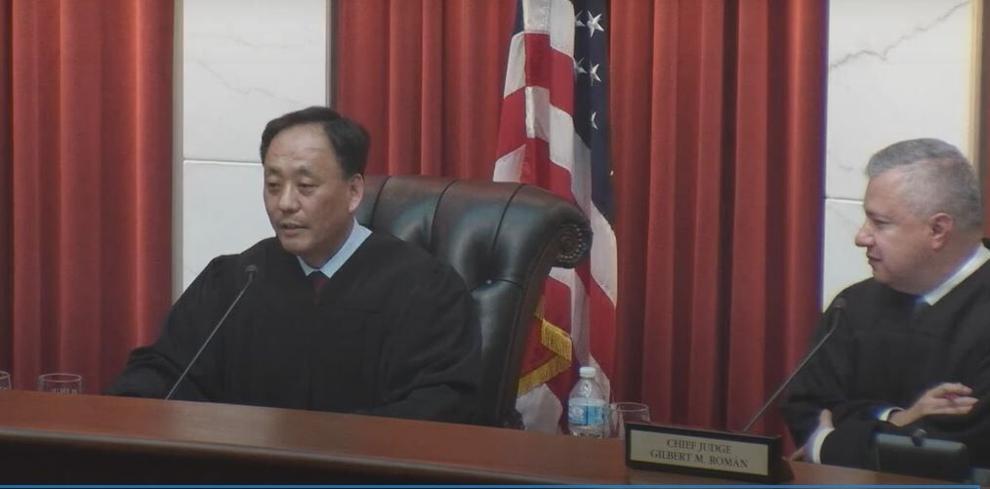 The Court of Appeals issues between 1,600 and 1,700 decisions per year. Compared to the roughly 100 appeals the Colorado Supreme Court hears, the appellate court is the final stop for most matters.
Nearly all sitting appellate judges, several retired judges and five of the seven Supreme Court justices attended the investiture ceremony. U.S. Rep. Diana DeGette, who is married to Court of Appeals Judge Lino S. Lipinsky de Orlov, was also present in the Supreme Court's courtroom for the swearing in.
Underlining how close they had grown as a result of joining the court immediately prior to the pandemic, Gomez and Johnson chose to introduce each other before their respective oaths of office.
Gomez described significant milestones in Johnson's life, including her birth in South Korea and her adoption at age 3. Johnson graduated from Colorado College and received her law degree from the University of Colorado. Ultimately, Johnson spent 15 years in the Colorado Attorney General's Office prior to her appointment.
A member of the appellate court's collegiality committee who organizes weekly lunches for the judges, Johnson's colleagues described her as "collegial," "affable," "effervescent" and "funny," according to Gomez. Former Chief Judge Steve Bernard said Johnson is like Mirabel, the main character of the Disney movie "Encanto," for having the ability to bring people together.
"She nicknames the other judges," Gomez quipped about Johnson. "She makes you feel welcome. She lends an ear or a hug when you need it."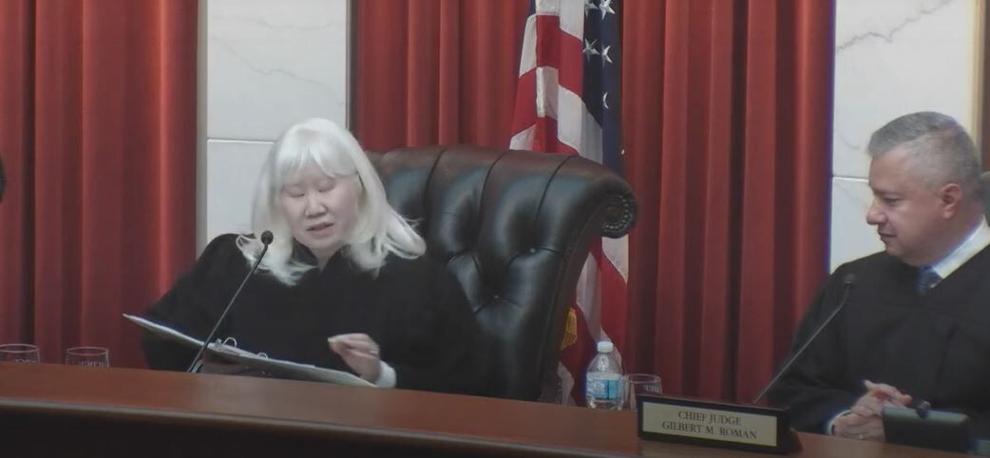 Johnson, delivering remarks after taking the oath of office, praised her adoptive mother for modeling how to build a cohesive family, develop character and become independent. Johnson promised to "connect with the public in a way that fosters confidence that I am discharging my duties every day with respect for, and protection of, the rule of law."
In introducing Gomez, Johnson described her Harvard Law School education and her clerkship with a federal judge in Georgia. She mentioned how Gomez met her husband, who was a tour guide on an early trip Gomez took to Peru.
"It is her kindness, humility and amazing sense of humor that makes her a lovely colleague and a cherished friend," said Johnson.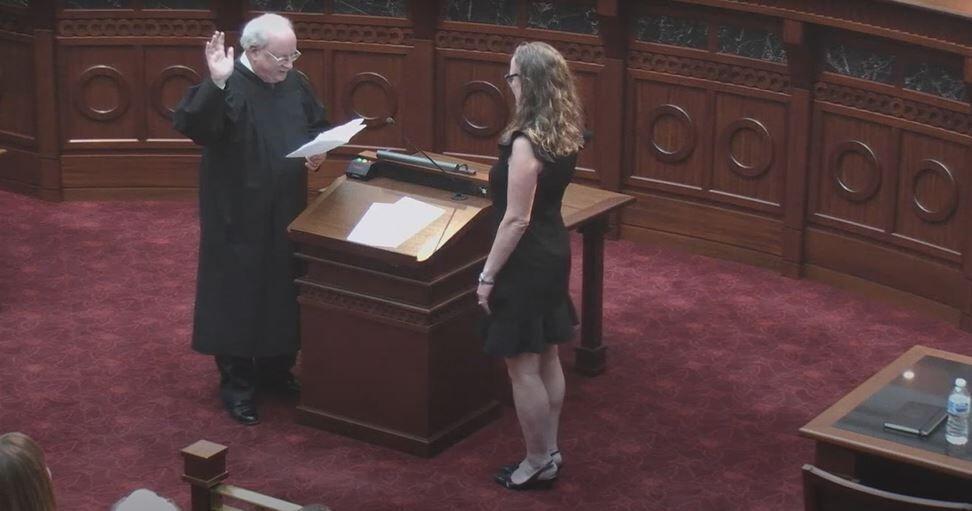 Gomez thanked her judicial colleagues, law clerks and her former coworkers at the prominent law firm of Holland & Hart for backing her and providing her with opportunities.
Addressing her husband, "I know you didn't always understand — and maybe you still don't — why I would give up a successful and rewarding career as a law firm partner to become a public servant."
"But thank you for supporting me anyway," she said.
Attorney Kevin Kuhn introduced Yun, who is also a South Korean immigrant with a lengthy career in private practice.
"Judge Yun came to the United States at age 8. He did not speak a word of English," Kuhn said. "Fast forward 16 years and you know what he's doing? He's clerking for the Colorado Supreme Court."
Román also complimented Yun as an orator who made "tremendously logical augments" in front of the court, but who was also very shy.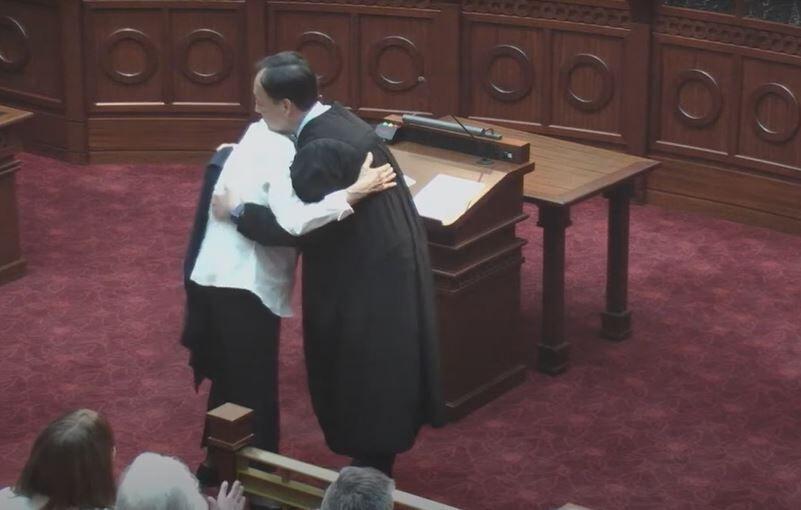 Yun grew emotional when thanking his family, who came to the United States to escape poverty and struggled after arriving. He said he greatly admired his parents for giving their children better opportunities, even though it meant working multiple jobs on nights and weekends.
When Yun's father died recently, Yun said he considered postponing or canceling his investiture.
"But my brother and sister reminded me that my dad would not want that," he said. "That this event was about more than my accomplishments. This event gave my dad a sense of pride, fulfilment and meaning to his own life. That all of the sacrifices my parents made were worth it."