The Colorado Supreme Court clarified on Monday that if someone is charged with multiple drunk driving offenses, what matters is which incident results in a conviction first, not necessarily which offense happens first.
Under Colorado law, each subsequent impaired driving conviction receives a harsher sentence. Consequently, prior convictions are important for determining the severity of the punishment. By 6-1, the Supreme Court ruled it is possible for a defendant with two separate impaired driving cases to be sentenced as a second-time offender in the case that, chronologically, began when there was no prior DUI.
The law "refers only to 'convictions' — a word that is explicitly defined in the statute," wrote Justice Melissa Hart, "with no mention of the underlying 'violation.'"
The case of Jacob Woodside raised a question the Supreme Court and Court of Appeals had never addressed before: When a defendant incurs two drunk driving charges on different dates, but the chronologically second offense is resolved before the chronologically first offense, what effect does the sequence have on a "prior conviction?"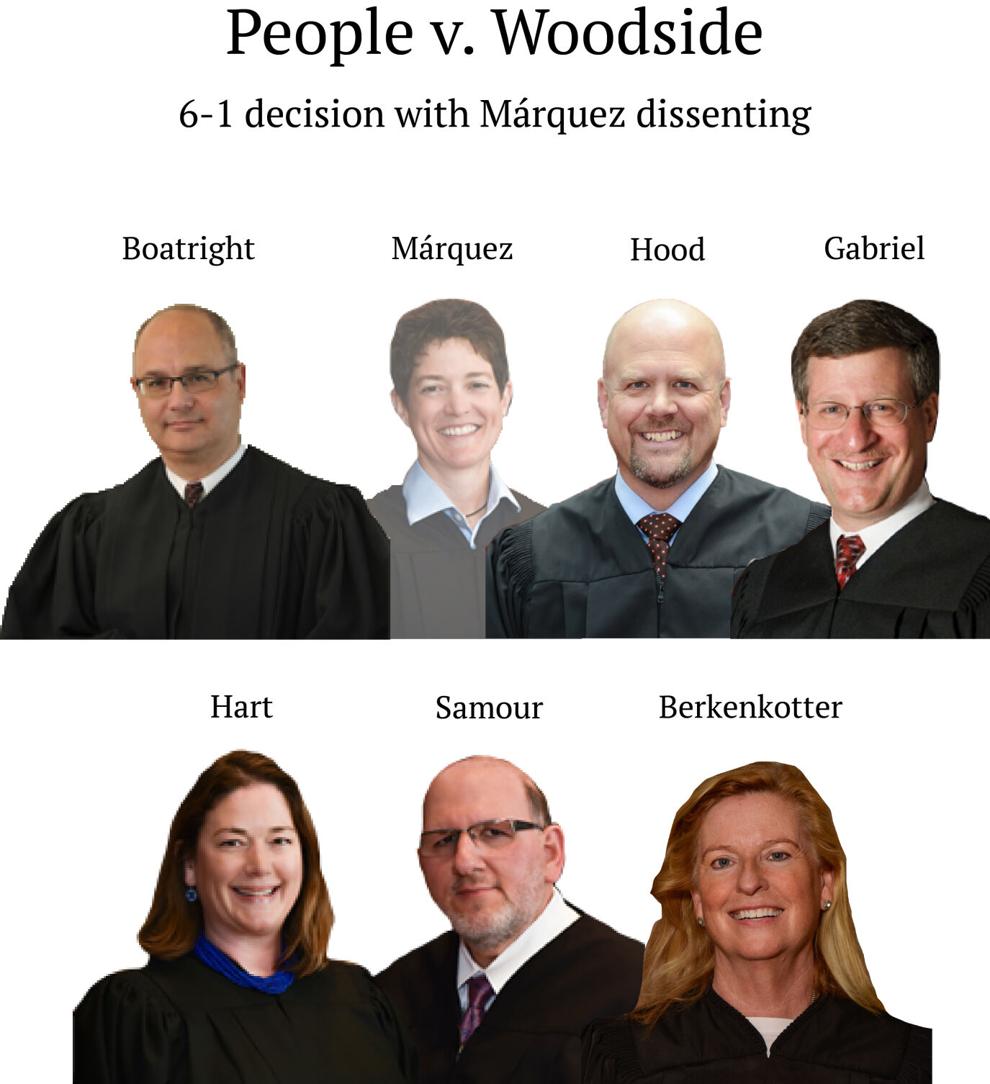 Prosecutors in Weld County charged Woodside for driving under the influence in August 2021. Nearly three months after that first offense, prosecutors in Grand County charged Woodside with DUI again in a separate case.  Woodside ended up pleading guilty to driving while ability impaired in the Grand County case while the Weld County charges were still pending.
Woodside was prepared to plead guilty in Weld County, but argued the later charges from Grand County should not count as a "prior conviction" and, accordingly, Woodside should be sentenced for only a first offense.
"We believe that if this would be sentenced as a first offense," said prosecutor Erica White at the time, "then the Defendant is getting a windfall, basically, of being able to have two DUIs in a very short span of time and being able to plead to both of them as first offenses."
County Court Judge John Briggs agreed with her interpretation, prompting Woodside to appeal directly to the Supreme Court.
In 2010, the legislature enacted a law to create increasingly severe punishments for repeat drunk driving offenses, which are misdemeanors until the fourth conviction. A first DUI offense, at the time the law took effect, could result in at least five days of jail and up to 96 hours of community service, while a second offense could result in at least 10 days in jail with 120 hours of community service.
A person is a second-time offender if they have a prior conviction "at the time of sentencing."
"One of the reasons you gotta have these multiple-DUI laws is because people who have a tendency to get DUIs have a bunch of them," said Stan Garnett, who was the Boulder County district attorney at the time of the law's enactment. "The intent of the legislature is to provide more severe penalties, enhanced penalties, for people with more than one of these."
In responding to Woodside's appeal, the Colorado Attorney General's Office argued that under his interpretation, Woodside would receive two convictions for a "first offense" — one for the Grand County case that resolved first and another for the Weld County case that started first. Defendants in Woodside's position could thus "game the system," the state insisted.
The Supreme Court's majority agreed that a "prior conviction" was not the same as a "prior offense," and the legislature clearly intended for prior convictions to count against a defendant regardless of when the DUI occurred chronologically.
"Woodside is asserting that having pled guilty to two distinct incidents of intoxicated driving, he should be sentenced for two first offenses. But he did not commit two first offenses; he committed two offenses," wrote Hart in the May 22 opinion. "Woodside's interpretation would incentivize gamesmanship by allowing defendants to forestall resolution of an earlier case while resolving a later one to get first-offense treatment in both."
Justice Monica M. Márquez saw otherwise. To her, the legislature enacted a framework to punish recidivism more harshly. Imposing a stiffer sentence on a defendant for a chronologically first offense — before he became a recidivist — is therefore unconstitutional.
"In addition to disregarding the plain language of the statute," Márquez wrote, "the majority's interpretation raises constitutional concerns because it permits a court to sentence a defendant's first offense more harshly as a second or subsequent offense based on conduct committed after the offense for which the defendant is being sentenced."
To avoid gamesmanship, Márquez suggested the Grand County judge and prosecutors simply should have waited for Woodside's first DUI charge in Weld County to resolve itself. Any logistical challenges that may arise, she added, "cannot trump the constitution."
Bruce I. Brown, the former district attorney for Colorado's Fifth Judicial District, said it is not a rare occurrence for people to incur multiple DUI charges in a short period. He believed the majority's conclusion will prevent alleged drunk drivers from exploiting "gaps in the law."
"The public interest clearly is aligned with the majority's reasoning — appropriate sentencing including treatment for multiple DUI offenders will save lives," Brown wrote in an email. "Any Legislator who would attempt to change this law would be on the wrong side of public safety to a degree that none would venture that far out on a political limb, even if they disagreed with the result."
The case is People v. Woodside.