Among the more than two dozen research projects on coronavirus vaccines underway at Colorado State University, two look promising: One uses a vitamin that occurs naturally in eggs, green vegetables and lean meat, and the other uses the same bacteria you find in your morning yogurt.
Researchers at CSU have long been working on vaccines for all kinds of problems, such as rotavirus, which is prevalent in third-world countries. So switching gears to look for a vaccine for COVID-19 came naturally.
Ray Goodrich, director of CSU's Infectious Disease Research Center, pointed out that there are several different ways to approach a vaccine, depending on just how much of the virus' protein you use. Different vaccines work better depending on the type of virus, he said.
Goodrich pointed to the work of Dr. Jonas Salk and Dr. Albert Sabin, the pioneers in developing polio vaccines. Salk's vaccine research used harsh chemicals because the polio virus has a hard outer shell that protects the virus' ribonucleic acid, commonly called RNA and exists in all living cells.
When some viruses are treated with chemicals, they are altered in a way that makes them no longer infectious, Goodrich explained. But you can't use that approach on SARS-CoV-2 (which is the scientific name for COVID-19) because the virus falls apart.
What the IDRC has been doing is to use a photochemical approach that is very mild, using riboflavin, that vitamin in your eggs and lean meat. Goodrich pioneered this technology, which is currently used in treating blood products before the blood can be transfused into patients.
In combination with ultraviolet light of a specific wavelength, the virus's RNA is altered and can no longer replicate in human cells, rendering the virus no longer infectious.
That becomes the basis for the vaccine, which teaches the body's immune system to fight back once the vaccine has been introduced.
Goodrich told Colorado Politics they got their first samples of SARS-CoV-2 back in February from a patient in Washington. The team of Goodrich, Richard Bowen and Mark Steinglein grew it in cells, and isolated a sufficient quantity of the virus to do the inactivation studies, and to show that they could kill the virus and prevent it from replicating.
Bowen, who is a veterinarian, took the next step to establish clinical trials with animals. He chose hamsters, which when exposed to SARS-CoV-2 develop a similar bronchial pneumonia that humans develop when exposed to the virus.
Three weeks ago, they started what's known as a vaccine challenge study, which takes about 10 weeks for results. The animals are vaccinated, given a booster four weeks later, and then four weeks after that are "challenged" by exposure to SARS-CoV-2. There are two groups, one that gets the vaccines and one that doesn't.
What they'll look for: whether the animals in the vaccinated group will develop antibodies, and compare that to the other group.
"It gives us a chance to make sure the vaccine doesn't cause complications" as well. If that's successful, they have a strong candidate for a vaccine.
After that, the vaccine goes into production for human clinical trials and FDA approval.
CSU already has a facility, known as BioMARC, a nonprofit manufacturing operation that can produce the vaccine for the clinical trials. The goal, Goodrich said, is to make these products available to the public, under the university's mandate to address problems.
Those clinical trials would likely be performed by a private sector partner. "It's not the goal of BioMARC to create a [vaccine] and sell it," Goodrich said.
"We're making good progress on understanding this disease," Goodrich said, and that makes CSU a resource for Colorado and the entire nation. They're also testing vaccines brought from other sources, he said.
Now, about the yogurt.
One of the active bacteria cultures in common brands of yogurt is lactobacillus acidophilus, which is also the active culture in probiotics.
It has another use: as a base for growing a SARS-CoV-2 vaccine, which is the work of CSU's Gregg Dean, head of the Department of Microbiology, Immunology and Pathology.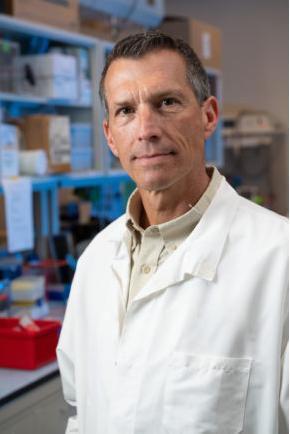 The bacteria thrives exactly where SARS-CoV-2 drives its spikes into the body, the mucous membrane. The virus gains entry into the tissues of the nose, mouth, throat and respiratory system and breaks into host cells, prompting cellular changes that trigger disease.
"We are desperate for a vaccine as soon as possible," Dean told Colorado Politics, so they're trying to develop lots of viable strategies so that they don't have to rely on just one kind of vaccine. That ensures that when a virus evolves they can respond quickly.
Dean's work uses a modified form of the yogurt bacteria. It's put through a series of selective conditions that isolate a weakened portion, known as a subunit, of the virus. That becomes the vaccine, which also teaches the body's immune system how to fight back.
His team has completed construction of the subunit vaccine, which they hope to have ready in a couple of weeks for the challenge study. If that's successful, Dean said they'll decide who will take the vaccine into clinical human trials.
Using the yogurt bacteria has lots of advantages, Dean explained. It's safe and already FDA approved for food. Because they've modified it, however, it will have to go through another FDA approval to be used as a drug.
This vaccine has other advantages: it's inexpensive and doesn't require refrigeration. "That's why we're excited and hopeful about it," Dean said.
Dean also pointed out that vaccines are not universally effective across all groups — different vaccines, such as the flu vaccine, are developed for the young or the very old.
Even socioeconomic status affects how well a vaccine works. Dean explained that in low-income countries, for example, 215,000 people die from rotavirus, and one of the contributors is poor nutrition, which makes a difference in how the immune system responds.
"We live in a very clean society," but in other places people are exposed to pathogens that cause diarrhea. Both the rotavirus and some coronaviruses are big problems for these countries.
If the vaccine Dean is developing is successful, it could be a lifesaver in these countries, because it can be delivered orally and wouldn't require trained medical personnel and refrigeration.
Dean's focus on COVID-19 came out of work he's doing under a $3.5 million National Institutes of Health grant on a vaccine for human rotavirus. According to a CSU news release, "when the COVID-19 pandemic flared, Dean's research team immediately pivoted."
He's also working on a vaccine for rotavirus in cats, supported by the Morris Animal Foundation.