A UCHealth policy against moving forward with organ transplants for patients who've declined a COVID-19 vaccine sparked an uproar in Colorado on Tuesday after a state legislator blasted the system on social media. But UCHealth's position is becoming increasingly common nationwide and may eventually become standard, a medical ethicist said.
Rep. Tim Geitner, R-Falcon, on Tuesday tweeted an image of a letter he said was sent to an El Paso County patient awaiting a kidney transplant. In the letter, a UCHealth official told the patient that they would be moved to an inactive status on the transplant list because they hadn't been vaccinated; the official wrote that the patient would be removed from the list entirely within 30 days if he or she did not begin the vaccination process.
Geitner posted the letter from UCHealth on Twitter and Facebook, and he included the name, phone number and physical work address of the kidney transplant coordinator who wrote the Sept. 28 letter. The recipient of that letter is not identified, although Geitner, in a Facebook Live video, said it is a woman.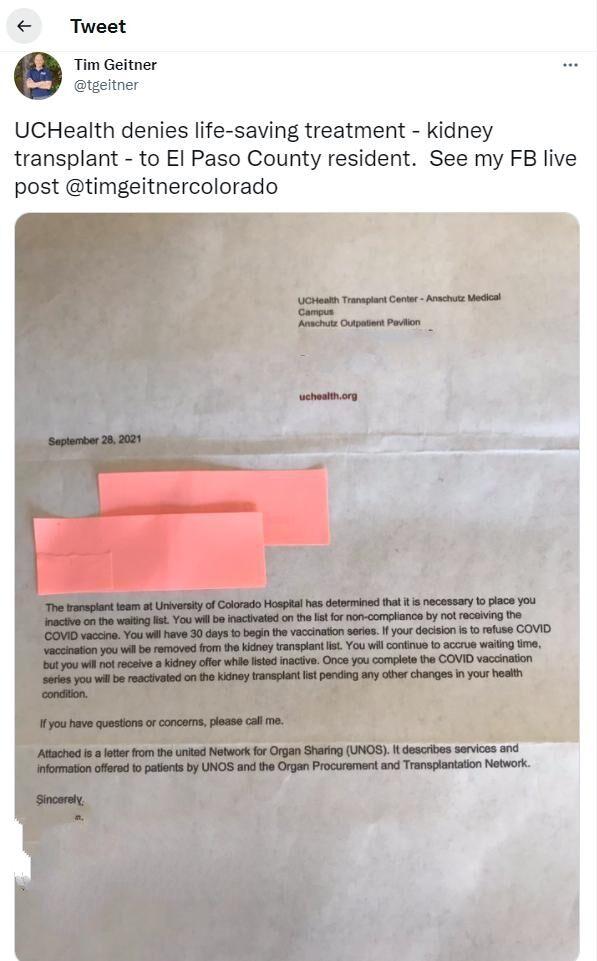 That information has prompted a suggestion on Facebook that those who support the woman should go to UCHealth and confront the coordinator. On Twitter, suggestions were made that the coordinator should lose her license and that people should call her and "let her know she is a scumbag that decided that pharma profits mean more than human life."
Geitner said on the Facebook post that the patient has about 12% of her kidney function left and has found a donor. He also said the matter was discussed by the El Paso County commissioners Tuesday morning.
Geitner called the decision by UCHealth "disgusting."
He later deleted the original tweet and reposted the letter without the name and contact information for the transplant coordinator. He told Colorado Politics he did not intend to bring any attention to the coordinator in his original tweet and Facebook video.
In an email to the Gazette, UCHealth spokesman Dan Weaver confirmed and defended the policy Tuesday afternoon. He provided links to several studies indicating the significantly higher risk of mortality from COVID-19 for kidney transplant patients and noted that its standard procedure to require certain steps be taken by transplant recipients and donors. Organ donation recipients in general are already at higher risk for death from COVID-19, as the post-operative treatment often includes a battery of immunosuppressant medications.
Weaver said that the hospital system's "priority is to provide excellent, safe care for transplant patients before, during and after a transplant surgery. ... Physicians must consider the short- and long-term health risks for patients as they consider whether to recommend an organ transplant."
"One broad study found kidney transplant patients who contracted COVID-19 had a 21% mortality rate," Weaver wrote. "Other studies found mortality rates ranging from 18% to 32% for transplant recipients who acquired COVID-19. For comparison, the CDC says the current mortality rate for everyone who has tested positive is 1.6%. This is why it is essential that both the recipient and the living donor be vaccinated and take other precautions prior to undergoing transplant surgery."
It's unclear if UCHealth is alone in enforcing such a policy in Colorado. A spokeswoman for HealthOne said that system did not require vaccinations for transplant recipients. A spokesman for Centura, which offers transplants at Porter Adventist Hospital, did not respond to a message seeking comment Tuesday. National Jewish, a leading pulmonary hospital, does not perform transplants. A spokeswoman for the Colorado Hospital Association said late Tuesday afternoon that she was just learning about the situation and could not comment further.
But the policy is becoming increasingly common nationwide, and it may soon become standard, said Matthew Wynia, the director of the Center for Bioethics and Humanities at the University of Colorado's Anschutz Medical Campus. He and Weaver noted that other vaccines - against diseases like hepatitis B - are already required. Now that the COVID-19 vaccine has been fully approved by the Food and Drug Administration, "it just makes so much sense" to require it, Wynia said.
He likened it to requirements that some lung transplant recipients stop smoking or some liver recipients stop drinking.  
"Basically, it's a matter of transplantable organs are very scarce, we don't have enough of them for everyone who needs them and want to give them to folks who are going to have the best chance of getting the most years of use out of that organ," Wynia said. "If someone puts that organ at risk, you'd rather give it to someone else." 
He echoed Weaver in noting that kidney transplant recipients are at higher risk of death from COVID-19. 
"When you have someone say, 'No, I'm willing to take a 20, 30% risk of death because I feel so strongly about not getting this vaccine,' that's a bad candidate for an organ," he said. "That only matters because there's someone else who could use that organ." 
Wynia said he's on an email chain with roughly 700 other medical and bio ethicists and that requiring the COVID-19 vaccine for transplant recipients "is a very active topic of conversation." But he expressed concern about the future incorporation of the vaccine - or even other vaccines - into those policies because of the unprecedented level of opposition to the jab.