Saturday, the Trump administration pushed back on claims made by Gov. Jared Polis beginning a month ago that the Federal Emergency Management Agency had swiped equipment orders obtained by Colorado.
Colorado Politics received an email Saturday from FEMA Region 8 spokeswoman Lynn Kimbrough that disputed a May 1 story about federal government efforts to interfere with Colorado's orders for personal protective equipment (PPE), test kits and ventilators.
The story referenced an interview Polis did with Colorado Public Radio on Thursday in which he talked about keeping secret an order for masks until they had arrived in the state. "The danger with the feds and the FEMA in particular is they often, you know, go to the front of the line in acquisitions," Polis told "Colorado Matters" host Ryan Warner. "This is what happened to us with regard to a ventilator acquisition where, you know, we were basically told by the legitimate company and the CEO that, look, FEMA has delayed all the state orders. So, you know, it's not canceled. Maybe you'll get it someday in six months. But basically FEMA is buying our entire production for four months. We can't fulfill yours.
"So yes, we don't talk about things 'til they're here. I guess for two reasons. One is we don't really know that we have until they're here because you never know what's happened with the global supply chain. But the other is, yeah, we don't want to give the competition, which could mean other countries, could mean our own country, could mean other states. We don't want to give him a heads up of what we're doing."
In the email, Kimbrough said "FEMA has not and is not seizing or taking supplies or personal protective equipment (PPE) from the state of Colorado or anyone lawfully engaged in acquiring or distributing PPE.
"The perception that FEMA is 'out-bidding' states and others for supplies is incorrect. It's an important point of understanding that due the use of priority ratings in the Defense Production Act to reallocate critical resources, federal government requirements are put ahead of other orders to best assist areas most in need of supplies.
"As FEMA processes orders through the supply chain, we maintain close coordination with states, including Colorado, to identify potential bidding conflicts. And, if a conflict occurs, we work closely with the state to resolve it in a way that best serves their needs. Further, if a governor believes this has happened to their supplies, it should continue to be quickly reported to the FEMA Region so it can be resolved," Kimbrough wrote.
Polis spokesman Conor Cahill told Colorado Politics that Polis "appreciates any help Colorado gets from our own federal government, the Taiwanese government (which donated 100,000 masks), or anyone else."
However, "the Governor has also been clear with Coloradans that states competing against one another and even our own federal government for supplies is not how the wealthiest nation in the world should be responding to this pandemic. Our state has had to learn to navigate international supply chains and pulled in people from the private sector, we've established reliable supplier relationships in China and South Korea, and we've been doing what we can to get the testing and supplies we need for Colorado."
On April 3, Polis appeared on CNN and told host Don Lemon the state had "a lead" on a manufacturer of ventilators that would come in at a good price, and then the Federal Emergency Management Administration came in and swept them up "and we're not getting them." The order was for 500 ventilators, which would have been a substantial addition to the state's stockpile.
Polis added that "it was nice when we were competing against the states," but it's much tougher competing against the federal government for personal protective equipment and ventilators.
Five days later, President Trump tweeted he would send 100 ventilators to Colorado from the strategic national stockpile at the behest of Republican Sen. Cory Gardner of Yuma, which led to criticism that the president was playing political games with critical medical supplies.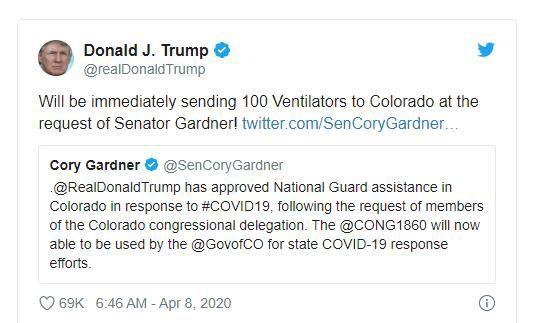 Rep. Diana DeGette, a Denver Democrat, in an April 8 statement, said that "Governor Polis and our Congressional delegation have been working to get more ventilators to Colorado for weeks. In fact, Colorado was set to receive 500 ventilators until FEMA blocked the shipment. Now, President Trump says we will get 100 as a courtesy to Senator Gardner. That means, because the president is playing politics with public health, we're still 400 ventilators short from what we should have received. His mismanagement of this crisis is costing lives and livelihoods."