The state's public health department says it does not endorse the advice that an official gave Colorado's largest public transportation agency, which contradicted published COVID-19 guidance and provided the Regional Transportation District an impression that its policies were "excellent."
At an April 14 committee meeting, Mike Meader, RTD's chief safety and security officer, responded to a question about the agency's capacity limits on buses and rail cars during the COVID-19 pandemic. Four days earlier, RTD had implemented caps of 15 passengers per bus and 20 per larger, articulated buses. This policy replaced previous guidance for passengers to use their discretion and avoid boarding vehicles that appeared to have insufficient distancing between people on board.
Some members of the Amalgamated Transit Union Local 1001, which represents 2,300 operators and other employees, felt those numbers were too high, and have suggested a limit of 10 persons. Informing the request were two documents: guidelines from CDPHE published on April 2 that advised transit agencies to limit passenger loads to 20% of a vehicle's capacity. Second, an RTD consultant, Montréal-based WSP, provided a report for public transit organizations that recommended "only operating vehicles up to 50% passenger capacity."
However, a diagram below the recommendation depicted a non-articulated bus with six passengers drawn to show distancing. The image showed roughly 20% capacity, leading to questions of how a 15-passenger limit could permit safe distancing.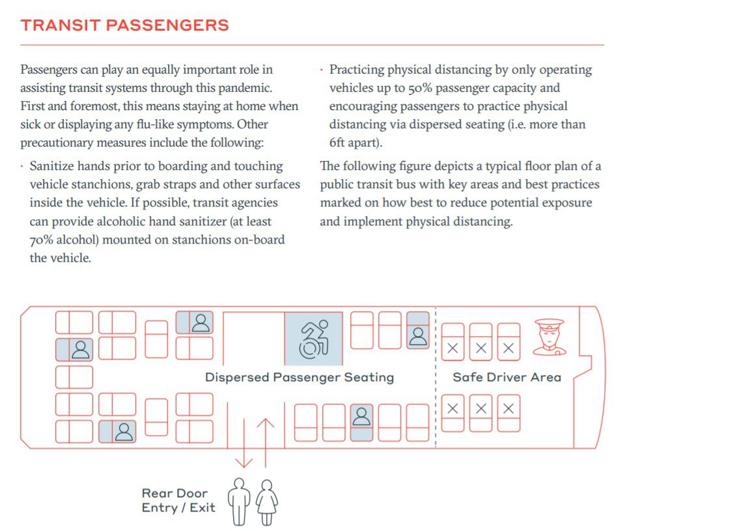 Meader told the board of directors that he participated in a CDPHE conference call and he "couldn't really get an understanding about how they arrived on that [20%] number." Then, prior to the board meeting, Meader said he spoke with a CDPHE official who explained that "first of all, this was guidance. It's not a mandate or an order….There really wasn't any kind of an explanation or an input from any kind of a transit organization. The number came down from their epidemiology group and it was a very conservative number. Kind of a guesstimate to say, 'geez, if we took these big buses and we really reduced the load on the bus, it should give an opportunity to exercise social distancing."
Meader explained to the official how RTD devised its numbers of 15 and 20 passengers, and the official was reportedly "pretty impressed with that."
"They said that it sounds like a lot of thought went into it if most of the transit agencies are kind of doing the same thing. And they felt that based upon those explanations, we were probably providing an opportunity for people should they exercise their own responsibility," he continued. Meader's takeaway from the discussion was that the CDPHE official "felt the things we were doing, the numbers with the changes authorizing operators to bypass stops, and the opportunity for putting additional resources to pick up additional people, they felt those were excellent."
Director Shontel M. Lewis, District B, asked Meader in the meeting for the name of the official, and Meader said he could not remember, but would tell her later. Colorado Politics also asked Meader, but a spokesperson responded that the individual "is busy fielding questions and giving advice and guidance to agencies and is not taking media calls."
An open records request to CDPHE found that the official was Lynn R. Garst, the responder health and safety coordinator for the Office of Emergency Preparedness and Response.
In an e-mail to Garst the day after the board meeting, Meader recounted what he told the directors and connected it to the two men's conversation earlier.
"I also told them that you could not verify that the approximately 20% capacity guidance came from anything concrete from a transit agency," Meader wrote. "I told them you thought that was a good idea [having numerical limits on passengers] and you felt it was smart to approach it that way and in your opinion it addressed the spirit of the guidance."
The Federal Transit Administration's recommendations to agencies only mention a six-foot separation between persons, without offering a suggested capacity limit. The American Public Transportation Association, which represents agencies in the U.S. and Canada, similarly does not have a defined vehicle capacity guideline. Some agencies, including those in the Bay Area, Milwaukee and Charlottesville, have imposed 10-passenger limits.
Garst referred questions about his conversation with Meader to CDPHE. In a series of statements, the department distanced itself from Garst's advice to Meader. "If an agency was only reducing to 50% capacity, that would be going against our guidance," a spokesperson wrote. "Agencies can be more restrictive, but we would not like them to be less restrictive."
In a second statement addressing the representation that the 20% limitation was not derived from "anything concrete," the department noted that it relies on other transit agencies, local and federal agencies, and epidemiological science to develop its guidelines.
"Staff may have been trying to be helpful during this fast-moving, constantly evolving disaster, but conflicting advice was not official guidance," the statement concluded.
Director Doug Tisdale, District H, said that the "consensus" among other agencies aligns with the caps RTD chose, and that he has confidence in Meader's approach to safety.
"This remains a work in progress and we will continue to review and revise this plan as new information becomes available and circumstances warrant," he added.
Note: This story has updated to include comments from Doug Tisdale.