A special meeting of the Legislative Audit Committee, called by its Republican chair, Rep. Lori Saine of Dacono, brought together county clerks, two former Colorado Secretaries of State in Colorado, and a member of the Trump legal team that has been challenging election results in six states that has so far resulted in one minor win and nearly five dozen losses.
The daylong hearing also included a visit from a Castle Pines man who is behind the disputed claims that a Dominion Voting Systems employee ensured a Biden victory. Joe Oltmann may have brought something else with him, too: a possibly active case of COVID-19.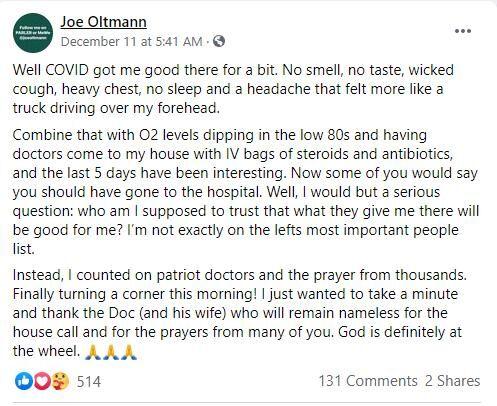 Oltmann told people on his Facebook page on Dec. 11, just four days before the hearing, that "COVID got me good there for a bit. No smell, no taste, wicked cough, heavy chest, no sleep and a headache that felt more like a truck driving over my forehead.
"Combine that with O2 levels dipping in the low 80s and having doctors come to my house with IV bags of steroids and antibiotics, and the last 5 days have been interesting."
In a Parler post on Sunday, Oltmann indicated he had had a relapse. "Well Wuhan decided to claw back a bit," he wrote. "Just when you think you are getting better his [sic] sneaky communist virus decided to go for round two...ten days of this stuff has sucked."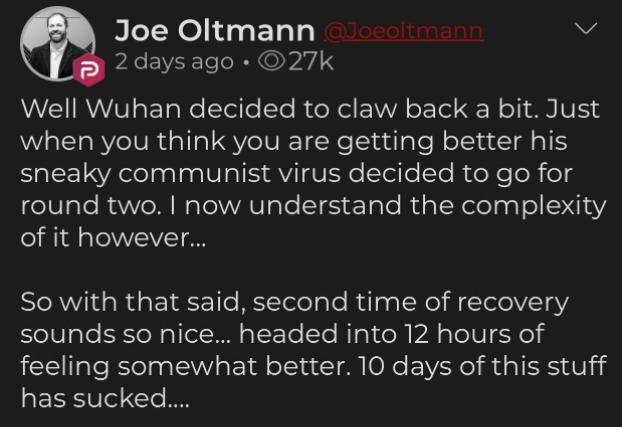 During the hearing Tuesday, Oltmann posted on Facebook that he is past the contagion period of 14 days, but his posts would indicate that's not accurate. He also did not say whether he had tested negative for the virus since becoming infected.
According to COVID health experts, a person is no longer contagious with COVID about 10 days after symptoms subside.
There were at least 20 people in the room, including Republican members of the audit committee, staff from the auditor's office and the office of legislative legal services, House Republicans who are not on the audit committee and members of the public. (Democratic members of the committee all chose to participate remotely.)
Those entering the building were not required to be tested prior to entering the committee room nor provide proof that they were negative for COVID-19. Most of those in the room, but not all, wore masks, according to a livestream of the event. 
Oltmann wasn't the only one with COVID-19 testifying Tuesday.
Trump legal team adviser Jenna Ellis, who tested positive on Dec. 8, testified remotely from Washington, D.C.
She told radio host Dan Caplis on Tuesday morning that Dominion Voting Systems may have swung some of the state and local races in Colorado, according to a tweet from 9News' Kyle Clark. However, she didn't provide any evidence of her allegation, either on the Caplis show or in her testimony Tuesday.
Ellis claimed, without proof, that Republicans were losing elections in Jefferson County because of Dominion, but had no proof to back that up, and then stated, incorrectly, that voter registration numbers hadn't increased in the county in the last four years but that Trump had gotten more votes in 2020 than in 2016.
That's true: Trump got 10,000 more votes in 2020 than in 2016; President-elect Biden, however, got 57,000 more votes than 2016 Democratic presidential candidate Hillary Clinton
Current voter registration numbers for Jefferson County show that registrations grew by more than 41,000 in the last four years, although Republican numbers declined slightly. She also claimed the state should investigate mail-in voting but gave no evidence that there had been any irregularities with mail-in voting in Colorado in 2020.
After repeated questions from Democrats about her evidence, Ellis finally said she was just asking questions and said it was the legislature's responsibility to look into it.
The Wall Street Journal reported earlier this month that Ellis was fired in 2013 by the Weld County district attorney's office after only six months on the job. The Colorado Sun reported Tuesday that the dismissal was for mistakes and for failing to meet expectations.
Next to testify: former Republican Secretary of State Scott Gessler, who spent the first few minutes of his time talking about alleged election irregularities in other states. As to Colorado, however, Gessler said Dominion had performed well.
Gessler was part of the Trump team that filed a lawsuit in Nevada, attempting to challenge that state's election results. First Judicial District Court Judge James Russell in his ruling to dismiss said Gessler's report "lacked citations to facts and evidence that he used to come to his conclusions and did not include a single exhibit to support of [sic] any of his conclusions. The Court finds that Mr. Gessler's methodology is unsound because he based nearly all his opinions on a handful of affidavits that he took no steps to corroborate through independent investigation."
The hearing also heard from three county clerks, including El Paso County Clerk Chuck Broermann. "We can account for every cast ballot," Broermann told the committee. "We are the gold standard" with the best system in the country.
The hearing did not produce any evidence of voter fraud or any other election irregularities in Colorado, although several past election officials said minor improvements could be made.
Former Secretary of State Wayne Williams, in response to a question, said there was no credible evidence of successful election fraud in Colorado in 2020. There were ballots discarded because of problems with signature verification, he said.
Secretary of State Jena Griswold provided written testimony to the committee, which has no authority to audit counties or their election processes, and no authority over private businesses like Dominion.
"Colorado's election model is considered the nation's gold standard and has gained widespread bipartisan support since its implementation in 2013. With that in mind, unfounded claims and false narratives made by President Trump's campaign legal team are deeply troubling," Griswold said in a statement Monday. 
"Colorado's 2020 general election has been extremely successful, holding true to our state's high standards of election turnout, accessibility, and security.  Colorado just completed the statewide post-election Risk Limiting Audit, which is an audit that provides a high statistical confidence in the election results. Colorado voters can rest assured that their voices have been heard and we look forward to certifying the 2020 General Election on November 30, notwithstanding any statutory recounts of local races." 
The hearing began at 9 a.m. and was initially scheduled for four hours. It wrapped up just after 6 p.m.
A statement from committee Democrats after the hearing ended said, "Today we heard testimony from election experts, county clerks, and other bipartisan witnesses attesting to the safety and security of our elections in Colorado. We are proud to have our state's reputation as the gold standard of election transparency and security upheld, and grateful to all the Coloradans who worked tirelessly to administer our elections in the midst of a global pandemic. Their integrity and patriotism is exemplary. 
"What was also apparent from the start of the hearing is that, despite unsubstantiated claims, there is no evidence to justify any allegations of election fraud.  Republicans gave witnesses a platform to propagate false, dangerous, and discredited conspiracies. However, we are confident in our state's robust post-election audit process and look forward to continuing to support county clerks in their efforts to administer the most secure elections possible. Protecting our fundamental, constitutional right to vote is paramount, and we are committed to ensuring that our elections remain accessible, safe, and transparent, regardless of attempts to undermine it. " 
Late Tuesday night, incoming House Minority Leader Hugh McKean of Loveland said in a statement that the "integrity of our American elections is essential to our Republic. Today's Legislative Audit hearing was key to ensuring that we never fail to ask the questions, gather information, and put voters' minds at ease that we have fair and accurate processes in place. That work is the foundation of trust that we hold so that we can represent our constituents and craft the laws of our state. 
"We thank everyone that came with their questions, with information and open minds to inquire and learn. The testimony today is instrumental in ensuring the validity of the recent election and preparing for future elections, with an eye towards ways that we can improve our already robust systems of checks and verification, ensuring that every legal vote counts and is not diluted by errors and inaccuracies. In a year where an unprecedent number of voters have voiced doubts in election security, we have a duty to ensure that Colorado elections are always safe, secure and fair."