Guidance to the real estate industry from the Department of Regulatory Agencies' Division of Real Estate on how real estate agents can still conduct business is no guidance at all, agents are telling Colorado Politics.
And real estate agents who continue to show homes could be charged with criminal penalties and risk their licenses, according to Marcia Waters, director of the Division of Real Estate.
Last week, Colorado Politics reported on families caught in a dilemma regarding homes they may want to buy;  they found that guidance both from DORA and the Attorney General's office restricted in-person viewing.
Gov. Jared Polis, in an April 8 news conference, said that homes could continue to be bought and sold, and that there was no prohibition on inspections or any other part of the home-buying process. A follow-up from Polis spokesman Conor Cahill said DORA would be issuing further guidance for agents to manage showings in light of the stay-at-home executive order.
"We are encouraging professions of all types to get creative about the ways in which they can conduct business virtually until we are able to allow these orders to expire," Cahill said.
The big hangup, according to real estate agents, is on showings, a first step in the home-buying process.
The April 9 guidance from the real estate division said "showing a property or conducting an open house in-person during the COVID-19 pandemic shall be avoided as it violates the specific mandates of recently issued executive and public health orders." In an April 10 webinar with the South Metro Denver Realtor Association, Marcia Waters, the division's director, warned participants that violations carry criminal penalties, including jail and up to $1,000 in fines.
According to Matt Hudson, co-owner of Colorado Home Realty, the real estate community is "caught between helping clients who have contractual obligations or dire financial needs, and the threat of licensure violation and criminal charges from the Division of Real Estate and the attorney general's office."
"There are consumers who have to sell, but buyers are not allowed to view their homes. There are buyers who are already under contract on the sale of their home and must find a replacement home. Our industry confusion comes from the governor passionately stating that Coloradans can buy and sell real estate and the division of real estate, only 24 hours later, on April 9, telling the real estate community that we cannot help these consumers. Which one is it? Can Coloradans buy and sell real estate or not? This is an executive order and we want clarity from our executive branch."
DORA has not done a rulemaking dictating discipline for agents who show homes during the pandemic, Hudson said.
"The court of public opinion is that DORA has the authority to tell us we can't show homes," but he said they don't have that authority, although most realtors don't understand that. What's happened is that it's shutting down the industry."
Hudson said that at last count, at least 118 families are caught in this dilemma. Some to sell and can't show, or need to buy and cannot view. The reasons vary: some are in a financial situation of needing to sell, some are under contract on the sale of their home needing to find a replacement home, some are tenants who have given notice and must be out in a certain time frame. 
Agents and agency owners agree that open houses are out-of-bounds for real estate activities. But not allowing a potential buyer to actually see a home could put agents, sellers and buyers into legal risk. 
DORA spokeswoman Jill Sarmo told Colorado Politics this week that the agency is trying to come up with guidelines to assist people "as best we can." .
What these orders say to the community is to stay home, she said. There's a narrow list of businesses designated as critical, "but how the order has been interpreted by the attorney general's office is that if you aren't explicitly listed [in the executive order] you need to stay home."
Public Health Order 20-24 was issued after Polis sent out the March 25 executive order that mandated that Coloradans stay at home, except for those engaged in critical business activities. The public health order, as it relates to real estate, says that critical businesses include "professional services, such as legal, title companies, or accounting services, real estate appraisals and transactions."
Transactions aren't defined in the public health order, so the division then refers to the DORA guidance, which, based on the attorney general's interpretation, means only closings.
"We understand that causes problems for people," Sarmo said. DORA encourages the real estate industry to "get creative about how to do business." What that means, she said, is that an agent could go to a house, take photos and do a "virtual tour" which would allow people to see photos or videos of the homes.
She also said DORA executive director Patty Salazar has been working with the real estate association on ways that contracts could be amended "to allow for some wiggle room," a suggestion made by realtors last week.
"We understand that this is an unprecedented time," Sarmo said. "DORA is hamstrung on not providing guidance on specific legal issues. At the end of the day, it's exceptionally difficult for a lot of people. There will be fallout from this and it will be heartbreaking for a lot of people."
The bottom line, Sarmo said, is that if someone contracts COVID-19 at a house showing and passes it on to someone else, that's a permanent impact, not a temporary situation.
She said that people should reach out to DORA if they face these kinds of issues and the agency will put them in touch with "resources," although she didn't say what kind.
Real estate agents claim the guidance on the home-buying process is conflicting, depending on whether it's coming from the governor, the division of real estate or the attorney general's office.
In an email to Colorado Politics, Hudson said that "our industry has not been provided an attorney general's directive stating we cannot show homes. In fact, it was intimated [by DORA] that the AG's office said no inspections, which we now also know is not accurate. We have nothing in writing that has clarified real estate agent behavior in serving buyers and sellers in the process of listing and showing homes, from any authority that directly and properly addresses the issue," he added.
He called the April 9 guidance "wildly vague."
COVID-19 — and DORA"s guidance on how to conduct real estate transactions — is wreaking havoc on the real estate market, based on data supplied by Colorado Home Realty.
A year ago, a home would get, on average, about five showings prior to sale. Now it's down to less than two, on average. The number of listings also has dropped, and sellers are pulling their homes off the market, the company's data shows.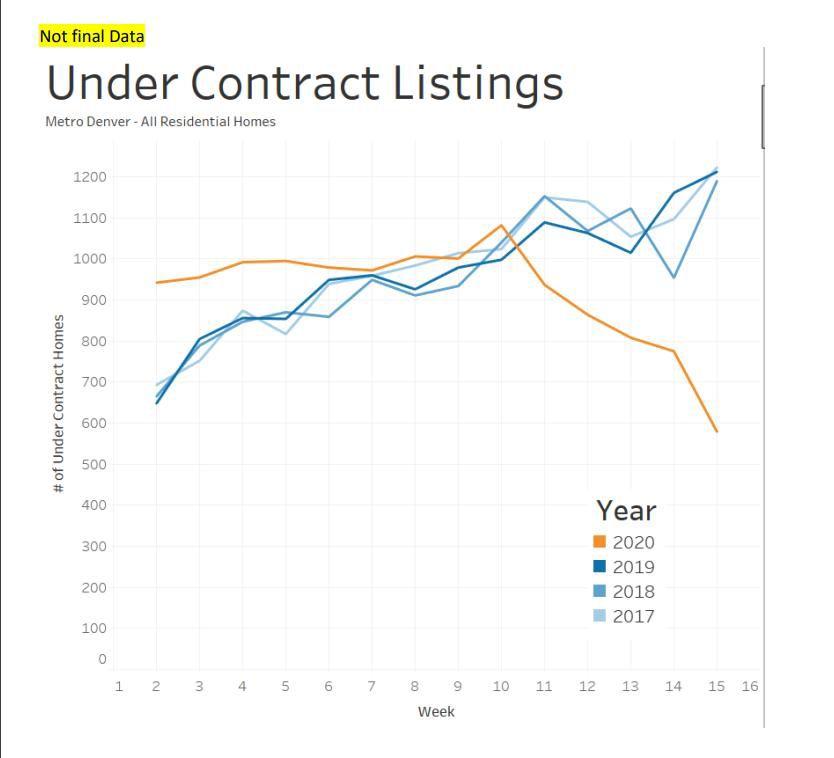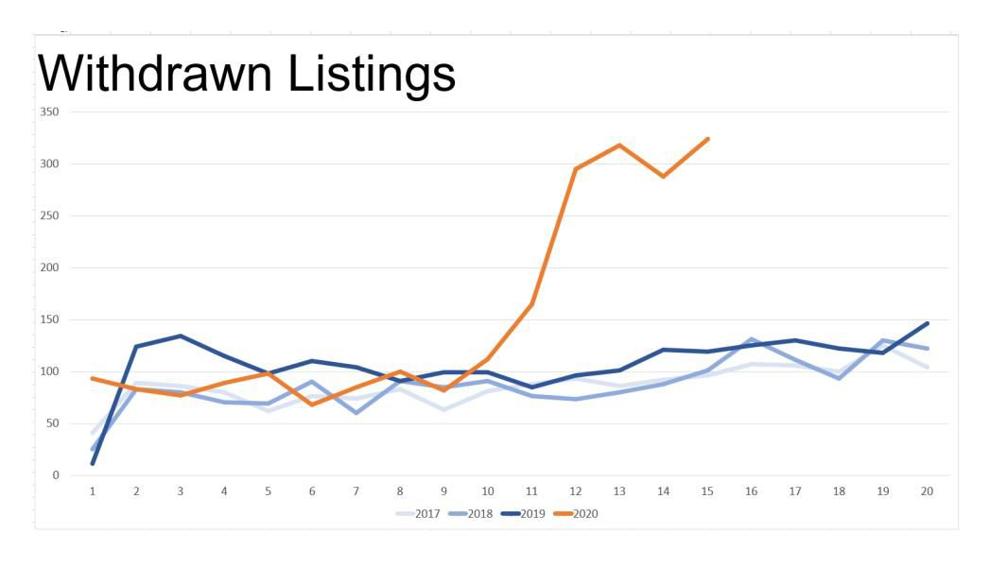 Polis, in a Wednesday news conference, again responded to a question about in-person showings with appropriate social distancing measures. "There's unlikely to be large open houses with dozens and dozens of people in the near-term future... . Of course, there will be showings with social distancing. Transactions are still occurring every day," he said. "But as soon as possible, making sure people can do site visits is absolutely critical ... buying and selling homes is a normal and sustainable part of Colorado."