Gov. Jared Polis on Monday expanded directives related to boosting "social distancing" in Colorado by calling for a ban on all in-house dining to close at restaurants, bars, gyms, theaters and casinos.
That public health order takes effect at 8 a.m. on Tuesday* and will be in place for 30 days, Polis told reporters. It comes amid the announcement of 29 more cases of COVID-19, the disease that comes from the novel coronavirus.
Delivery and take-out will still be allowed, and it is likely drive-through service will be allowed. The order is similar to the directive earlier Monday by Denver Mayor Michael Hancock. 
"We want to be ahead of the curve in Colorado," Polis said.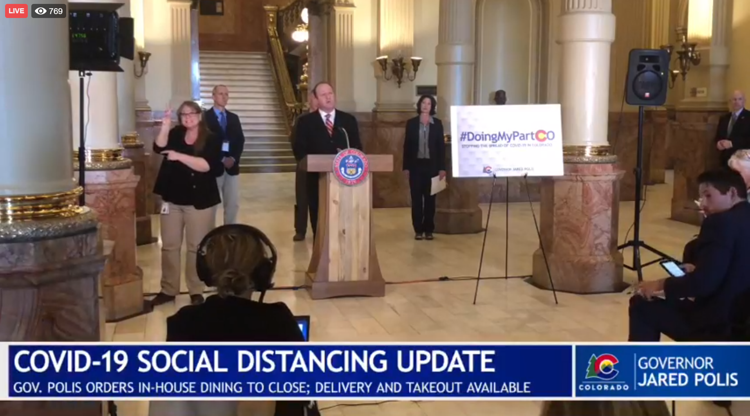 The Colorado Restaurant Association, a trade organization supporting the industry, announced the move to its members shortly before the governor's announcement.
"We are working on a compiled list of resources to aid your businesses and your employees in the wake of this announcement," said Sonia Riggs from the Colorado Restaurant Association.
The association reports that there are approximately 11,800 eating and drinking locations in Colorado, employing 285,000 workers in 2019. In 2019, Colorado restaurants generated approximately $348 million in state taxes, plus any taxes collected by local jurisdictions. 
Polis pointed out that unemployment insurance is available for those laid off, as well as a state workshare program that pays half the cost of an employee's wages. 
The governor dismissed the idea of closing day care centers, as has been done in other states.
"They're open out of necessity," he said. "Families have kids and they need these services."
He noted that the mortality rate for children from COVID-19 is small, although "they are a vector" for infection. He said he also is in discussion with RTD and ride-share companies to ensure social distancing, adding that transportation is necessary for health care workers. 
He also announced efforts to keep up the spirits of Coloradans through #DoingMyPartCO, a social media hashtag intended to share stories of how people are maintaining social distancing and how they're keeping kids occupied or engaging in outdoor activities. It's part of a statewide focus on behavioral and mental health during the crisis, he explained.
As of Monday, the state has 160 presumed positive cases with 20 people hospitalized. The number of tests is well above 1,200, although it does not include negative tests conducted by private labs, which are only required to report positive tests, Polis said.
The governor also continued to criticize the Trump administration's response Monday, telling reporters that a Monday call with the president was "frustratingly general" and of limited value.
The state needs to continue testing as much as possible, as it gives policy makers and public health crucial information on where to direct resources and quarantines or isolation. Several times during the news conference, Polis called the situation frustrating.
Testing only shows a person's infection three to five days after infection, he said, and hospitalization trails infection by 7 to 10 days. "We are where Italy was two weeks ago," where the country passed 2,000 deaths Monday and more than 10,000 cases.
"We can't wait on testing to flatten the curve," Polis said, which is why the social distancing measures are being escalated. 
He also estimated that there are likely thousands of cases across the state that have not yet been diagnosed or tested. 
The state also is enacting real-time guidance from the federal Centers for Disease Control and Prevention, including limiting public gatherings to no more than 50 people. But Polis said anyone hosting events with even 30 to 40 people should consider canceling. Whether the state will limit gatherings to 10 people or more, as was suggested by President Trump earlier Monday, is awaiting CDC directives, Polis indicated.
"There will be a time to celebrate small businesses" and dining out, the governor said Monday. "But that day is not today, tomorrow or even next week.
Update: the governor announced the order to close restaurants and bars would go into effect on Monday but a later news release said it is 8 a.m. Tuesday.