A crowd estimated at more than 1,000 descended on Denver's state Capitol Sunday, protesting stay-at-home advisories and shutdowns of non-essential businesses, orders issued by Gov. Jared Polis within the last month.
The sunny, warm weather drew cars, trucks, bicycles and even a man on horseback riding along Lincoln Avenue in front of the Capitol for more than two hours on Sunday. The Capitol grounds also filled with protesters, mostly white and of all ages, from babies in strollers to seniors in wheelchairs.
In a statement, Polis spokeswoman Shelby Wieman said "Coloradans have a First Amendment right to protest and to free speech, and the governor hopes that they are using social distancing and staying safe. No one wants to reopen Colorado businesses and lift these restrictions more than the Governor, but in order to do that, Coloradans have to stay home as much as possible during this critical period, wear masks and wash their hands regularly to slow the spread of this deadly virus."
Maybe half of those at Sunday's protest wore masks. Few practiced social distancing. 
Steve Dorman of Lakewood was among those not wearing a mask. "I don't have access to medical-grade masks" and the cloth masks don't stop the virus, he said. Deb Black of Steamboat Springs said she feels safe just by social distancing, but if Polis re-opens the state she'd wear one to work, she said.
The protesters were loud but orderly, waving signs, American flags, "Don't tread on me" flags and banners. Only one sign seen among the protests referred to the stay-at-home order as symbolic of Nazism, in contrast to similar protests in other states where Confederate and Nazi flags have been flown.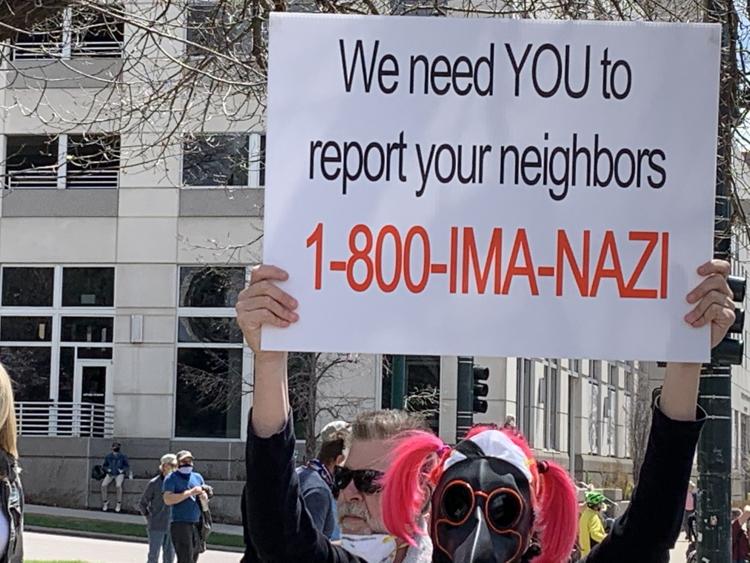 Only one current state lawmaker — House Minority Leader Patrick Neville of Castle Rock — appeared to be present at the protest. Former Rep. Jim Welker, a Republican who represented Loveland for two terms, said he came down to see the protests.
"I agree with what the people have to say," he said, adding that he's OK with government and schools being closed, but not private businesses; he said owners and customers should decide whether to interact with each other. 
"I'm here for small businesses," said Linda of Englewood, who did not give her full name. "Their civil liberties have been tread upon." Her son owns two small restaurants in California, and he's been devastated, she said. 
The crowd also included business owners, including some that are struggling to stay open. Erika Lakant, who owns a construction company, said while they're not shut down, business is way down. "We have a right to work. Every job is essential, and this whole thing about non-essential jobs: every job is essential. People need to feed their families. I see no consistency in this."
By 1:30 p.m., the smell of diesel exhaust began to hang in the air, as did the sound of bullhorns, airhorns and dozens of cars and trucks steadily honking horns as vehicles circled the Capitol. 
Police, including Denver Police and the Colorado State Patrol, maintained a strong presence but took no action. Captain Dan Haley of the CSP said they were not enforcing public health orders or social distancing, treating the protest as a First Amendment event.
The signs included those calling for the firing of Dr. Anthony Fauci, the director of the National Institute of Allergy and Infectious Diseases; for people to be allowed to go back to work, for Colorado to be re-opened. Still others called for haircuts, massages and dog groomers to re-open.
A few took the opportunity to protest vaccines or the reintroduction of wolves. One held up a sign for people to honk if they like LSD, which drew a lot of response. "I never knew so many people liked LSD," the sign-holder said with a chuckle.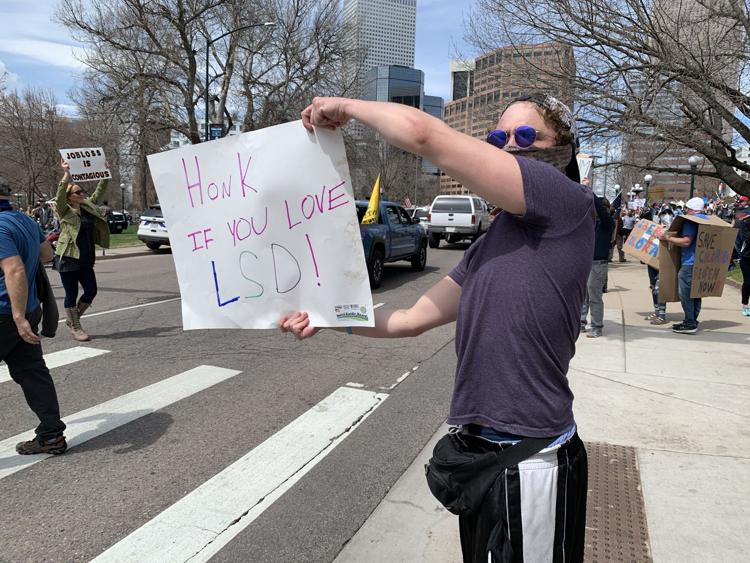 Zander Marshall of Thornton sells insurance to small businesses, and said President Trump's recent calls for reopening states with Democratic governors (Colorado was not among them) didn't sway him to attend Sunday's protest.
"The president has said it's fine to be out there," he said. "A lot of my friends, people I work with, don't have jobs, no food to put on the table. They worry," he said.
Marshall said that while his business is considered essential, it's non-existent right now because he sells insurance to small businesses. "I'm shut down because they're shut down."
A trio of teens also added their voices, calling for their rights to be restored. Jocelyn, an eighth-grader at Rocky Top Middle School in Thornton, said she wants to go back to school and see her friends. "They're taking away our education and our chance to be around other people. They won't let us leave our houses and they closed the parks." She said her older brother is a senior and he won't be able to participate in a graduation ceremony.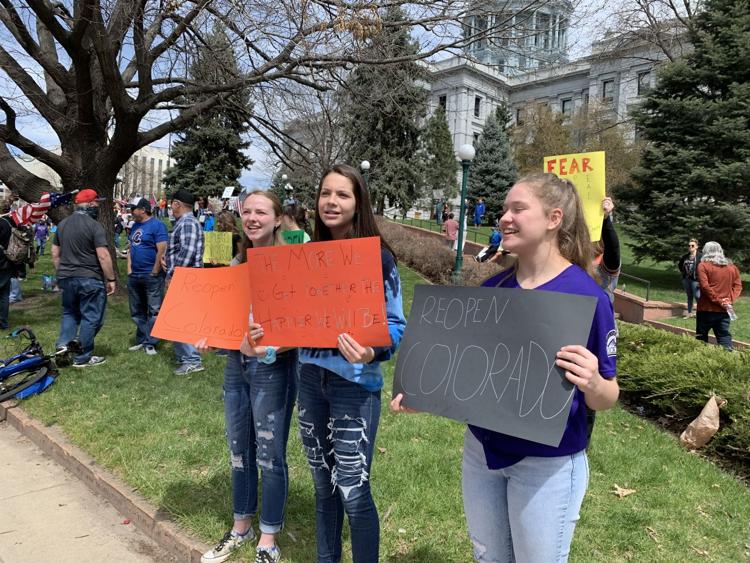 Angela Vitale of Loveland is a chiropractor, which means she is still working, but she also came to protest. She held a sign that said "Fake News, Fake Science, Fake Problems."
As a doctor, she said, "I understand how the immune system works." It comes down to the health of a person's immune system, and the sick should quarantine, she said, adding that everyone should do what they want. She also said she doesn't worry about being exposed to someone who is asymptomatic. "If a person is asymptomatic, it means they have a healthy immune system."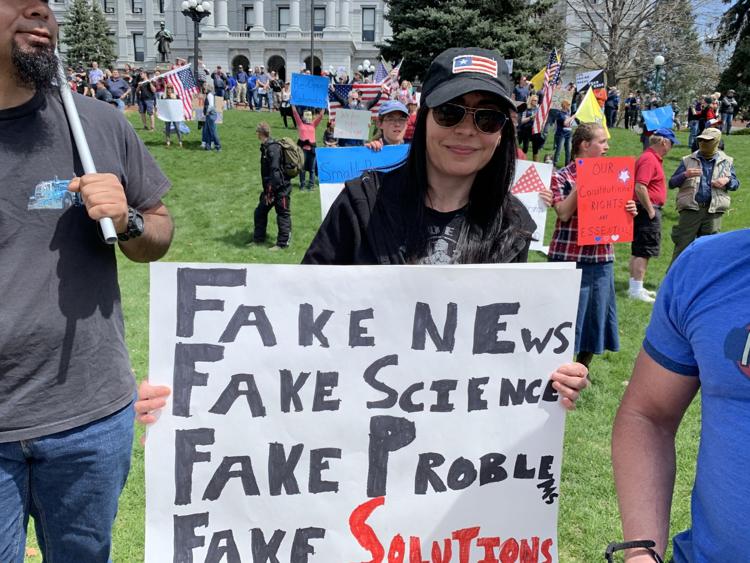 NPR reported last week that asymptomatic spreaders do transmit the virus, although at lower rates, and a recent study from China said they tend to skew young. 
The protest drew only a handful of counter protesters, including Stephen Parlato of Boulder, who stood under the Civil War statute on the Capitol steps, holding a sign that said, "Only widespread testing will tell." 
"I'm here to offer a counterprotest because of my great fear of opening too soon without having the medical knowledge" that could lead to playing Russian Roulette with the public's health, Parlato said.
"I believe these people are very sincere with their concerns, being kept from earning a paycheck and the psychological torture of being homebound" for weeks on end. At the same time, however, he said it's a dangerous thing to have a president pressuring states to open up, "a gamble that sets a priority for re-election above the lives of the citizens."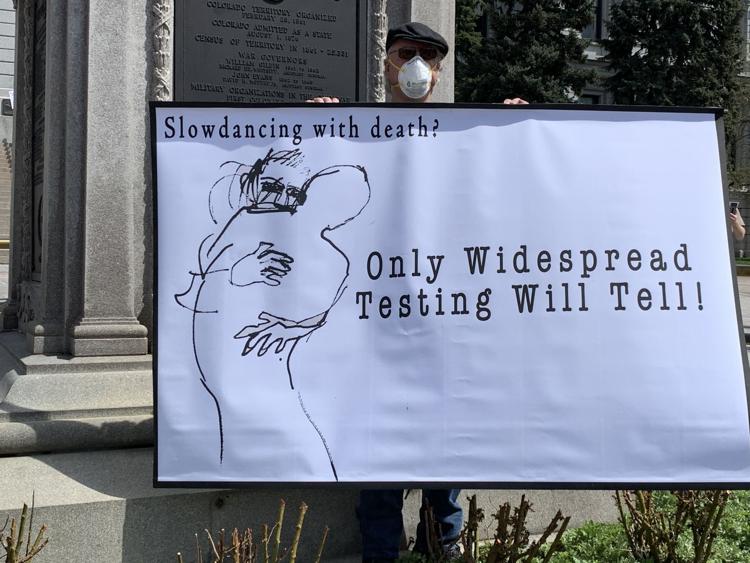 And while he heard from people who don't agree with him, they've been orderly, he said. 
By 3:30 p.m., the protests had died down, but protesters in cars continued to circle the Capitol.