Gov. Jared Polis is all business, and his business these days is getting Coloradans through the worst public health crisis since the 1918 flu pandemic, coupled with the worst economic crisis since the Great Recession, or maybe even beyond. 
He sat in his office on March 20 after a long week in which he ordered the closing of public schools, restaurant and bar dine-in services, spas, hair and nail salons, theaters, gyms, tattoo parlors and casinos, and extending the closure of ski resorts. He ordered a ratcheting-down of gatherings, first from no more than 50 people and then down to 10 or fewer.
Polis had ended the week, however, with hope, in the form of a collection of business experts who will be looking out for Colorado's economic recovery once the novel coronavirus, COVID-19, is on its way out. He also asked the Small Business Administration for SBA "Economic Injury Disaster Loans" for 16 counties and two Native American tribes, a request backed by Colorado's federal delegation. 
He followed that week with an order on March 22 for non-essential businesses to reduce their on-site workforce by 50%. That wasn't enough, he said on March 25, based on a near-doubling of hospitalizations and deaths, and on that day ordered the entire state to stay at home until April 11. He also asked President Trump for a disaster declaration.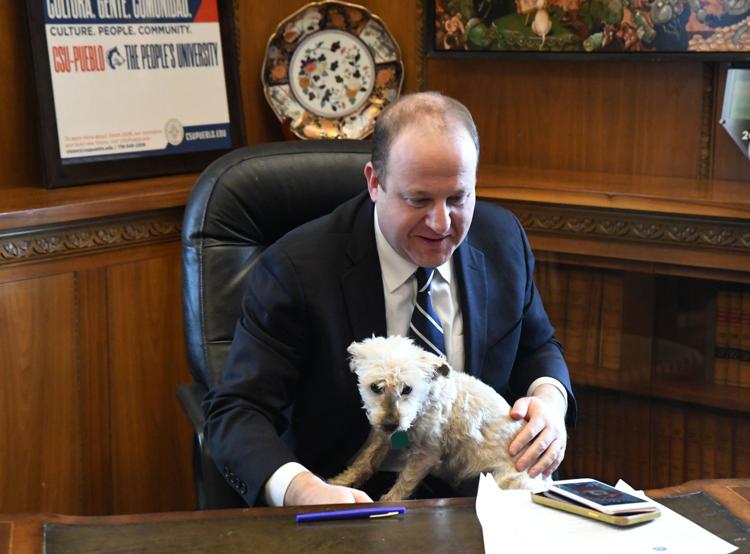 Helping him maintain social distancing on March 20 was his coworker, Gia, a cautious 11-year-old Cairn Terrier who is every bit her breed's characteristics, feisty and energetic, but with a watchful eye for her master and that 6-foot distance he maintains between himself and others.
What keeps him going all day and up most nights is thinking about the lives at risk for contracting the virus, and how to get the economic recovery underway.
"Not everyone will be happy with every decision," Polis said, but what's important to him is that there's confidence in the data-driven process he's employed. "We don't make any decision lightly," and every one has "vast implications for saving lives and saving jobs."
"There's no usual day."
There are no more normal days for the governor, who turns 45 in May. He spends most of his days on the phone — that social distancing thing means he doesn't actually see people much — on this day, I was just the second person that day to talk one-on-one with Polis outside of his staff.
When he's not on the phone, he's at the state emergency operations center in Centennial.
His day is spent checking in with hospital CEOs, or nursing home administrators, or school district superintendents, or restaurant and bar owners, or law enforcement, or business leaders, or national experts or people in the federal government, including the vice president. Often, it's all of the above. 
After weeks of this, the days run together, he said. "Every day is like a month … I can't remember what's today or last week."
He said he felt better after getting the economic team together that he announced on March 20. It might be weeks or months for other states to take those steps, he said. "The public health issue will touch all of us," and many will experience loss. But "the economic piece is also touching all of us," and he hopes to minimize the economic disruption and then move on to a robust recovery.
While Colorado activated its response to COVID-19 early, the country as a whole —  including the federal government — should have reacted sooner, he said, by jumping on those first few cases and limiting travel. The travel restrictions have come far too late.
"Those early steps could have made a difference," he said. "There's nothing I or any other governor could have done earlier."
Private-sector experience
While Polis has taken criticism for being more like a CEO in how he approaches governing, it has served him extremely well in the COVID-19 crisis. 
"I'm from the private sector. We face, in the private sector, crises all the time," although nothing like this, he added. For example, when he was in the flower business and had a million flowers to deliver for Valentine's Day, he would have to deal with a plane or truck breaking down. 
Obviously, the impact of this crisis is more profound and far-reaching, but "I'm no stranger to crisis command and I'm very interested in having the right structure in place."  Being a CEO is a good experience for some of what he's had to work on in the past month, whether it's scaling up testing, finding resources, figuring out public health steps or the economic recovery piece, he said.
But then there was the decision to close down so many businesses, including ski resorts, which he called an iconic symbol of Colorado and a way of life. "That would be a very hard decision for any Colorado governor to contemplate... . I know it was the right thing but it didn't make it any easier."
Closing dine-in restaurants and bars was also tough, but it was based on advice from doctors and epidemiologists that those places are "the tip of the spear" in spreading the virus. He was somewhat consoled with public health advice that they could continue to offer take-out and delivery service, along with Friday's expansion to allow beer and wine. "This is very likely, if there's no cure, an event that's several months long. What keeps me excited is to find further ways for those types of businesses to continue engage in commerce."
Faith and family
Polis spoke briefly of his Jewish faith in talking about how he reached out to the faith community — churches, synagogues and mosques — of all denominations. They've been ahead of the curve, he said in adopting guidance to keep their parishioners safe.
In a time of crisis, he said, people want their faith, in physical proximity and in the fellowship provided by houses of worship. This is not that kind of crisis, he said, indicating the challenge faced by faith leaders in continuing to provide for their parishioners.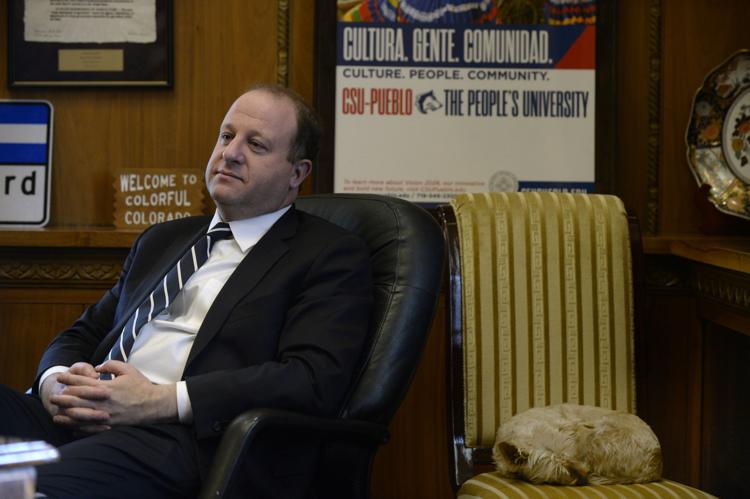 "I always have an optimistic spirit, knowing we'll recover on the other end." But families will experience loss, and he expects to, too.
Is he afraid he'll catch the virus? He expects to, calling it very likely, and adding that he also expects many if not most of Coloradans to catch a mild version of COVID-19. 
Polis has encouraged Coloradans to take care of themselves, including mental health, with so many now at home. How he handles it is to spend time with his partner, Marlon Reis, and their two children. "My family comes first," he said. 
The oldest, 8-year-old son CJ, recently participated in a virtual playdate via Google Chat with two friends. "They were just goofing off like 8-year-olds do," he laughed.
He deferred when asked about how he explains what's going on to his kids (his daughter, Cora, is five), but said parents do need to talk to their kids so that they understand that what's going on is serious. They shouldn't feel that personal worry, he said, since the risk to their own health is minimal, given that children seem to be less likely to contract the virus.
Introducing as much normalcy as possible — such as the virtual playdates — is also important, he said. 
"We're all holding our families closer," he said, which includes protecting his parents. They're both in their 70s, and he said his mom has respiratory issues and is at a higher risk. "A lot of us are in the middle" with older parents and young children. "We're assuring our kids and providing as much stability as we can," he said. 
Polis is earning kudos for the way he is handling the crisis, given that Colorado is in the top 10 of states for the number of cases as of March 20. That's included praise even from critics, although as he has continued to enact stricter measures, some dissent has sprung up. 
What the state needs, he said, is for a calm and authoritative discussion around science and facts and focused on what everyone can do. That includes Polis' #DoingMyPartCO, a social media hashtag he announced on March 16, intended to allow people to share how they're handling the crisis. It shows no signs of slowing, with hundreds of responses, ranging from serious tips to silliness.
"It's given people ideas about how to make this more bearable," he said, smiling. "We want all the good ideas we can get."
And he remains on message about personal responsibility. "There's no government or private sector ranger riding to the rescue," he said. "It's about your choice not to congregate with 30 people for your birthday. The police and public health officials won't stop you. But you're being dumb" by doing it and threatening the lives of others. 
"We'll get through this. Most people are going to be just fine. People are no stranger to loss in their lives…. We'll emerge on the other end, and want to make sure we're prepared for a robust and healthy recovery."
Until then, wash your hands.