UPDATE AT 7 P.M.: At the bottom of this story you will find the executive order, the disaster declaration request and other information.
Gov. Jared Polis issued a statewide stay-at-home order and asked the White House Wednesday for a disaster declaration, joining a handful of other states that have asked for and been granted that status.
"The numbers and data are telling us that the progress is not enough," Polis said, pointing to a doubling of hospitalizations in the past 24 hours. That was why, after growing pressure from state and local officials, he decided to issue the order beginning 6 a.m. Thursday and continuing through Saturday, April 11. He said he hopes the worst will be over by then, but fears it will be after that. 
In the past 24 hours, the death toll from the novel coronavirus, COVID-19, jumped from 11 to 19. The number of positive cases went above 1,000 for the first time, to 1,086, and 147 people are now hospitalized for the virus, up from 84 on Tuesday.
"This order is now the law," Polis told reporters Wednesday. It's an order he's issuing "without any pleasure on my behalf," and the step "we need to take in order to save lives." He said data on compliance with the stay-at-home order will be available soon.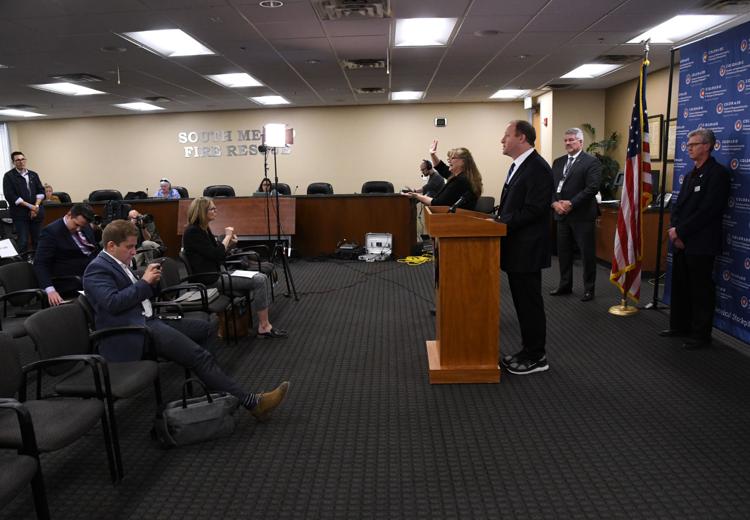 Polis asked municipalities for a moratorium on plastic bag fees for grocery stores for 30 days, stating that using plastic bags will help further reduce the spread of the virus. 
The state's supply of ventilators is still short, Polis said, and the latest delivery from the strategic national stockpile had none. He called on manufacturers and others in the supply chain to produce and acquire ventilators to help Colorado hospitals. 
"Americans have been called on to serve our country time and time again. You have a chance to be a hero ... and to save thousands of lives by staying home," Polis said. "Now is not the time to die and we will not let it happen on our watch."
"It's not about fear or anxiety," Polis said, often quoting Ecclesiastes 3, verses 1-8, which begins with "To every thing there is a season," throughout the news conference.
"We will get through this together... . We'll do our best; the doctors and nurses and hospitals will do their best to save your life. All we're asking is for you to stay home for a couple of weeks to buy us time."
Polis also provided an update on efforts to gather volunteers, donations and personal protective equipment . Over the weekend, a PPE drive led by House Majority Leader Alec Garnett of Denver and House Minority Leader Patrick Neville of Castle Rock took in 30 pallets, or four truckloads of PPE supplies, Polis said. 
More than 7,000 volunteers have signed up to help fellow Coloradans at helpcoloradnow.org, Polis said, and the COVID fund is now over $6 million, he said. The fund's top priority is to help first responders and health care workers with child care.
And the state lab, which has had a backlog of 2,600 tests for the past four days, has now eliminated that backlog, Polis said. The state lab has tripled its testing capacity, although no one lab is enough and more labs are coming online, the governor said.
COVID-19 has now shown up in 36 out of Colorado's 64 counties, although health officials believe the lack of cases in some counties is because of a lack of testing. More than 8,000 people have been tested, according to the Colorado Department of Public Health's March 25 update. The CDPHE also reports that 50.55% of those testing positive are male, 48.34% are female.
Nine residential and non-hospital care facilities also now have an outbreak of the virus, according to the CDPHE.
Polis ordered Colorado into a state of emergency through a verbal executive order on March 10. That order lasts for 30 days, although he can renew it as often as needed, for another 30 days.
In those past two weeks, he has ordered the closure of dine-in restaurants and bars, gyms, theaters, nail and hair salons and spas. Most recently, he ordered non-essential businesses to reduce their on-site workforce by 50%. 
He also assembled a council of economic advisers who will help get the Colorado economy back on its feet once the pandemic has subsided, and announced other appointees who will help with stay-at-home assistance and data analysis.