"It was nice when we were competing against the states," but competing against the federal government for personal protective equipment and ventilators is a whole other matter, Gov. Jared Polis said Friday night.
Polis, a guest on CNN Friday night, told anchor Don Lemon that the state had "a lead" on a manufacturer of ventilators that would come in at a good price, and then the Federal Emergency Management Administration came in and swept them up "and we're not getting them." The order was for 500 ventilators, which would have been a substantial addition to the state's stockpile.
So far, Colorado has requested 750 ventilators from the Strategic National Stockpile, and hasn't yet received any. The state put 750 on order, but 500 have now gone to the feds. Colorado's total need is for 10,000.
"We don't know what we'll get from FEMA," Polis added. "We're innovative and doing what we can."
Lemon asked Polis if he's raised the issue with the White House, that federal efforts are undermining Colorado's attempts to get PPE.
"Either be in or out," Polis said. Either the feds are buying them and providing to the states, and "letting us know what we're gong to get and when we're going to get them or stay out and let us buy them.
"We can't compete against our federal government. Either work with us or don't do anything at all," Polis said. Putting Colorado into a middle ground, where the feds are buying stuff "out from under us and not telling us what we'll get," makes it a challenge to manage the state's hospital surge and the safety of health care workers.
"We're all on the same team ... we'd love to see that same spirit nationally," Polis said.
Polis has been expressing frustration with the White House and the federal government's slow response to the novel coronavirus, COVID-19, for several weeks. He's pointed to slow test results from the Centers for Disease Control and Prevention, lack of testing supplies and "limited value" phone calls with the Trump administration. 
Colorado to date has received three shipments of PPE from the Strategic National Stockpile, the most recent this week, but it's far short of what's been requested. So the state has turned to other sources, such as factories in China.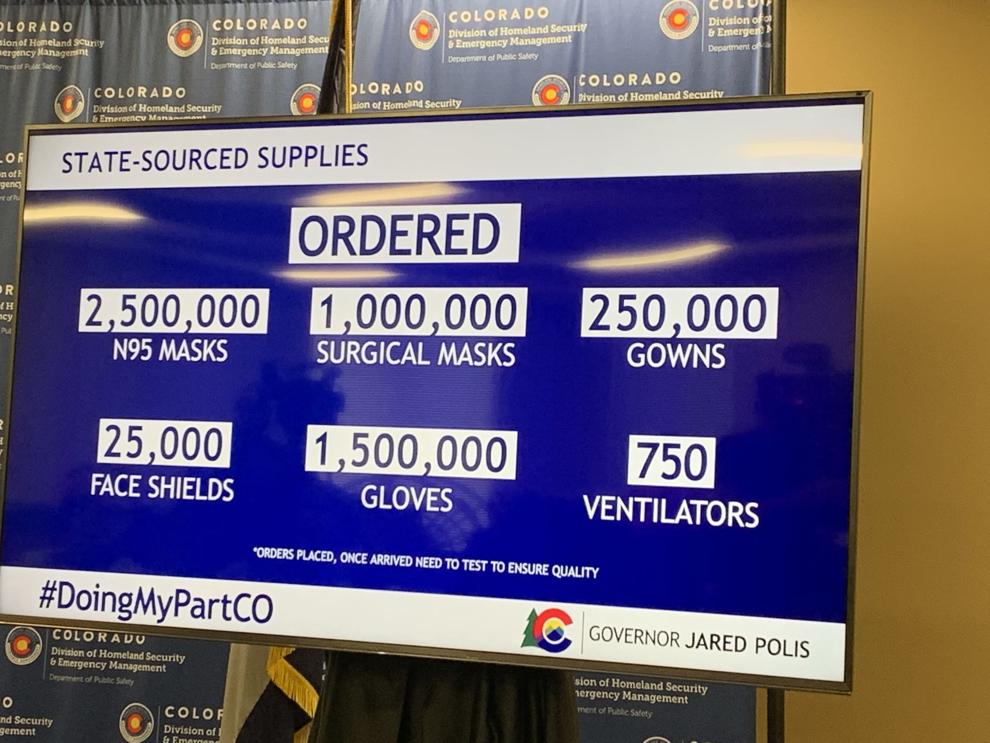 To date, the state has requested from the national stockpile:
2 million N95 masks (received 220,000, as of this week)
4.4 million surgical masks (received 517,000)
880,000 face shields (received 100,232)
720,000 surgical gowns (received 100,140)
4.4 million gloves (received 504,000)
10,000 ventilators (received none)
According to the Institute for Health Metrics and Evaluation at the University of Washington, Seattle, Colorado is 13 days away from its peak hospital bed, including ICU beds, needs.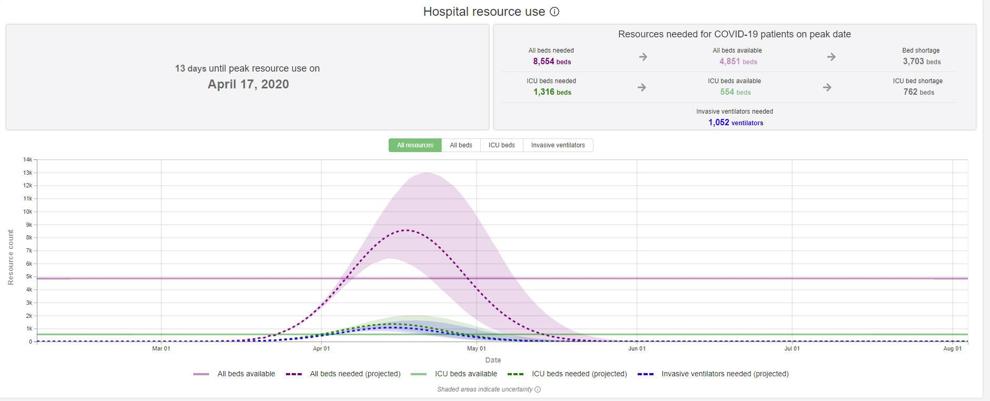 IHME estimates Colorado will need more than 1,000 ventilators by April 17.
The death rate is also growing from COVID-19; 111 deaths have been reported in Colorado as of April 3, up from 69 at the beginning of the week. IHME predicts at the April 17 peak, about 85 people per day will die from the coronavirus.