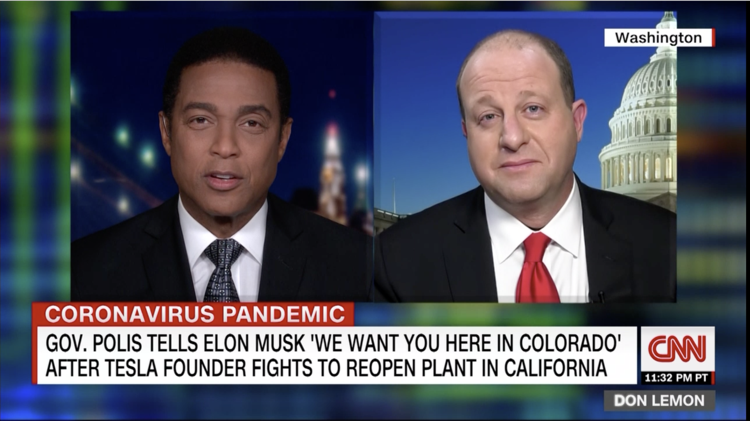 Don Lemon called out Colorado Gov. Jared Polis on his show "CNN Tonight" Wednesday, during a stopover during the former congressman's trip to Washington, D.C., to meet with the president.
Lemon was more interested in goading Polis about double standards in his approaches to a Castle Rock eatery and to Tesla co-founder and CEO Elon Musk, despite both showing the same disregard for public safety in the pandemic.
"Do you want him in Colorado?" Lemon asked Polis, before accusing the Colorado governor of not making California Gov. Gavin Newsom's job any easier.
RELATED: Gov. Jared Polis meets with President Trump to tout state's progress and seek federal assistance
"At the end of the day, Don, we want good jobs in Colorado," Polis said. "... A few thousand jobs is not an opportunity I'm going to shy away from. We'd love to have him here."
On Monday, Polis said a Castle Rock diner, C&C Coffee and Kitchen, would be shut down indefinitely for defying the governor's order that closes restaurants for dine-in services. On Sunday, the eatery was open for Mother's Day and video showed customers without masks disregarding social distancing.
Lemon asked if the behavior had the governor worried about a spike in cases.
"I really believe Coloradans and Americans are better than that," Polis said. "We have to be to get through this."
Polis said at his coronavirus briefing Monday that he was "very disappointed" in the owners who defied his orders and, if the contagion spreads, endangered not just customers but the larger public as well.
Such practices increase the likelihood that instead of businesses reopening more broadly, they will remain closed longer, Polis said in his Monday briefing.
Yet. the governor has been aggressive in trying to lure Tesla to Colorado when Musk has had previous beefs with the governor of California, a state where the carmaker employs about 10,000 people.
"We want you @elonmusk in Colorado, we are the best of all worlds," Polis tweeted Tuesday night. "We're very pro-business, low taxes, also pro immigration, pro-LGBT, globally minded."
He also tweeted Tesla should "look no further" than Colorado and tagged the Musk's brother, a restaurateur in Denver and Boulder.
Musk tweeted back, "Hi Jared, Colorado is great! I think your policies make a lot of sense."
Tesla maintains its headquarters and a factory in California, but Musk has made noise about moving out over coronavirus restrictions applied to his plant south of San Francisco.
In March, Newsom's stay-at-home orders shut the plant, which Musk deemed "fascist." Saturday Musk threatened to file a lawsuit and relocate his factory in Fremont and the headquarters in Palo Alto, naming Texas and Nevada as possibilities.
"If we even retain Fremont manufacturing activity at all, it will be dependen [sic] on how Tesla is treated in the future," Musk tweeted.
Polis was asked about his mixed message during his press call from Washington on Wednesday afternoon.
"In Colorado nothing associated with transportation was ever shut," he replied. "We consider transportation an essential part of our economy. CDOT work continued, road work — that all continued through the crisis. I don't know all of what Elon Musk's frustrations with California are. This might be the straw that broke the camel's back, but there are frustrations that are dated for months and years. I always pursue every opportunity to attract good jobs to Colorado."