Gov. Jared Polis, after a week of closing schools and businesses of all kinds, announced Friday he has assembled a team of experts to help those businesses and others affected by the novel coronavirus, COVID-19, get back on their economic feet once the crisis is over.
The team will be led by former U.S. Transportation Secretary and former Denver Mayor Federico Peña, and will also include business, nonprofit and union leaders. 
Pena told reporters the council's focus will first be on workers and second on business, especially small businesses. "Speed is of the essence," he said, to help workers and companies that are struggling right now. That speed also will demonstrate confidence to economic powers that the state is moving in the right direction.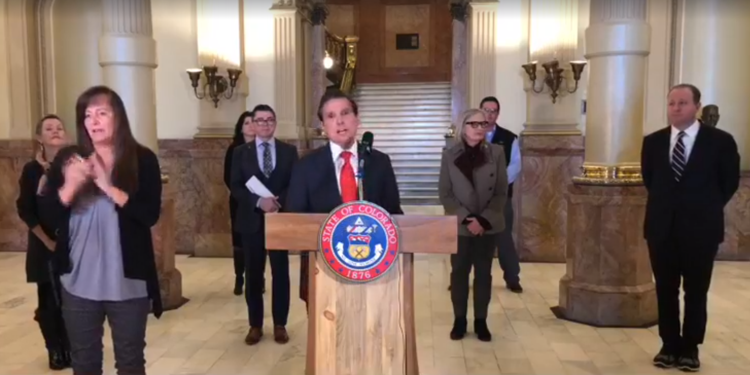 In other Friday economic news, Treasury Secretary Steven Mnuchin announced tax filings would be delayed from April 15 to July 15. That includes state tax filings, and Polis announced the state would extend its filing deadline to July 15 without penalty or interest.
The governor on Thursday ordered the closing of hair and nail salons, tattoo parlors, spas and massage businesses and betting facilities, as well as ordering a halt to elective procedures to conserve medical supplies. He also ordered the Division of Insurance to reopen enrollment in the state's health insurance exchange to cover those who have lost health insurance. 
Friday, he added to the order to allow restaurants that are doing carry-out and delivery to also provide alcohol on those take outs.
Polis suggested the financial and utility sector should help those who have lost their jobs, such as in suspending foreclosures and evictions, unless for public health or safety; and asking utilities to suspend disconnects for late payments. Polis said he was "thrilled" that the federal government was taking steps to suspend federally-insured mortgages and evictions in federal housing. 
Polis also asked that financial institutions provide a 90-day deferment of student and consumer loans. That follows the orders from the White House earlier this week to suspend interest payments on federally-insured student loans and a 60-day halt on federally-backed student loan payments without penalty or interest, announced Friday.
On Friday, New York Gov. Andrew Cuomo ordered all businesses closed except for essential services, following California's decision Thursday to tell its residents to "shelter in place." But Polis indicated he is not ready to take that step.
"How I view things is where else are people congregating and how do we stop it," he said. He started with ordering gatherings be no more than 50 people, and reduced it to 10 earlier this week. He then ordered the closure of restaurants and bars for dine-in, allowing them to continue operating with take-out and delivery. That also included theaters, gyms and casinos, and he added spas, hair and nail salons, and tattoo parlors on Thursday.
"As people bring these issue to our attention, we will take action to make sure people are not violating the public health order," he said. "We want to make sure people can engage in economic activity."