Nearly every Republican elected official from El Paso County on Thursday demanded that the county GOP chairwoman issue a formal apology and consider resigning after she asked in a social media post if the coronavirus pandemic could be a plot to deceive the public, calling her suggestion "reprehensible."
"This is not who we are as a Party," the 17 Republican officials wrote to Vickie Tonkins, the El Paso County GOP chairwoman, in a scathing email obtained by Colorado Politics.
State Rep. Dave Williams, one of two Republican lawmakers who refused to sign on to the censure, however, rebuked his colleagues late Thursday in a sharply worded email, saying their call for Tonkins to resign was "clearly an overreaction" to what he labeled "this alleged controversy."
Tonkins drew swift condemnation Wednesday when she posted to the county party's Facebook page a question asking, "Do you believe that the Coronavirus is a PSYOP (Psychological Operation)? Post your answer…"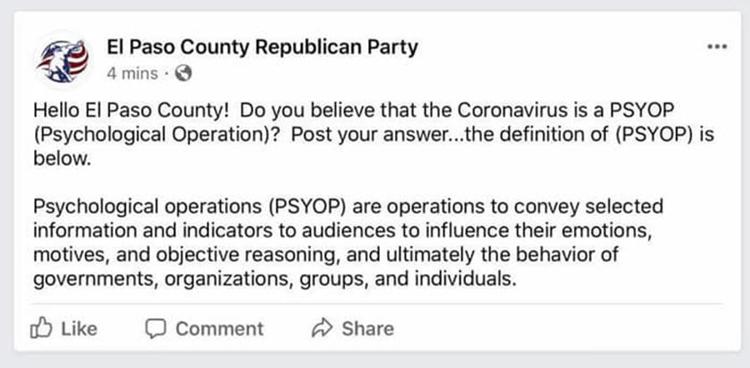 Although Tonkins deleted the post soon after it appeared — at the urging of the state GOP — local party officials who had captured screen shots expressed dismay at the post across social media sites, and by late Wednesday it had ricocheted around the internet, eliciting widespread ridicule and some vigorous defenders.
On Thursday, as Colorado entered the second week of a statewide stay-at-home order, the death toll from the virus in El Paso County reached at least 16, including a 41-year-old deputy sheriff, according to the state health department.
"This letter serves as a censure from all of the undersigned officials elected to represent El Paso County," wrote the Republicans, including the majority of the county's legislative delegation and all but one of its county officials.
"We demand a formal apology to our Party and to the citizens of our community for your inappropriate comments. Furthermore, to protect the integrity of our Party, we strongly recommend you consider tendering your resignation."
Tonkins insisted Wednesday that she had been simply raising a question to spur discussion, adding, "People get so offended these days."
Thursday afternoon, however, Tonkins sought to clarify that she hadn't meant to call the existence of the virus into question and had "intended to start a discussion about the government's response and reaction to the outbreak."
In an email to Colorado Politics, she wrote: "Many people have lost their jobs and personal freedoms because of the government's efforts to address the virus, and it is absolutely OK to ask people their opinions on the potential overreach of our government officials."
"We are grateful for the appropriate federal and local response to fight the COVID-19 outbreak," the local Republican officials wrote in the email to Tonkins. "As such, we feel it is totally irresponsible and disappointing for someone elected to represent the Republican Party in El Paso County to minimize and marginalize the very real concern to our community and the response to this pandemic.
"To suggest the entire world has somehow been deceived and 'that the Coronavirus is a PSYOP (Psychological Operation)' when citizens in high risk categories are dying, and indeed, a young, healthy law enforcement officer has just died in our community, is reprehensible."
Posting her question on the GOP's official Facebook page, they wrote, "is not appropriate and undermines the efforts of important public health official recommendations."
The officials added that they support the rights enshrined in the Constitution, including free speech, but "just because we are free to say anything we want, does not make it prudent or wise. Our Party deserves a capable and thoughtful leader who takes this duty seriously."
Signing the email were state Sens. Dennis Hisey, Paul Lundeen and Bob Gardner, and state Reps. Shane Sandridge, Larry Liston, Tim Geitner, Terri Carver and Lois Landgraf.
In addition to Williams, the other county legislator who didn't sign was state Sen. Owen Hill.
Also signing were County Commissioners Holly Williams, Mark Waller, Stan VanderWerf and Cami Bremer, Sheriff Bill Elder, Assessor Steve Schleiker, Clerk and Recorder Chuck Broerman, Coroner Leon Kelly and Treasurer Mark Lowderman.
Commissioner Longinos Gonzalez Jr. didn't sign the email.
El Paso County harbors more Republican voters than any other county in the state, and a strong performance there is considered essential if a Republican hopes to win statewide, GOP strategists say, making its county party's organization crucial to Republicans' hopes of regaining ground they lost in the 2018 election.   
Tonkins did not respond to a request for comment.
Nobody asked him to sign the letter, the lawmaker Williams, a Tonkins ally, told Colorado Politics, but he said he wouldn't have signed it if someone had.
"Had I been asked, I would have encouraged them to be reasonable and realize that Vickie made what amounts to a mere typo and was not questioning COVID-19 but was questioning the hyper-response to the virus," he said in a text message.
"My elected colleagues are falling prey to corrupt party insiders who don't like Vickie's proven record of accomplishment on behalf of all El Paso County Republicans."
In an email sent to the elected officials who signed the letter late Thursday obtained by Colorado Politics, Williams didn't pull any punches.
"...[I]t's clear that there are those among us who are solely interested in sowing discord and division within our party and this email to Vickie plays right into their hand. Make no mistake, if your goal was to help the party, you failed. Undoubtedly, the media will write another inaccurate story about this and will use your email as an excuse," Williams wrote.
Urging his colleagues to "remove your name from this overreaction" and instead support Tonkins, Williams continued: "I will not join with all of you to 'censure' or remove the first African-American chairwoman who has, on the whole, positively contributed to our party. One mistake on social media where she is guilty of not clarifying her intent or not focusing on the main mission of the party does not disqualify her from being chairwoman."
Hill, for his part, dismissed the controversy succinctly.
"There are far more important things we should be focused on," he said in a text message to Colorado Politics.
Tonkins was elected to chair the county GOP in October after the previous chair resigned two months earlier, following a dispute over a pricey party fundraiser that nearly drained the organization's coffers.
In January, Tonkins was one of a handful of Republican women named to a coalition called "Colorado Women in Action," intended to empower "pro-growth, pro-family values candidates."
Tonkins ran unsuccessfully in 2015 for an at-large Colorado Springs City Council seat and lost the county commissioner race in 2018 to Bremer.