Denver Health is scrambling to scale up its team of nurses and hospital bed capacity in anticipation of a surge in coronavirus patients.
"I have a crystal ball, and I don't like what I'm seeing," Dr. Connie Price, chief medical officer at Denver Health, said in a phone interview Friday. 
"When I look at the rates in the community, I look at that number and think, 'OK, that's what's going to hit the hospital in about 10 days,'" she said. "We are preparing, and we are very concerned about having to accommodate all of these patients."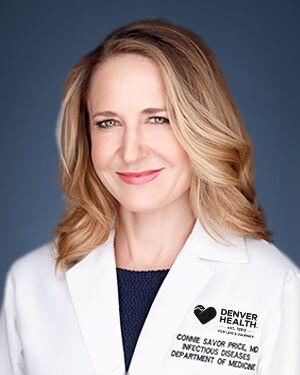 The health care industry has recently seen thousands of doctors and nurses call it quits due to the grueling circumstances brought on this year. Meanwhile, policies at all levels of government continue to fall short of weakening the pandemic. 
Over the last five days, Denver Health has frequently been in "advisory ICU" mode, which doesn't indicate full capacity but signals to paramedics that the hospital is in the process of adding beds to accommodate more patients and could use more time before taking in new ones. 
Within the last 10 days, the hospital also has been "on divert" for "more days than not," Price said, meaning ambulance traffic gets redirected from the hospital.
"Divert is used in routine, regular operation pretty commonly," Price explained. 
For example, every bed in the hospital could be open, but if there is one patient who just suffered a severe car crash and is requiring the majority of the emergency staff's care, the divert "smoke signal" lets first responders know to send additional car crash victims elsewhere should they arise within a short time frame. 
"It's just a way of communicating with the paramedics our status," she told Colorado Politics.
Over the last week and a half, Denver Health spent roughly 45 minutes or less "on divert" each day, Price estimated, but she worries those times could grow as the hospital faces a shortage of staff and an influx of patients.
"There's a lot more to juggle this time," Price said. "In the spring, we had a shutdown, so we weren't seeing the traumas, we weren't seeing the car accidents," and surgeries overall were largely limited due to the scarcity of personal protective equipment available for hospital staff. 
Another major difference this winter is that flu season was ending in the spring, not just getting started as it is now, which could eat up hospital resources. 
One bright spot this time around, however, is that the hospital has a sufficient supply of personal protective equipment, Price said, with at least six weeks worth of materials on hand for all key equipment.
"I feel a little less stressed that it's not PPE this time, or at least not yet," Price told Colorado Politics, "because there's nothing more stressful than thinking you can't protect your staff." 
Although ensuring the safety of employees may come a little easier this season, hospital leaders will be challenged to maintain and prevent them from burning out. 
"This is essentially a third wave. Our nurses, our doctors, our staff are tired," Price said. It's critical "not to overburden the people who have been out there now for nine months."  
The hospital is desperately trying to recruit travel nurses for help, a herculean task at a time when up against a nursing shortage nationwide. Meanwhile, hospitals across the country are competing for the same pool of nurses, the Chicago Sun-Times reports, with pay ranging from $1,500 a week to more than $5,000.
Should patient numbers continue to rise everyday and Denver Health is unable to obtain the staffing it needs, Price said one option the hospital might consider is scaling back services — such as school-based clinics, which are mostly closed now — and reallocating that staff to the hospital, a move she said has not yet been needed. 
If demand soars higher, the "last thing" hospital leadership will resort to is assigning more patients to each nurse. 
"But we really are trying hard not to do that," she said.