Day 3 of the "extraordinary session," as it's officially known, gets under way today at 9 a.m. in the Senate and 10 a.m. in the House at the state Capitol.
Ten bills on pandemic relief of the 33 introduced Monday are still in the works. 
The session is expected to wrap up by mid-day.
Which bills have survived? Check our Bill Tracker here
See all the doings from legislators' first two days here. 
---
1:15 p.m.
And that wraps up our live blogging for this extraordinary session. Stay tuned for our wrapups of coverage, and we'll see you again in January!
1:13 p.m.
The General Assembly has adjourned, sine die, after the Senate concurred in all amendments to legislation.
Gov. Jared Polis and Democratic legislative leaders will address the special session at 3 p.m. today.
— Michael Karlik and Marianne Goodland
12:25 p.m.
In final speeches, Rep. Bri Buentello, D-Pueblo, calls out the House Education Committee Chair, Rep. Barbara McLachlan, and her "best deskies of all time," Reps. Tracy Kraft-Tharp and Steven Woodrow.
Referring to running for the House, Buentello added, "I'm still not sure, for the record, that this was a good idea." She lost her seat to a Republican challenger in the 2020 general election.
Speaker of the House KC Becker, D-Boulder, recalls advice from one of her predecessors, Mark Ferrandino: you gain votes in the aisle, not in the well.
"If you want to really be heard by the people who hold votes in this chamber, you need to just walk over and talk to them. Do it over and over again. Make those friends," she said.
The House is now in recess while awaiting the Senate to conclude its business.
— Michael Karlik
12:15 p.m.
Speaking remotely, term-limited Rep. Jim Wilson, R-Salida, responds to an earlier comment from Rep. Matt Gray, D-Broomfield, calling him the "conscience" of the chamber.
"The rules are simple: on third readings, sit in your seat and listen," Wilson told representatives, in a message that was part admonishment, and part motivational speech. He suggested that if members have not learned to respect the rules, to do so before the next General Assembly convenes in January.
"I believe the behavior in this chamber has fallen far short of adult behavior," said Wilson, urging his colleagues to be statesmen and stateswomen and to remember that the people of Colorado are watching.
— Michael Karlik
12:10 p.m.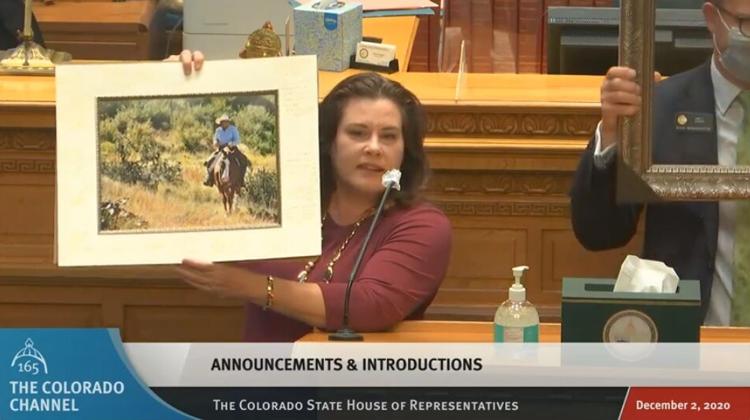 Rep. Lori Saine, D-Firestone, invites members to sign a framed photo of former Rep. Kimmi Lewis, who died at the end of 2019. She indicated the photo will go to the family, after being on display in a memorial to the late Republican lawmaker.
— Michael Karlik
12:05 p.m.
The final Senate bill, which provides rental relief and eviction assistance, passes the House 46-18.
Now the House is considering amendments of its own legislation from the Senate. On House Bill 1001, regarding grants for improving Internet access, the sponsors concede the Senate "made the bill better," and it passes 51-13.
On House Bill 1003, the Senate increased the appropriation for food pantries to $5 million from $3 million, which the House agrees to. The amended bill passes the chamber by a vote of 62-2.
For House Bill 1002, which gives $45 million to childcare operators, the measure passes as amended by 57-7.
An amendment to House Bill 1004 adds vintners to the measure providing sales tax retention for restaurants and bars. The measure passes the House 63-0.
Finally, the House concurs with a Senate amendment to House Bill 1005 clarifying that counties can cap fees that food delivery services charge to restaurants only during the COVID-19 pandemic emergency declaration. The bill passes by 38-25.
— Michael Karlik
11:50 a.m.
Ding-dong! A lawmaker who is participating remotely has someone at their front door -- we just heard the doorbell ring!
— Marianne Goodland
11:25 a.m.
Anyone noticed that the General Assembly's website has not exactly been at peak performance this week? I've been trying for two days to access some information from sessions prior to 2016 and that link times out every time. It's not the only problem I've encountered this week; finding the link for remote testimony has not been easy. The website has been just plain flaky.
We've sent an email to the legislative council's IT department to see if they have any ideas. 
— Marianne Goodland
11:25 
The House has passed Senate Bill 1 by a vote of 46-17 with an amendment.
Representatives have passed Senate Bill 3, regarding $5 million in utility bill relief, by a vote of 59-5. Rep. Monica Duran, D-Wheat Ridge, introduced an amendment that would extend timelines for rural counties.
— Michael Karlik
11:15 a.m.
The House is still debating the bill to provide economic relief to small businesses, with dueling narratives about the source of the problem.
"The government has created the problem these small businesses are now facing," said House Minority Leader Patrick Neville, R-Castle Rock, referring to the COVID-19 health orders. "I think the state needs to move out of the way of our citizens being free people."
Rep. Leslie Herod, D-Denver, countered that "coronavirus is real. "We are blessed and lucky to be in this chamber today to be able to support and speak for our constituents, but there are people who could not be here today because of this virus. There are people who have lost loved ones because of this virus, and we know that the state of Colorado can do better — can and must do better — to keep people alive."
— Michael Karlik
10:55 a.m.
The House appeared to take a side track from substantive debate, as Rep. Richard Holtorf, R-Akron, says he will quote from his favorite "Democrat president," John F. Kennedy.
"The only thing we have to fear is fear itself," Holtorf said, attempting a Boston accent. Laughter erupted as it was pointed out that Holtorf actually was quoting President Franklin D. Roosevelt.
"I thought you were going to quote Obama," observed House Speaker KC Becker, D-Boulder.
— Michael Karlik
10:40 a.m.
Rep. Dave Williams, R-Colorado Springs, caused a stir in the process of announcing he will be a "no" vote on a proposed $57 million in aid to arts and cultural organizations and small businesses. 
"I think it's time that more businesses rise up and engage in civil disobedience. I encourage it and I encourage all of you to encourage it," Williams said.
That drew Rep. Cathy Kipp, D-Fort Collins, to the microphone to rebuke Williams' rhetoric.
"I really think it is irresponsible for anybody to ask their local businesses to rebel against public health orders. You are encouraging your local businesses to have their license revoked by the state," she said.
Then, with her voice shaking and her Democratic colleagues standing in solidarity, Kipp said out loud what had been obvious to observers of the legislature over the past three days.
"In this chamber, some people have chosen not to wear face masks, and to come over and talk to their colleagues without face masks," she said. "I find that offensive. I am not going to tolerate people encouraging the kind of civil disobedience that will cost lives. That is not OK."
As of Wednesday, there have been 239,000 COVID-19 cases in Colorado and more than 3,100 deaths.
— Michael Karlik
10:35 a.m.
Rep. Matt Soper, R-Delta, announces he may be a "no" vote on Senate Bill 1 due to an amendment the Senate added. He described a provision for the executive branch to develop a certification program for businesses that exhibit exemplary compliance with COVID-19 health orders.
Mesa County, which Soper represents, has developed a "five-star" program in which businesses that comply with all federal, state and local health orders are listed in the newspaper as "five-star" businesses.
"It's a carrot approach, not a stick approach," said Soper, adding that the provision in the bill is giving the business community in his district "a lot of heartburn."
By a vote of 62-0, the House passed an amendment that would give businesses located in unincorporated parts of counties, but are within one mile of cities, to be eligible for relief funding if they follow health orders.
"We know there are counties who are not complying with public health orders," said Rep. Leslie Herod, D-Denver. "But within those counties, there are cities who are."
— Michael Karlik
10:25 a.m.
The House of Representatives is in the process of taking third reading votes on Senate bills. 
Senate Bill 4, which transfers $100 million from the general fund for disaster response, passes 46-18.
Turning to Senate Bill 1, which provides relief for arts and cultural organizations and small businesses, Speaker of the House KC Becker, D-Boulder, repeatedly tells the House to be quiet. From the rear of the chamber on the Republican side, there are shouts of "he won't leave!"
The chamber is silent as Becker, addressing the man — later identified as Rep.-elect Ron Hanks, R-Penrose — and tells him to exit. "This is what we do here. We are paying attention to what's at the well," she admonishes him. Hanks will replace term-limited Rep. Jim Wilson, R-Salida, in House District 60 in January. 
Shortly afterward, Rep. Matt Gray, D-Broomfield, lamented the impending departure of Wilson, whom Gray said listened to every minute of debate respectfully.
— Michael Karlik
9:18 a.m. 
And that's a wrap. All six bills up for final votes in the Senate are voted on, all unanimously. House Bill 1004 -- the sales tax holiday for restaurants, bars and food trucks -- was co-sponsored by the 34 present members of the Senate, at the request of Sen. Jack Tate, a Centennial Republican. It's one of Tate's final two bills as a lawmaker and a nice tribute. 
Five of the six bills have to head back to the House for concurrence on amendments. Three of the four bills in the House this morning, which doesn't start until 10 a.m., will have to head back to the Senate for decisions on amendments, once they've gotten final House votes. 
Senate Majority Leader Steve Fenberg of Boulder put the Senate into recess until the House members wake up.
— Marianne Goodland
8:30 a.m.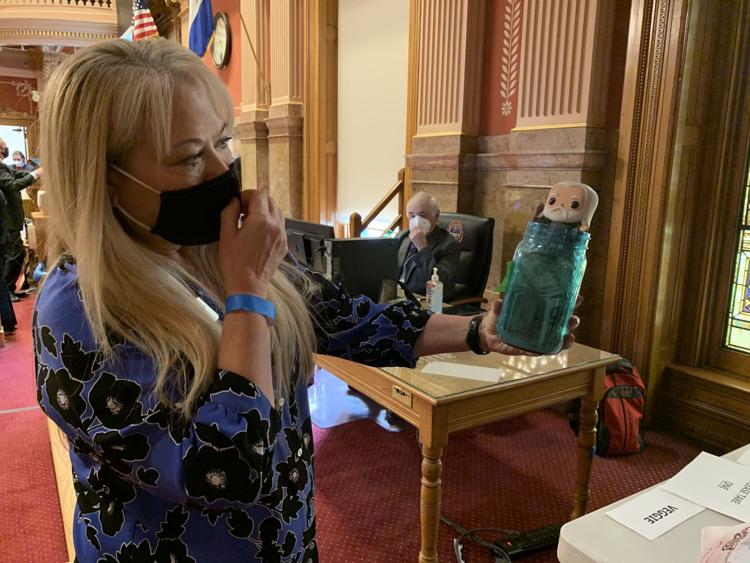 The Senate is starting off its final day by using up the money collected from fines over the last two years — breakfast from Duffy's, including their famous cinnamon rolls. Saw the car in the parking lot and was more than a little tempted to "help" unload. 
The fines are assessed for a variety of minor infractions: for men, not having a coat or tie when they're on the floor — and this has applied not only to senators but in one instance, a member of the press. Jesse Paul of The Colorado Sun got dinged during the early part of the 2020 session for not wearing a jacket on the Senate floor.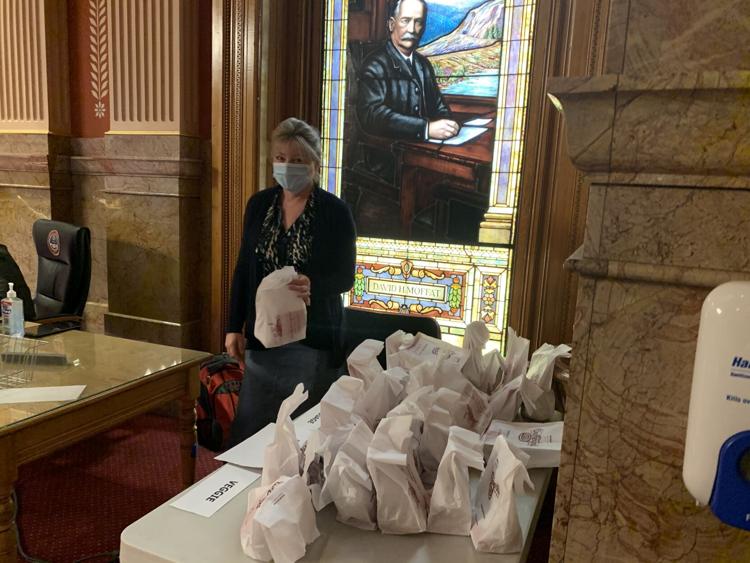 In the House, the fines normally pay for a shindig for the nonpartisan staff at the end of the session. But there's a much bigger pool to draw from, and the infractions are for more than attire; basically, whatever the Speaker thinks is worthy of fining gets fined. 
It's all in good fun and usually lots of laughs follow. When you're in the pressure cooker known as the state Capitol, those opportunities for letting off steam are always valued. 
— Marianne Goodland