The Colorado General Assembly's first pause ends at 10 a.m. Monday, and they intend to extend it without most lawmakers even being there.
Legislative leaders have been busy over the past several days trying to figure out the best way to put the General Assembly back into a time-out and keep people out of the state Capitol.
One plan was to ask lawmakers to electronically sign a letter agreeing to another adjournment, an idea abandoned on Sunday. 
The issue boils down to a desire to balance the public health needs with doing what's legal, according to Speaker of the House KC Becker.
"We're dealing with an unprecedented situation," she said. "There's not a lot of clarity on what to do, as well as a lot of folks with different legal opinions on how this should happen."
So the plan, as of Monday morning* is that both chambers will gavel in at 10 a.m.. But in the likelihood that neither chamber will have a quorum — and that appears to be what legislative leaders want — they'll adjourn for three days.
In that time, they hope that the Colorado Supreme Court comes back with an answer on the question the General Assembly asked on March 14: whether the session's 120 days are consecutive, or, if under a public health emergency, the calendar was paused and the days are counted separately.
There's an interesting precedent for adjourning for more than a few hours without a quorum. It happens just about every day normally, when lawmakers are told to go to committees, for example, but also told that leadership has reports or bills to introduce. They read the bills and reports, and adjourn until later in the day or until the following morning. 
This is a little different. 
Back in 2009, the House wanted to let representatives take some extra time to go back to their districts and reconnect with constituents, according to former House Majority Leader Paul Weissmann, a Louisville Democrat who is now Boulder County treasurer.
Every year, about the same time, there's a natural gap, he explained, with House bills heading to the Senate and vice versa "so I thought it made sense to take that time." 
The problem was that the Democrat-controlled Senate wasn't willing to go along with it. 
So on a Wednesday, the House adjourned until Sunday, the maximum three days allowed under the rules. On that day, just five of out 65 House lawmakers showed up, including Weissmann and then-Speaker of the House Terrance Carroll of Denver. They declared a lack of quorum and adjourned until the following day. Weissmann said the five who showed up did it just for the "fun of it."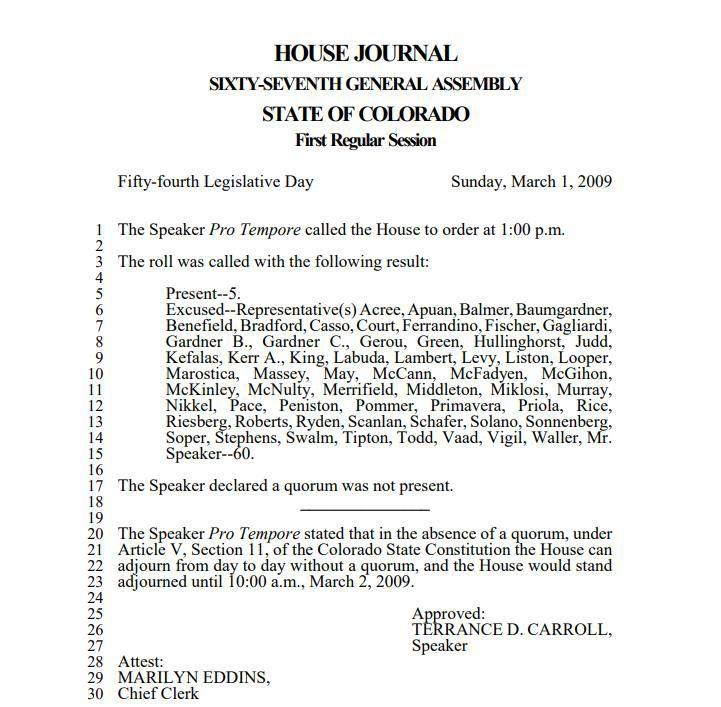 Senate Minority Leader Chris Holbert, a Parker Republican, called it a great idea Sunday, and one that legislative leaders will attempt on Monday. If the House and Senate both lack a quorum in their chambers, they'll adjourn for the maximum allowed three days, and during that time hope that the Colorado Supreme Court comes back with a response on the question, Holbert said.
With the legislature out for at least another three days, attention will turn to the decision by the state Supreme Court on the length of the 2020 session. Spokesman Jon Sarche told Colorado Politics that the Court is not holding oral arguments on the question, so they could rule at any time.
Should the Court decide that the days are consecutive, the General Assembly will lose at least 19 days from the 120-day session, meaning once they come back, they'll have to hustle to finish up mandatory legislation such as the 2020-21 state budget, the school finance act, and a host of other "mission critical" bills by May 6, their original sine die date. If the Court rules the days are separate days, the next day the General Assembly comes back would be approximately day 69, leaving 51 days left in the session.
Tuesday, six briefs arguing the issue were submitted to the Colorado Supreme Court: four that believe non-consecutive days during a public health crisis are allowed, and two that claim the General Assembly's Joint Rule 44(g), which allows for non-consecutive days in a public health emergency, is unconstitutional.
Weissmann was known as the smartest person in the Capitol on legislative procedures, both during his days as House Majority Leader and later as chief of staff for House Democrats during the 2011-12 sessions.
He believes that the Court, assuming they decide to make a decision, will likely rule that the 120 days are consecutive, regardless of the public health emergency. 
He told Colorado Politics that a ruling in favor of calendar days could open up the General Assembly for longer sessions, such as not counting weekend days, as is the practice now.
Sen. Jim Smallwood, a Parker Republican, is in isolation in California for a positive novel coronavirus test and won't be out of quarantine until sometime Monday. Rep. Dafna Michaelson Jenet, a Commerce City Democrat, initially tested positive for COVID-19, but that reading was in error. She has a different form of the virus, but she is also in self-quarantine until her symptoms subside.
Correction, House Democrats announced shortly after this story posted that the meeting of the Executive Committee, which was to meet at 8 a.m., has been canceled. And Democrats controlled the state Senate in 2009.