The dump trucks of money left on the doorstep of homelessness in metro Denver could build a lot more houses.
My friends over at the Common Sense Institute think tank joined up with a bunch of other informed do-gooders to tally up the massive amounts of cash spent to get people off the streets. You might want to sit down for this.
In the seven-county Denver metro area last year, the tab came in at $481.2 million to pay for shelters, police and fire response, health care, support from charities.
That's the supply of money, even though it's a sketchy calculation. The demand is calculated from a "point in time" survey done annually to measure how many people are homeless in the metro region.  On Jan. 27, 2020, the number was 6,104.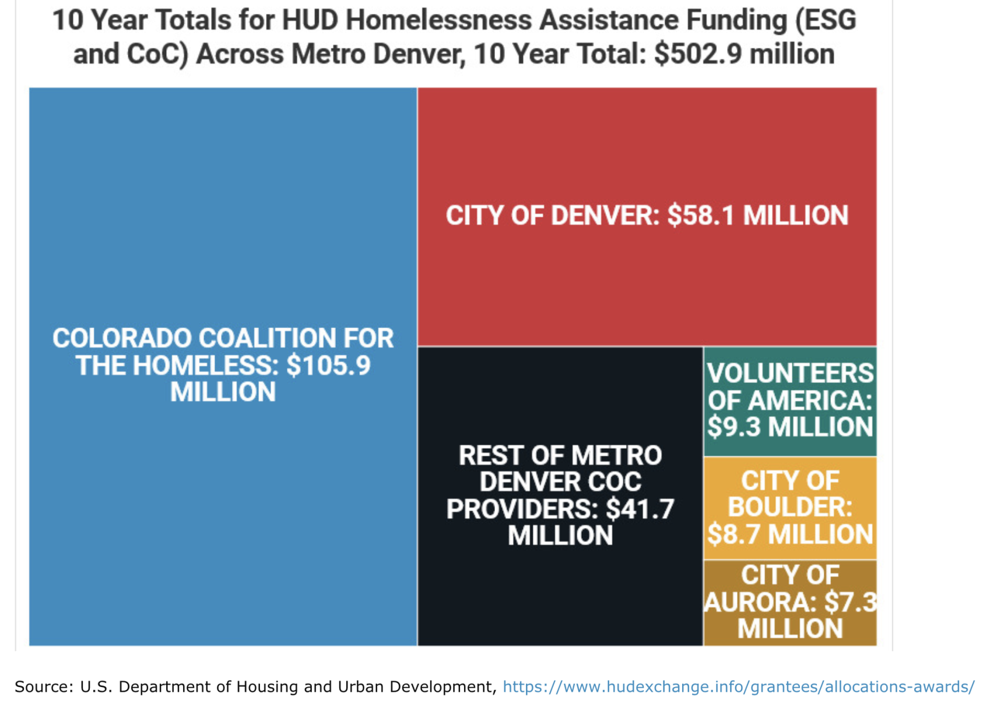 That works out to at least $41,613 per person on the streets from public and private do-gooders, but that's the starting point. It could be much more, if all the numbers were counted and, especially, once all the federal stimulus money is distributed by the state, counties and municipalities.
Let's put that in perspective. The median family income in Pueblo, according to the Census, is a little over $40,450 a year. 
My friend and protege Alayna Alvarez over at Axios Denver had a better take: What metro Denver collectively spends taking care of the homeless could rent each one of them two one-bedroom apartments a year.
Yet, the problem remains a wound on our great city.
When Alayna worked for Colorado Politics last year, she penned a great piece titled "Denver's never-ending road home," which explained why we never seem to get there.
If we assume the problem is not money, we can only assume the problem is the way it gets spent by government, charities and those who hand out more fish than they do fishing lessons.
The city quibbled that the total cited in the Common Sense analysis doesn't take into account that some charities and funds do more than just help the homeless. There's also $98.3 million in federal coronavirus relief in that mix. A state stimulus packaged added another $28 million.
The cash register is spinning like a slot machine.
CSI fellow Dr. Brenda Bautsch Dickhoner pulled together the economic analysis called "The Economic Footprint of Homelessness in Metro Denver," working with the University of Colorado Denver, the Downtown Denver Partnership, Together Denver, local associations and business leaders.
You can read it by clicking here. 
The report has two more parts that will follow this fall: measuring the money against outcomes and an online tool to maintain a finger on the pulse of the issue.
The day before the Common Sense Institute rolled out its horse-sense report, the city of Denver released its five-year plan to address the issue, including building 7,000 homes. Thus is the latest in what seems a never-ending list of campaigns and promises that, so far, haven't panned out. 
In 2005, after all, then-new Mayor John Hickenlooper released with fanfare a program called Denver's Road Home, a 10-year pledge to end homelessness. A decade later, when he was governor, Hick told Colorado Public Radio's Ryan Warner, "No one is more disappointed than I am," after the city auditor released a damning assessment.
Homelessness actually went up.
A followup audit in 2019 found, as one of its tip-top assessments, "Road Home lacks a strategic plan to address homelessness and has no communitywide performance metrics."
Taxpayers are constantly asked to do more to fix a problem that never gets fixed.
Last November, Denverites approved a Initiative 2B, a tax hike calculated to cost the average city household an extra $5.25 per month to generate $40 million a year over the next decade to address homelessness.
"This vote is a game-changer in our efforts to support residents experiencing homelessness," Mayor Michael Hancock said after the election.
OK, this time, he means it.
Mike Zoellner, chair of the Downtown Denver Partnership, is the former finance chairman of the Together Denver campaign, which focused on addressing homelessness 
He said the Common Sense report whittles away some of the misinformation and replaces it with numbers that can make a difference.
"There's not a baseline of information and data that we can then go on to say, 'OK, do we need to spend more money? And if so, where, and are we spending too much in another area and not getting results?' " he said.
He hopes knowing what the metro area is up against will break down silos and change the outcomes, where not much has so far.
"If we want different outcomes, we have to take different approaches," he said.
Speaking volumes, the Common Sense Institute could not fully add up the cash in spots because of a lack of reliable data, which is troubling for the public dollars allegedly spent for all right reasons.
The way to the wallet of the righteous is through the heart, so keeping a clear accounting shouldn't be too much to ask.
If they can't tell you where it's going, it's probably not going toward a solution.
Ideally by knowing how much is being spent is a roadmap to spending more wisely. What the Common Sense report tells me is that if we're throwing money at the problem, our aim is horrible.