The lighter side of the Capitol, usually, although this may be more about adding pounds...
One of the saddest changes over the last couple of years at the state Capitol has been the loss of good places to mingle after the end of a long day of hearings and other stuff at the lege. It isn't just about food or drink. Capitol hangouts are places for people to mingle, get to know each other and/or hear great stories. if the walls at City Grille could talk!
Racine's was the go-to, mainly for breakfast. You'd see everyone: lobbyists, legislators, governors, other elected officials, reporters, you name it. And it had GREAT parking, especially after it moved over to Sherman St. 
City Grille on Colfax, a two-minute walk from the Capitol, was the place for lunch, dinner, drinks and most of all, networking and camaraderie. 
Stoney's was also among the major hangouts but that stopped after 2018 in the wake of #MeToo, although you can still sometimes find Capitol folks there on a Friday night.
We lost Racine's to the retirement of its longtime owner, Lee Goodfriend. City Grille was felled by a fire in the kitchen just before COVID.
It's been a LONG three years. The time has come for nominations and suggestions.
The criteria:
Parking — It doesn't have to have a parking garage but a nearby lot wouldn't hurt. Bonus points for the place being within walking distance.
Bar — Required
Food — Good, which means a place that's been around for a while, although newcomers will certainly be considered.
That said, there are a couple of new-ish places, plus some mainstays for mid-day. But the evening spot remains elusive.
Lost City, which is at First Baptist on Grant & 14th, in the old Spring Cafe location. Breakfast only, open 8 a.m. to 1 p.m.
bb.q Chicken, in the old Tokyo Joe's location, on Grant. A bit pricey, but the chicken is really good and the portions so big you get enough for at least two meals, and maybe more.
Lunch mainstays like Pho-natic and Shish Kabob, both across the street on the north side of the Capitol, are also good and popular with small groups. While both close at 8 p.m., neither has a bar.
We have several nominees for an after-hours hangout, and more suggestions are certainly welcome and would be appreciated.
Steuben's, at 17th & Pennsylvania, which is about a six-block walk, but does have parking, good food and a good bar and can accommodate a pretty good crowd. 
Lowdown, at 800 Lincoln, is also about a six-block walk. It's a brewpub with comfort food, recommended by Eric Bergman and John Swartout at Colorado Counties, Inc. Yes, it's right down the street from their offices, but Bergman knows his beer. 
Logan Street, at 400 East 7th, is apparently becoming a popular place for after hours stuff, but the lack of parking is an issue.
Others? Please contact Capitol M with your suggestions. A totally non-scientific poll is coming.
Speaking of Bergman...
This has been the big topic of conversation on the 2nd floor this week.
The individual who made this video on psychedelic mushrooms concocted the leap that since Bergman was hired by CCI at around the same time Citizens United was decided by the U.S. Supreme Court, either he or CCI has BIG pockets full of dark money. The link is that CCI is a 501(c)4, which is what the Citizens United ruling dealt with (and opened the door to the millions in dark money we see in campaign finance these days).
These big pockets of dark money for CCI and Bergman came as news to everyone, including CCI and Bergman.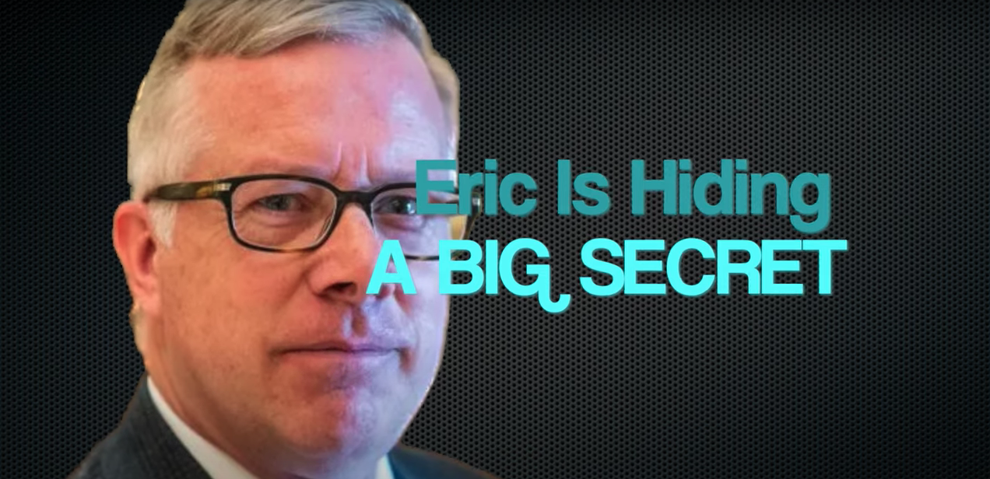 The video also makes the totally implausible claim that Bergman is friends with the governor, and that the same dark money that Bergman controls in an effort to overturn Prop 122 also funded the "yes on Prop 122" campaign, which at first blush, second blush and every other blush does not make a lot of sense.
At the end the narrator asks if Gov. Polis is running for president in 2028, since one of the groups that funded Prop 122 (which Polis did not state a position on) backed President Joe Biden. Capitol M at this point was really struggling with the logic. 
Not surprisingly, Bergman's exposure as a DARK MONEY OMG LOBBYIST was not going to garner him any sympathy whatsoever from anyone on the 2nd floor.
Fellow lobbyist Angie Binder is having buttons made with his face and something about his nefarious activities. Expect this to be the hottest Capitol fashion accessory this session.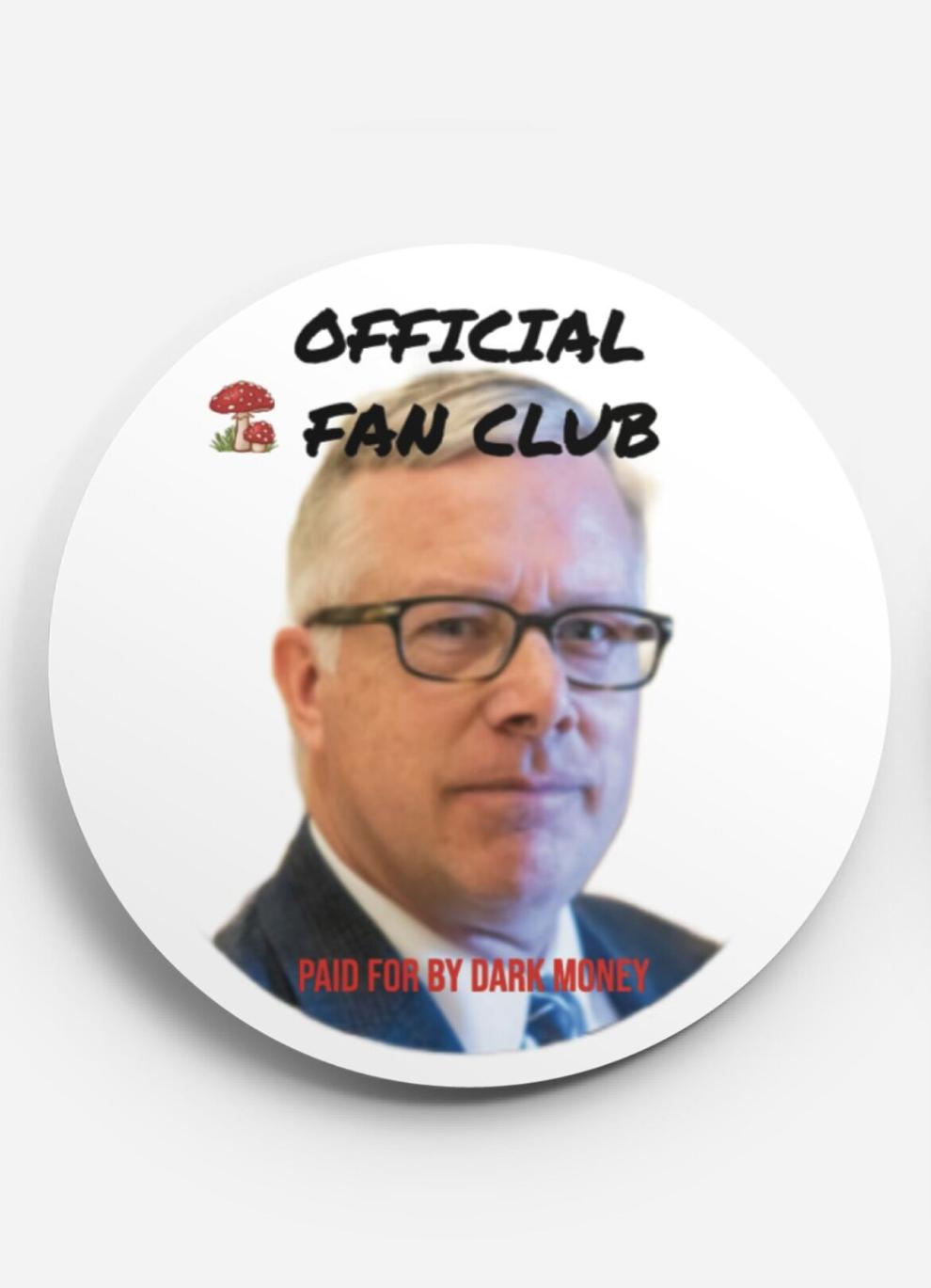 Capitol M actually watched the entire 3:50 of this to see if there was any evidence cited by the author that CCI and/or Bergman takes dark money or from whom and who they funnel it to, another claim in the video. Not surprisingly, nada.
Sometimes a 501(c)4 is just a 501(c)4, which is an IRS designation for a social welfare organization, which under IRS definitions is an organization that "operates primarily to further the common good and general welfare of the people of the community." Sounds suspiciously like CCI's agenda. 
Senate President Steve Fenberg commented on the issue at a recent town hall, saying if Bergman's agenda for the past decade is to fight psychedelic mushrooms, he sure has been playing the long game.
From the floor
The powers that be who sit on the speaker's dais in the House played tricks this week on Rep. Richard Holtorf, or at least it looked that way.
During announcements Wednesday, The Bard of Akron was at the podium, telling lawmakers about a luncheon they were invited to and hosted by insurance and financial advisers. He did not pick up on the fact that House Speaker Julie McCluskie had made a quick switch with Speaker Pro tem Chris deGruy Kennedy (Holtorf was facing the House, not the dais) and addressed the dais as "Madam Speaker."
The double-take Holtorf took when Kennedy responded, and Holtorf turned around to see who it was, was beyond priceless.
"That was a voice change!" Holtorf said. It was the second time they had done that this week.
One last tribute
A tip of the hat to McCluskie and Majority Leader Monica Duran who presented former Denver Business Journal reporter extraordinaire Ed Sealover with a lovely tribute on Wednesday. What stuck out for Capitol M was McCluskie's comment that Ed doesn't rely on digital technology for his interviews. He uses his own cobbled-together version of shorthand, and for McCluskie, that meant he had to really listen to everything she said.
Good job, buddy.
We get to find out just where he's going next Tuesday.