Updated with a "yes" vote on day care at the state Capitol.
The baby boom at the state Capitol continues. House Majority Leader Daneya Esgar, D-Pueblo, and her wife, Heather Palm, welcomed daughter Marlo on July 12.
Esgar is the among seven Capitol regulars to welcome a new baby this year, along with Gov. Jared Polis' spokesman Conor Cahill, Speaker of the House Alec Garnett, D-Denver, and lobbyist Lisa LaBriola of Axiom Strategies.
Apparently, Senate President Leroy Garcia, D-Pueblo, is already working on recruiting little Marlo to be a Marine. No word from Marlo's moms on whether she might be a bit too young for that.
I think after wearing this outfit - little Marlo is seriously contemplating becoming a Marine…. 😁Although, she has some time to consider all her options. 🤣Congratulations @Dlesgar & Heather Palm- Marlo's perfect! pic.twitter.com/OfQd1TT9bI

— Leroy Garcia (@Leroy_Garcia) July 24, 2021
More BABEEZ news: 
Alice Cosgrove Horgan, legislative liaison for the Department of Natural Resources, welcomed Maggie Harper Horgan on July 7. Dad is Jamie Horgan. 
Emma Hudson, whose lobbying clients include the Interfaith Alliance, the Colorado Association of Community Corrections Boards and the Colorado Community Corrections Coalition, gave birth to daughter Quinn on June 29. She said Quinn and Marlo were born just a half-week apart, "so we got to share our whole pregnancy together at the Capitol." Hudson also said she's definitely a "yes" on day care (see below).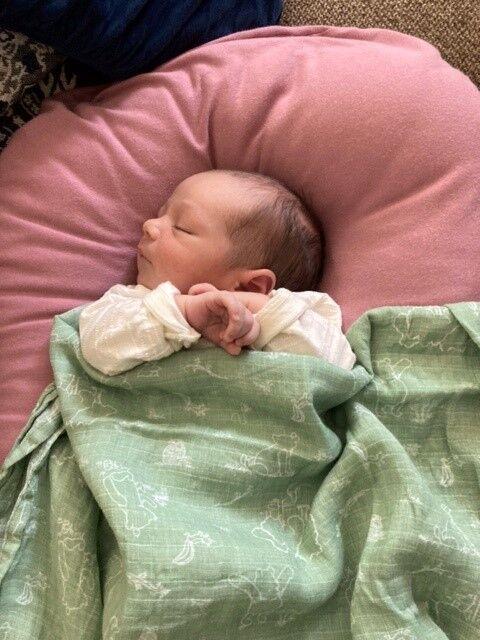 This precious little bundle at right is Naveen Thomas Sivanadyan, born to Heather Stauffer, legislative and policy advocate for the Colorado Municipal League. Naveen was born July 9 at 3:06 p.m., weighing in at 8 pounds, 5 oz., and 21 inches long.
Still to come: Rep. Chris Kennedy's wife, Kyra, is due next month, as are at least one or two more lobbyists. 
Has anyone checked the water at the Capitol yet? And is a daycare far behind, given that three lawmakers welcomed  babies in 2020 (Majority Leader Steve Fenberg, Sen. Brittany Pettersen and Rep. Kerry Tipper)? 
As Capitol M commented when the baby boom was taking off, young children at the Capitol 20 or so years ago were usually someone's grandchildren. Lawmakers are getting younger every year (or I'm getting older. Or both.)