The lighter side of the state Capitol, usually.
Steve Fenberg of Boulder had big shoes to fill after taking the reins as Senate president, but none bigger than how he matches up at the grill with his predecessor. 
That became the issue on April 6 when the state Senate took up the Long Appropriations Bill, which in the last few years has featured the grilling talents of then-Senate President Leroy Garcia of Pueblo and Sen. John Cooke of Greeley.
Capitol M asked Cooke who's the better griller between Fenberg and Garcia.
"Let's see," he said. "Garcia is gone and Fenberg controls my bills."
That decided it, according to Cooke.
As it turns out, there was only one grill so it was mostly up to Cooke to feed the masses.
That was probably a good idea anyway, since several senators — fellow Dems, if you must know — said Fenberg would likely only be good at grilling tofu or other veggie burger thingys. That's a Boulder reference, in case you were wondering, not a commentary on what he eats. He was later seen eating a Cooke-cooked burger.
Fenberg did get some time at the grill. No word on who did it better, and Capitol M was not willing to ask and potentially risk Senate floor access.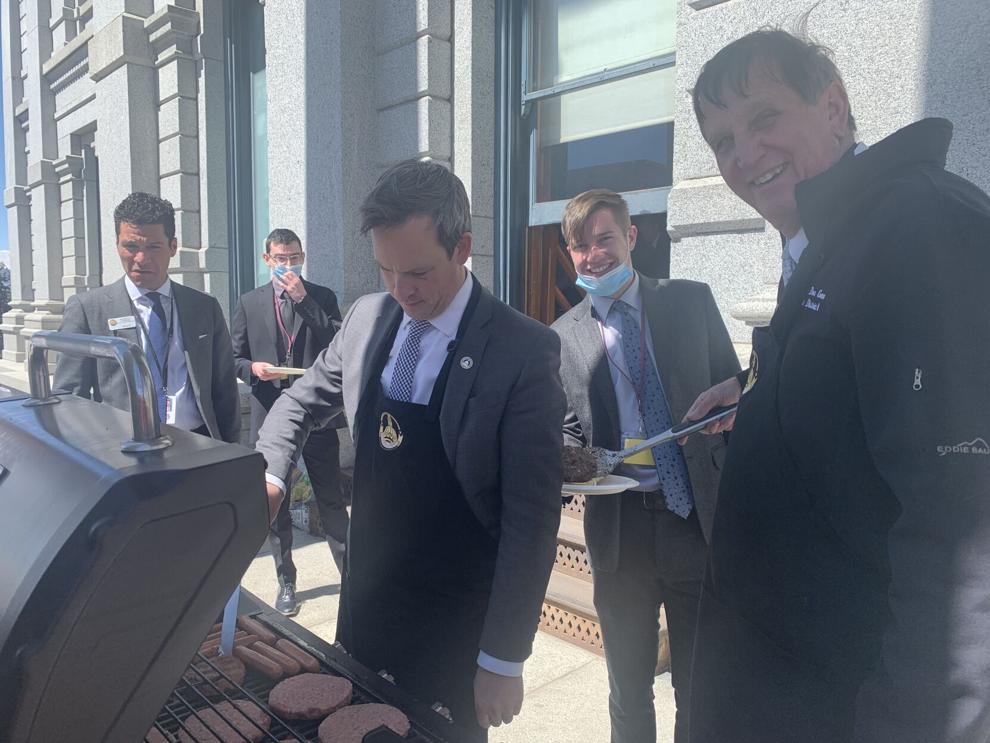 Capitol M's nominee for a Dem who knows her beef (and how to grill it) is Sen. Kerry Donovan of Eagle, who recently launched her own farm-to-table brand, Copper Bar Ranch, which sells Scottish Highland beef.
He's on the bike
Gov. Jared Polis took a ride on a bike during a visit to Queen Palmer Elementary School in Colorado Springs Wednesday. 
Bicycling can be a dangerous adventure for governors. If you'll recall, Gov. Bill Ritter cracked a couple of ribs in a bike accident in 2010.
Capitol M was very happy to see the current governor wearing a helmet Wednesday. Back in 2019, Polis signed a bill jacking up the penalties for drivers who hit cyclists, a signing that took place at a Denver bike shop. He was handed a helmet, but to the dismay — or amusement — of those in attendance, put it on backwards.
Glad to see he got that right this week.
They're coming to take me away, ha, ha, they're coming to take me away, ho, ho...
Several members of Pueblo's finest on Wednesday visited the state Senate as guests of Sen. Nick Hinrichsen of Pueblo. And no, they were not there to take him away, contrary to whatever you might have heard from President Fenberg.
"It's a new world"
So sayeth Senate Majority Leader Dominick Moreno of Commerce City, who actually voted FOR an amendment to the Long Bill Wednesday, something he never did during his years on the Joint Budget Committee. 
Hinrichsen also got quite the ribbing during the budget debate Wednesday, when he offered an amendment to fund a $5.9 million project at the Colorado State Fair. You know where this is going.
Sen. Larry Liston of Colorado Springs offered a substitute amendment to move the state fair to Weld County.
That got people to their feet. Sen. Jeff Bridges of Greenwood Village said his understanding of the amendment was to get out the shovels and move the State Fair to his county of Arapahoe, which he wasn't exactly crazy about.
Sen. Barbara Kirkmeyer of Brighton was next to support Liston's amendment, even though he had already withdrawn it. She could support the amendment if it suggested moving the state fair to the #1 agricultural county of the state, she said, to whistles and boos.
"We could get the Weld County commissioners to fund it and not keep coming to the state and get money for it," she added, also to boos and oohs. 
Sen. Don Coram of Montrose said he agreed with Kirkmeyer about Weld County because "there's more BS there than anywhere else." This did not go over well with Kirkmeyer.
But the best suggestion may have been from long-time JBC member Sen. Bob Rankin of Carbondale, who said the state fair comes up every year, and suggested changing the state fair to an enterprise "so we never have to talk about it again." Well said!
April showers, and all that
Among her many talents, Rep. Brianna Titone of Arvada has a green thumb, and one she puts to use growing orchids. Capitol M has tried for years to do that and generally stinks at it. Titone not only grows them but shares them with her House colleagues, so the House is a much prettier place these days.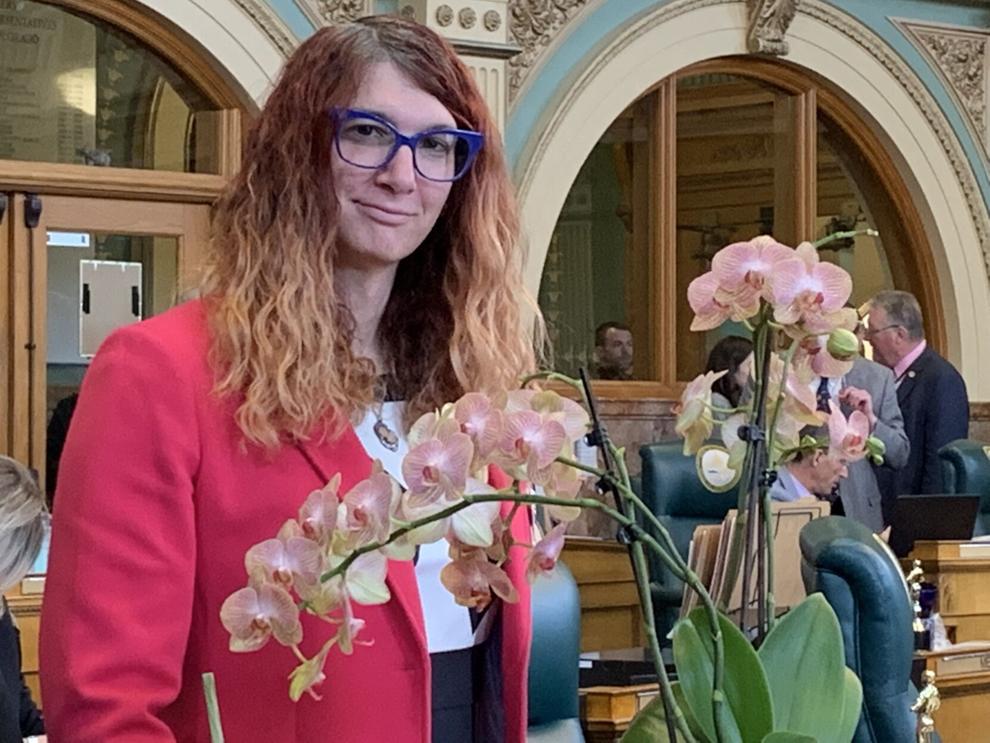 Finally, live from Hollywood!
Rep. Emily Sirota took a couple of days off to walk the red carpet at the Oscars recently. Capitol M asked her who she was most excited to meet, and while she said she doesn't get star-struck, she enjoyed seeing Leonardo DiCaprio, who starred in her husband David's movie, "Don't Look Up." She met DiCaprio once before when the movie premiered.
And in case you were wondering (and Capitol M knows you are) she did not see "the slap." She and David were off the floor at the time.