Meat, mascara and Moderna — March 20 was certainly a red-letter day in the life of Lynn Bartels.
Yes, on the same day that Gov. Jared Polis asked his subjects to participate in a "MeatOut Day" to "educate consumers about the benefits of a healthful, plant-based diet," I joined plenty of other Coloradans in consuming meat.
For breakfast I feasted on bacon. For lunch I trekked to Aurora to get the first of my two coronavirus vaccines. And I was so excited for dinner, to be at a restaurant, to eat steak and talk with people I hadn't seen in more than a year, that I actually put on makeup.
Let's take each of these subjects individually, starting with the vaccine.
I figured I'd be among the early waves of Coloradans to be called to get my shot because when I filled out a vaccine survey for my health-care provider, Kaiser Permanente, I checked a number of critical boxes. I'm old enough that the warranty on a number of my parts has expired, and I'm not in the best of health. That 25-pound weight gain during coronavirus — it's hard to get steps in when you live in a 755-square-foot condo — didn't help.
If I were still a reporter covering the Capitol I would already have gotten the vaccine. If I were smart enough to read the Colorado Department of Health and Environment website I would have seen the places to sign up and maybe gotten an early jump.
I finally e-mailed Kaiser, only to be informed on March 10: "You are in Phase 1b-3, and your position in the COVID-19 vaccine virtual line within that phase is 15465."
At that point, I signed up with a variety of organizations offering vaccines, but before I heard from them I got a notice from Kaiser on March 18 that I could make an appointment. This was certainly good news, as I found out earlier in the day that I owed the feds money for taxes — a first.
The line at Kaiser's East Alameda facility on March 20 was surprisingly long but moved surprisingly fast. The guy ahead of me tried to get his wife in for a shot, noting she was waiting outside. No, you need an appointment, he was told.
I was hoping Kaiser offered the one-shot vaccine but it wasn't to be.
"Madeira's the wine. You're getting Moderna," a Kaiser staffer corrected me.
I need to return and get another shot next month.
My big concern was whether the vaccine would interfere with the hefty consumption of meat I had planned that evening. I made sure I got the shot in my left arm so my fork-holding arm would be fine.
Our gathering that evening was inspired by the governor's proclamation marking March 20 as MeatOut Day.
"A plant-based diet helps protect the environment by reducing our carbon footprint, preserving forests, grasslands, and wildlife habitats. It also reduces the pollution of waterways," it read in part.
I once ordered wings at City O' City restaurant near the Capitol. Believe it or not, I didn't know the place was vegetarian and when these square things were put in front of me I freaked out.
"I thought 'seitan' meant spicy," I told my amused Happy Hour companion. "It should be spelled 'satan.' "
Many Coloradans were livid with Polis, saying he dissed the state's vital agricultural community, and they countered that March 20 should be a MeatIn Day.
"I'm hopeful that this renewed support helps our producers and all who earn a living in ranching and the livestock industry," the governor said of the planned consumption.
Republican state Sen. Jerry Sonnenberg, who represents the Eastern Plains, said 20 meat events were planned for his 11-county district. He made it to eight. I hope he doesn't have a colonoscopy scheduled in the next couple of weeks.
What a great evening at The Capital Grille, which I hadn't visited in more than a year. I hope the street running through Larimer Square remains closed forever. I liked seeing all the outdoor dining on what used to be sidewalks in that historic district.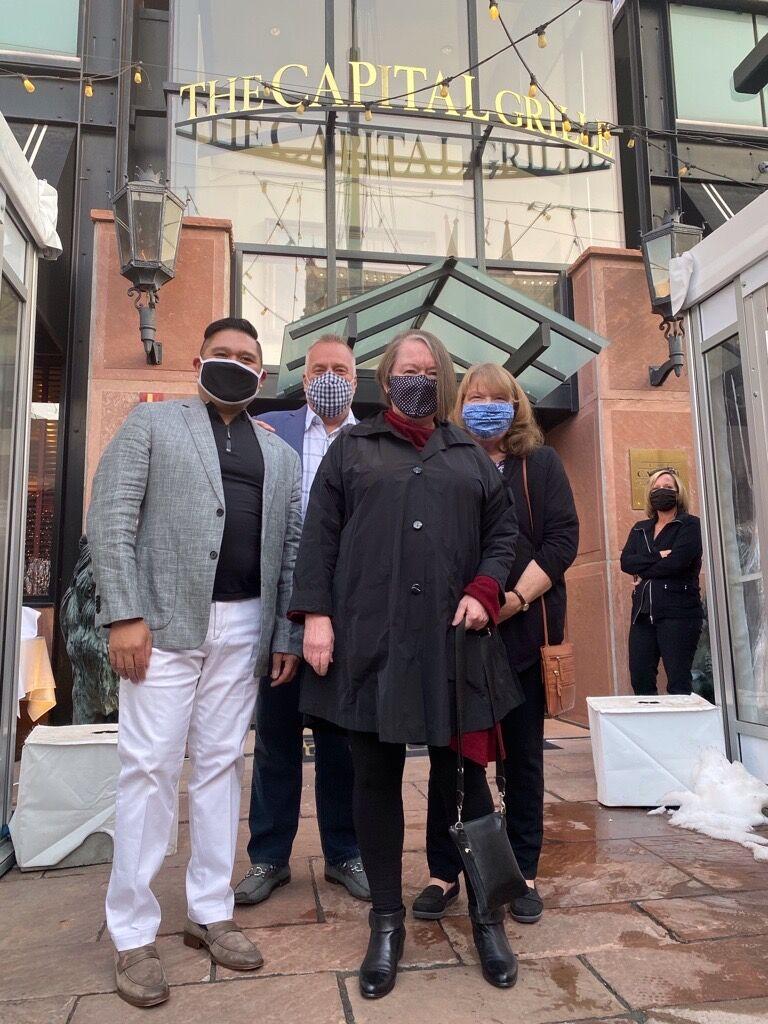 I dined with public affairs professional Roger Sherman, his partner Ernie Quemuel and their friend Cathie Greig. Ernie and Roger split a steak, Cathie ordered the lamb rib chops and I managed to chow down on only a small portion of my 20-ounce ribeye because I was full on bread, the sides and French onion soup.
Ernie even suggested a column idea for me: Find out why Popeyes discontinued the Cajun rice side dish on its menu. He's not happy and, according to the Internet, he's not alone. Popeyes in a statement said that although the Cajun rice and green beans are gone, the outlet still offers plenty of delicious sides.
And the outing provided an answer to a question I've wondered about but never bothered to ask: What is in a dirty martini? Olive juice.
As for makeup, I have a love-hate relationship with it.
So many people over the years have asked whether I've thought of wearing makeup. I am wearing makeup, I say. This is what happens when you have small beady eyes and you don't have the touch to expertly apply the products.
A week after I started my new job with Colorado Secretary of State Wayne Williams in 2015, I was going to be attending One Colorado's annual gala. I already was getting my hair cut that afternoon and decided to have my makeup done, too.
I got rave reviews and someone said working for Williams must be good for me. But by Monday I was back to doing my own makeup, and people were back to asking, "How do you like your new job? Do you think you made the right decision? Are you still not sleeping?"
My first step to try to make my eyes stand out was to have my skimpy eyelashes professionally curled using a solution similar to the one for perming hair. No one noticed because my alleged lashes are so short. So then I took the next step, getting false eyelashes. I didn't want to go big, you know, where it looks like a cluster of spiders got into a fight on your face.
A few days after having a professional do my lashes, I headed home to South Dakota for the holiday. I was in the car with five family members for 10 hours and no one said a thing. And during that week I didn't hear a peep from other family members and friends.
The other day I walked into a department store for the first time in more than a year. The makeup and perfume counters were empty, with signs saying no samples were available because of the pandemic. The shoe section, women's clothing, housewares, were all so deserted.
Will the world we knew ever return? I don't miss wearing makeup because, well, what was the point, but I miss everything else. May vaccines help us return to some sort of normalcy.