In his effort to win the Colorado Springs mayor's seat in Tuesday's runoff election, entrepreneur Yemi Mobolade had to overcome a blank political resume and grab voters on both sides of the aisle, as well as somewhere in between, to earn their support and drive them to the ballot box.
Yemi Mobolade makes Colorado Springs history, becoming city's first elected Black mayor
The political newcomer and Nigerian immigrant earned 57.5% of the 124,223 votes counted, according to final unofficial results from the City Clerk's Office, updated Wednesday just before 2 p.m. That earned him a decisive victory over opponent Wayne Williams, a longtime and familiar face in local and state politics, who grabbed 42.5% of the vote.
Campaign staff and local politicos weighed in on the five factors that influenced the Tuesday win by Mobolade, who will be Colorado Springs' first elected Black mayor:
1. New political energy vs. a traditional campaign
Mobolade's campaign found new political energy leading up to the city's regular election April 4 and continued that momentum into Tuesday's runoff, facing the more traditional energy of Williams' campaign that relied on strong name recognition and traditional advertising to reach voters.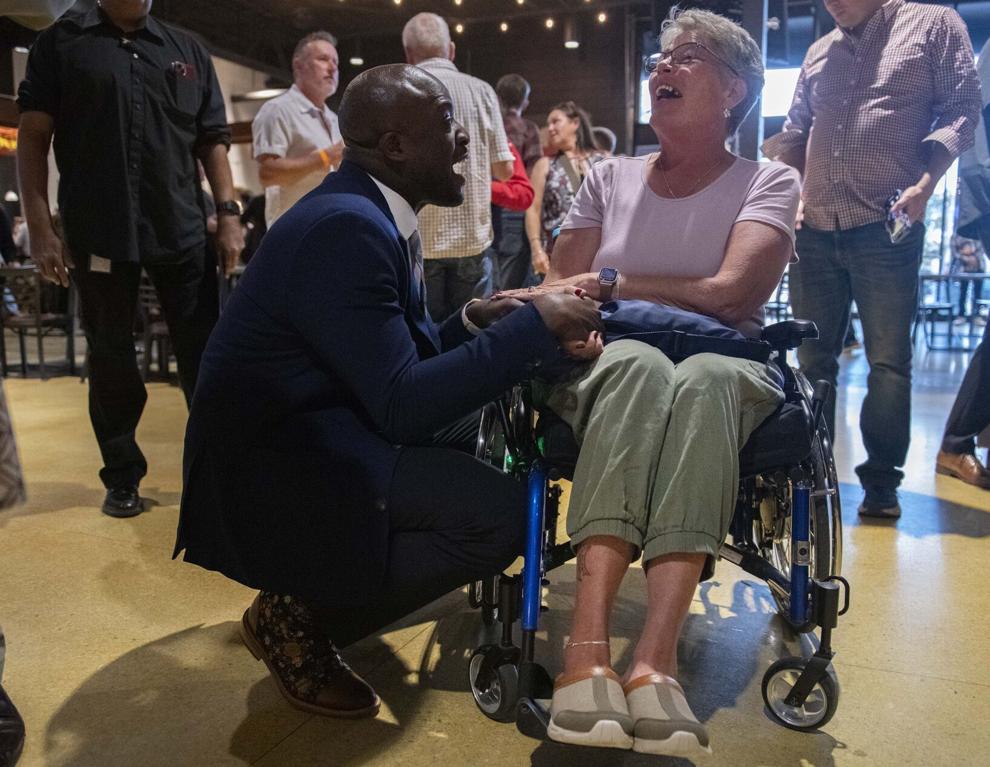 Mobolade's get out the vote effort included more than 100 meet-and-greet events and saw campaign volunteers knocking on nearly 40,000 doors. The mayor-elect also ran television, digital and billboard advertising as well as mailers, radio and texting campaigns, spokesman Joe Hollmann said.
City campaign finance records show Mobolade spent nearly $237,000 in advertising, mailers and marketing efforts from March 27-May 8.
Williams ran a different kind of campaign that included a canvassing effort but was more focused on person-to-person calls, reaching 80,000 phones, his campaign manager Ryan Lynch said. Williams, who served on the Colorado Springs City Council for most of his campaign, also ran mailers, television and digital ads to get voters to the ballot box.
Wayne Williams: what's next after Colorado Springs mayoral defeat?
Campaign finance records during that same period show Williams spent about $196,500 in "media" and mailings.
Mobolade had a broader social media presence, with campaign-related accounts on Facebook, Instagram and Twitter, while Williams' campaign ran only a Facebook account.
"This is public service and it starts with campaigning. It's the longest job interview and you have to prove to the voters why you are the person for the job and that's what we did," Mobolade said Tuesday night after results were first released.
Lynch said Tuesday night that paid ads can work on social media, but outreach and simply posting on social media aren't enough to win an election.
"You're never going to win a campaign on social media, on the organic side. The paid side is an important component of it, but these things are won the traditional way on TV and in mailboxes," Lynch said. "Digital is great as a supplement, but you can't just run a digital-only campaign."
2. Endorsements
Mobolade, who is an unaffiliated voter, also earned key endorsements from stalwart Republicans in the six weeks ahead of Tuesday's nonpartisan runoff, including former El Paso County Sheriff Bill Elder and Sallie Clark, a businesswoman and well-known local politician. Clark was a close third in the mayor's race during the April regular election.
Even with his own endorsements from high-profile conservatives like outgoing Mayor John Suthers, The Gazette's editorial board and groups like the Colorado Springs Police Protective Association and Colorado Springs Professional Firefighters Local 5, Williams faced critics from all sides, including a fractured local Republican Party.
Yemi Mobolade's victory marks seismic shift in Colorado Springs: Analysis
Clark's endorsement was a "huge factor" in Mobolade's win, said Mike Williams (no relation to Wayne Williams), executive director of Citizens Project, a local nonprofit that focuses on civic engagement. 
"If she ... didn't endorse anybody, I think the race could have gone a different way. She and Wayne had a very contentious ad campaign (in the regular election), so there were a lot of people who wouldn't have voted for Wayne if they voted for Sallie," Mike Williams said.
A controversial water rule the City Council approved in January, requiring Colorado Springs Utilities to have 128% of the water needed to serve the city and any future land annexations, sparked a tug-of-war between major developers and dark money donors in this year's races.
Wayne Williams, who was a councilman at the time and supported the rule, earned significant campaign donations from Norwood Development Group, which will benefit heavily from the rule. Other companies that could see their property blocked from coming into the city backed Clark in the regular election.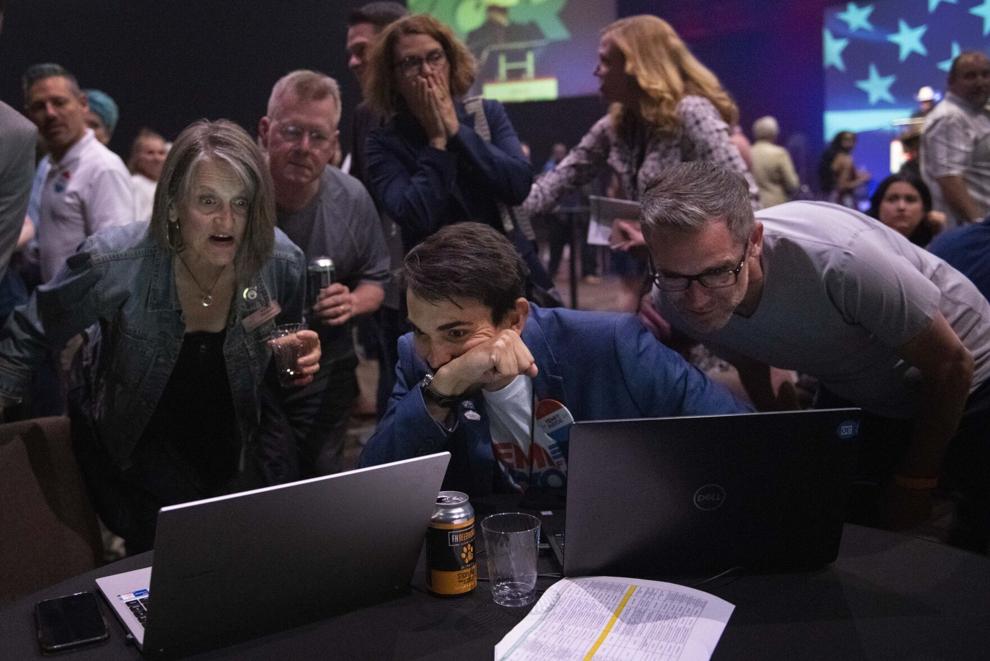 Developers and dark money donors supporting Williams and Clark ran ads attacking their opposing candidate and that helped Mobolade win, Lynch said.
Williams said Wednesday had he not voted in favor of the water rule the runoff election's outcome may have been different.
"But I was elected to do the job — and not to duck issues for personal reasons," he said. "I made the decisions I believed were in the best interests of our city and our citizens, and I would still make those decisions again."
Lynch disagreed that Clark's endorsement of Mobolade was a factor in his win.
"What was a factor was her campaign and her soft side spending of nearly a half-a-million dollars in attack ads against Wayne. That caused us to start the runoff from behind. We were always trailing. We did everything we could to make up the gap and we did move significant numbers, but unfortunately it just wasn't enough," he said.
3. Negative advertising
Mobolade survived negative ads Williams' campaign ran against him in the 42 days between the regular and runoff elections, where Williams posited his opponent as a more left-wing candidate and accused him of supporting socialism.
Lynch said Tuesday night Williams' campaign was forced to run ads against Mobolade, who he believed "failed" to take positions on policy issues during forums.
"We had to take what little we had and run with it," Lynch said.
Professor Josh Dunn, chairman of the political science department at the University of Colorado at Colorado Springs, agreed Williams' campaign "didn't have a choice" but to run ads against Mobolade.
Yemi Mobolade: How Colorado Springs' next mayor plans to address crime
"Without the negative ads, Mobolade still wins. Would the margin have been smaller without them? Maybe, but they could have eroded support for Mobolade too," Dunn said Wednesday. "I just think the fundamentals in the campaign meant that there wasn't much that was going to change the outcome."
Citizens' Project's Mike Williams said he thinks the strategy may have worked against Wayne Williams "a little bit."
"Yemi did a good job, it seemed, over the previous year or so of getting into the community. I think some people took those attack ads personally because they felt like he was someone they related to," he said.
4. Voters' desire for change
A "sense of unease, restlessness or desire for change with the voters" also likely influenced Mobolade's win, Dunn said. Throughout his campaign, Mobolade promised to disrupt the status quo in the mayor's office and said voters were "hungry" for change.
"We actually see something similar in presidential elections," Dunn said, adding that they can be predicted by the so-called "time for change" variable.
"Basically, when the same party has been in office eight to 12 years, the electorate starts to want something different, even if things are generally going well," he said. "... (Wayne) Williams represented the establishment that has been in power at least during Suthers' eight years, but you could probably include (Steve) Bach's term as well," Dunn said.
5. Mobolade's broad crossover appeal
Mobolade also has broad crossover appeal, Dunn and Mike Williams said.
An entrepreneur and Colorado Springs' former Small Business Development administrator, as well as a former ministry leader at First Presbyterian Church of Colorado Springs, Mobolade had close connections to the local business and evangelical communities that worked in his favor, Dunn said.
His charisma and hard work too helped him "overcome concerns about his lack of political experience," Dunn said.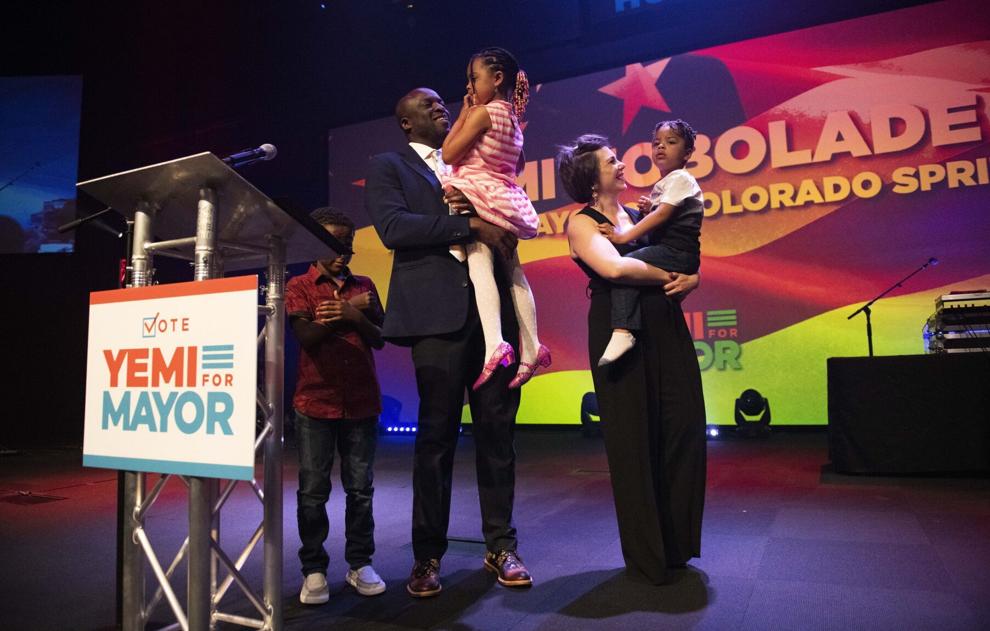 Mike Williams said Mobolade's nonpartisan affiliation also helped him reach voters who may not have otherwise supported him.
"Yemi has been independent. I think in that, he was able to connect with people ... (and) unite more people across a broader spectrum than Wayne was," he said.
Colorado Springs City Clerk Sarah Johnson's office completed ballot counting Wednesday afternoon. After a post-election period allowing for military and overseas ballots to arrive and for voters to cure missing ballot signatures or signature discrepancies through May 24, Johnson's office will certify election results May 26.
Mobolade will take his oath of office June 6. 
The Gazette's Brooke Nevins contributed to this report.