The Colorado Republican Party on Thursday filed a complaint against Gov. Jared Polis, alleging the Democrat violated campaign finance law by enclosing a letter with tax refund checks going in the mail this week to 3.1 million state residents.
Calling the move a "political stunt," state GOP chair Kristi Burton Brown said in a statement that the governor's message describing the checks — $750 for individual taxpayers and $1,500 for joint filers — "is indistinguishable from a campaign mailer" from Polis, who is running for reelection this year.
A spokeswoman for Polis' campaign dismissed the complaint as election year griping and tipped her hat to Republicans for helping spread the word about the refunds.
Taxpayers are getting the checks due to Colorado's Taxpayer's Bill of Rights, a voter-approved state constitutional amendment in place since 1993 that limits government spending, among other provisions.
Typically, when the state takes in more money than allowed under TABOR, like it did during the most recent fiscal year, it's refunded to taxpayers using several methods, including property tax reductions and temporary reductions to the state's income tax rate.
This year, however, bipartisan legislation signed by Polis established an additional, one-time mechanism — dubbed the Colorado CashBack by lawmakers — to deliver a portion of the surplus nearly a year ahead of schedule in the checks going out this month.
According to a fiscal analysis by the state, the early TABOR refund will distribute about $2.7 billion of an anticipated $3.5 billion revenue surplus — by far the largest in state history — with the remainder refunded next year during tax filing season.
Supporters tout the method as a way to get money to Coloradans quickly to help with the high cost of living and send equal amounts to every taxpayer, while critics contend it's a blatant attempt to curry favor with voters, who start returning mail ballots in mid-October.
Burton Brown and other Republicans have been crying foul for months over Polis and Democrats taking credit for the refund program after trying to repeal the TABOR provisions that require the state to refund surplus revenue, including with Proposition CC, a failed 2019 statewide ballot measure.
"Jared Polis is blatantly using taxpayer dollars to help himself get re-elected," Burton Brown said in a statement, noting that Polis and other Democrats now celebrating the program "fought to kill and undermine TABOR, but now they are using its benefits to lie to voters."
What's more, Burton Brown said, the letter Polis is sending along with the checks includes his name three times "yet doesn't mention TABOR once."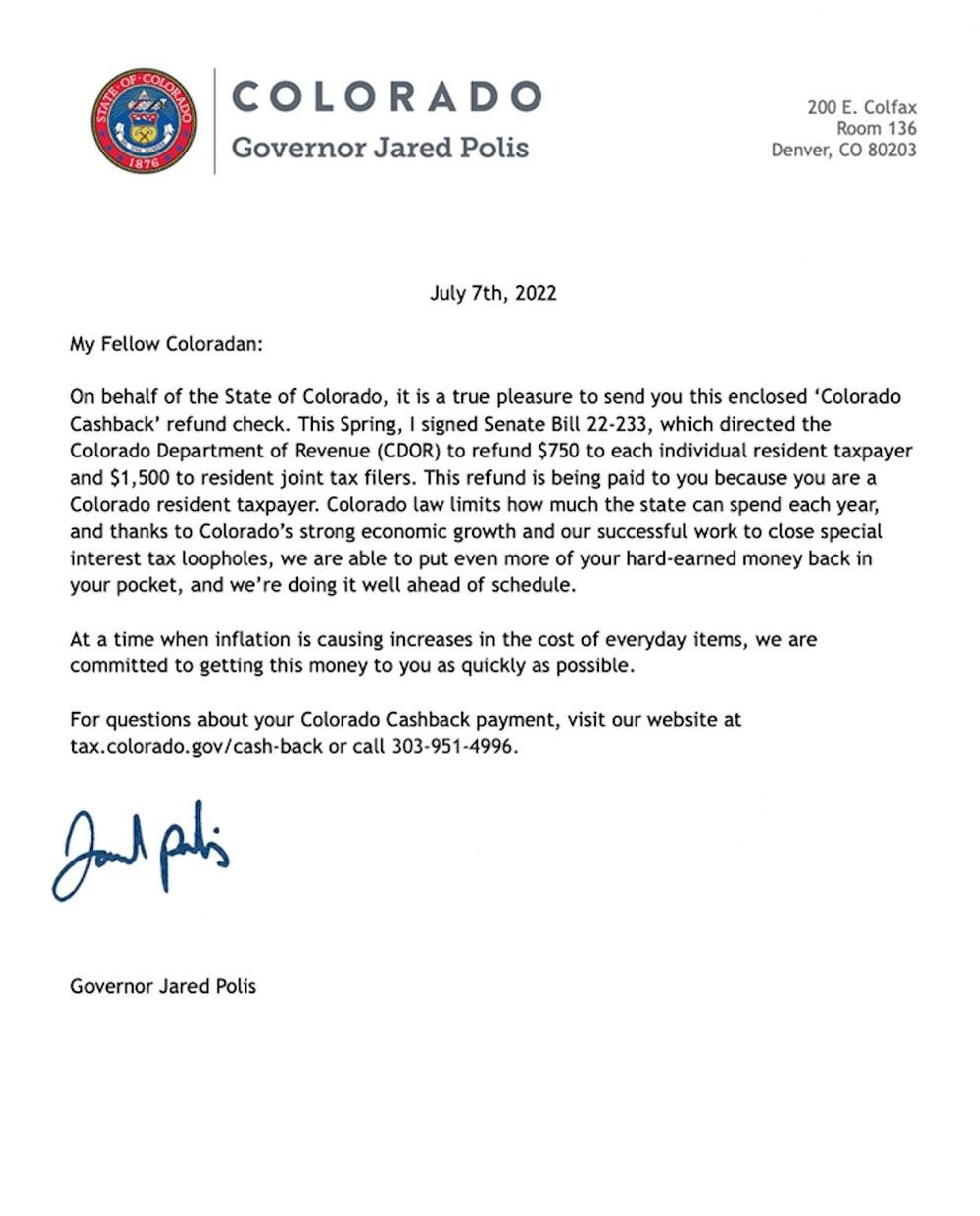 The GOP's complaint, filed with the Colorado Secretary of State's Office, also charges Polis with instead referring to the checks as part of the Colorado CashBack, alleging the phrase was "coined during his campaign for re-election," though the phrase appears to have been first used by legislators when they introduced the bill to authorize the accelerated refund program.
In the signed, three-paragraph letter included with the checks, Polis describes why taxpayers are receiving the refund and includes a link to a state website and a phone number for those with questions about the refunds.
"Colorado law limits how much the state can spend each year, and thanks to Colorado's strong economic growth and our successful work to close special interest tax loopholes, we are able to put even more of your hard-earned money back in your pocket, and we're doing it well ahead of schedule," Polis wrote.
Heidi Ganahl, Polis' Republican challenger, echoed Burton Brown's criticism in a statement released by her campaign, calling on her opponent to report the funds spent on mailing the checks and his letter — estimated by legislative analysts at roughly $2.7 million — "as a campaign expenditure and pay back the people of Colorado."
"This is the height of hypocrisy," Ganahl added. "Just two years ago, Jared Polis tried to kill TABOR. I spent almost a year defending TABOR when I chaired No on Prop CC. As governor, I will be honest and transparent about how my administration spends your money."
Polis' office called the complaint "baseless." 
"It's unfortunate the Republican Party is wasting taxpayer money by filing this baseless complaint," Conor Cahill, a spokesman for the Governor's Office, said in an email. "The governor wants to assure Coloradans he will not allow these baseless attacks from preventing him from faithfully enacting the bipartisan new law that is putting $750 back in the pockets of taxpayers faster."
Amber Miller, the Polis campaign's communications director, compared the governor's communication with the messages former President Donald Trump included with hefty stimulus checks sent out to most Americans during the pandemic.
"Should we expect the Colorado GOP to file a complaint against Trump's letters and checks, too?" Miller wrote in an email to Colorado Politics.
"Let's get real here, this is all just baseless claims from the GOP and their MAGA candidate. Truth is, the more Republicans are talking about the refunds and tax relief that Governor Polis is urgently delivering, the more they help us get the word out."