The Monday before the presidential primary election in March, Jefferson County Clerk and Recorder George Stern saw 0.6% of his jurisdiction's voters had cast ballots in person. That same time this week, the proportion was down to 0.2%.
"We actually tracked this pretty closely, of who these folks are," he said. "We started doing that in March because we purposefully wanted to make some good communications efforts to lower that number."
Statewide, 1,279,267 Coloradans had voted as of June 30 at noon, and only 5,257 of them — just over 0.4% — came in person to do so. This compared to 2.5% in the March election and 1.3% in the 2019 off-year election.
Stern said that beginning in March, county clerks talked weekly, and in some instances, daily, about how to communicate with voters about registering and updating their information online to receive a mail ballot without difficulty.
"Our sense was that most folks who were coming in did need to come in, but they wouldn't have had to come in had they done things earlier," he said. "It's not that they just like coming in."
Several clerks across the state echoed the sentiment that very few people were voting in person amid the COVID-19 pandemic because they preferred it to mail-in voting.
"Most in-person voters are people that didn't receive a ballot because they forgot to update their address and it was then too late to receive a ballot in the mail," said Brenda L. Corbett, the Clear Creek County clerk who had 24 in-person voters and 2,335 mail ballots as of Monday. "A few of our judges like to vote in person because they are here and they think it's such a great system!"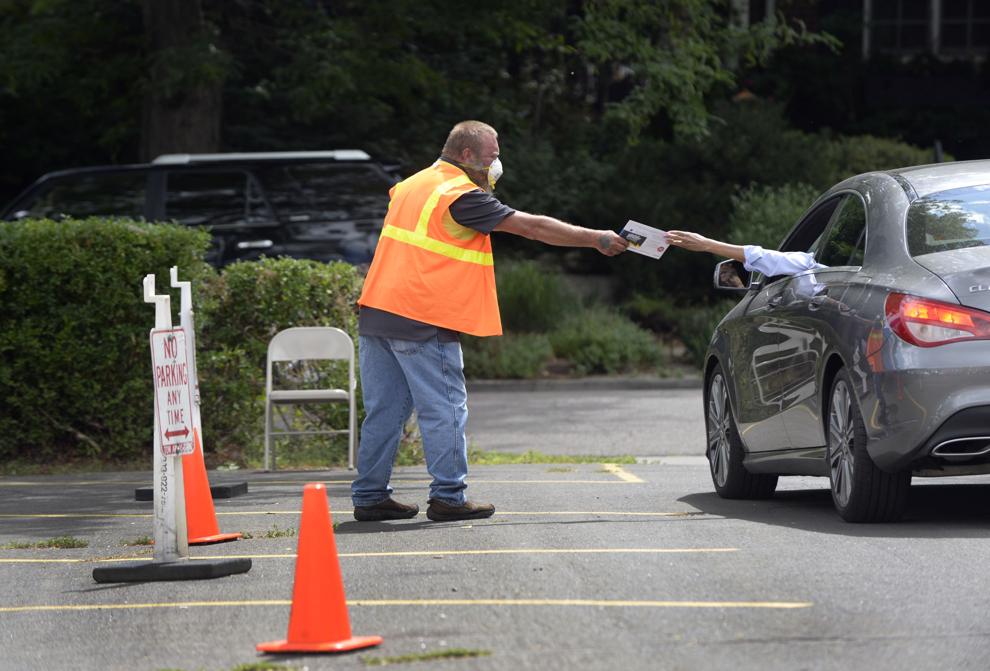 In Denver, a spokesperson for the Elections Division said that by midday on Tuesday, turnout had nearly matched that of the 2018 primary election — but was heavily dependent on ballot drop-offs and curbside pickup, rather than in-person traffic.
Angela Myers, the clerk and recorder for Larimer County, said that needing a replacement ballot or failing to receive one in the mail were the most common reasons for in-person voting. She had 137 in-person ballots cast out of approximately 79,000 by Monday.
"I have done a lot of outreach to the public that 'please, don't come into a vote center unless you absolutely have to'," she said. "I hope [the numbers are] a reflection of the outreach."
Nationally, President Donald Trump has attacked mail balloting in person and on Twitter, writing last week with no evidence that "MILLIONS OF MAIL-IN BALLOTS WILL BE PRINTED BY FOREIGN COUNTRIES, AND OTHERS." 
NPR reports that nearly one-quarter of all ballots in 2018 were cast by mail, and Secretary of State Jena Griswold has come out as a forceful proponent of Colorado's system as a way to prevent infections from COVID-19, which is on the rise in several states.
"We are in a pandemic, and mail ballots & early voting help with social distancing," she wrote on Twitter.
In response to executive orders from the governor, Griswold issued guidance to clerks in May for safeguarding in-person voting. The policies covered the physical locations for voting, protective equipment, required temperature checks for workers and mandatory masks for everyone but voters.
Generally, clerks fully backed the precautions, saying their election judges felt safe with plexiglass barriers, face coverings and repeated wipe-downs of equipment after each use.
"The actions we've taken are not overkill," said Josh Zygielbaum, the Adams County clerk, whose county has the third-highest total of COVID-19 cases after Denver and Arapahoe. "All of us have been impacted by COVID-19 in one way or another. Several people I know have been infected and, although I personally have not lost anyone to the virus, I do know people who sadly have."
Other election officials, particularly in rural, less populated areas, were more restrained in their endorsement of the pandemic measures.
"We are following Secretary of State's precautions," wrote Teri A. Stephenson, the Delta County clerk and recorder, in an email.
Annie Kuntz, the clerk of Washington County, added, "I do what the election rules tell me to do."
She elaborated that "a lot of people in our whole county are not really concerned. They think the mask and plastic shields and all that is overkill. But it is in the election rules, so that's what we have to follow."
As of Monday, when Washington County had experienced a total of 44 COVID-19 cases to date, 14 people had voted in person this election. That group included one of the election administrators, a first-time voter, and someone who came into Akron for license plates, only to learn that the service was unavailable — so he voted instead.
"Because our county is such a big area, a lot of times people get here and they're like, 'Oh, yeah, let me do that while I'm in town'," Kuntz said.
Stern, the Jefferson County clerk, said that none of the physical alterations to election sites came at the expense of county taxpayers. Congress appropriated $400 million for elections safety in the $1.8 trillion CARES Act in March. Although Stern wrote in the Golden Transcript earlier this month that "you can help us reduce the number of voters who need to vote in person to almost zero," he acknowledged that the public's wariness of coronavirus, more so than his communications efforts, could have affected in-person voting.
"We're also helped by the fact that there was an election just four months ago in which people updated their information," he observed. "That probably means there were fewer people this election that need to update their information, so they got the ballot as they were supposed to."
Zygielbaum, the Adams County clerk, and Myers, the Larimer County clerk, said the proximity of the previous election likely was a factor in voters getting and using mail ballots. But moreso, said Myers, "people are pandemic-minded and they are being concerned about when they actually have to go in person to places."
Consequently, much of the day in Larimer County is "hurry up and wait," for the people staffing the in-person voting centers, with Election Day typically being the busiest. However, Myers added, that is the case every year.