On his first visit to Colorado as part of Senator Elizabeth Warren's presidential campaign, former Secretary of Housing and Urban Development Julian Castro challenged her supporters to give every minute of the next 24 days to her campaign.
"We're fighting for a woman who has always been about making sure that everybody can succeed in this country, working families, folks in the middle class and struggling to stay there, people that are poor but want a shot at opportunity," said Castro, who was scheduled for stops in Boulder and Manitou Springs on Friday and Saturday before arriving in Denver. "She's fighting for them and everybody else."
Castro rallied a crowd of about 100 canvassers at the Realm event center in Denver's Clayton neighborhood on Saturday, before he sent them out to knock on doors and talk to voters about their candidate.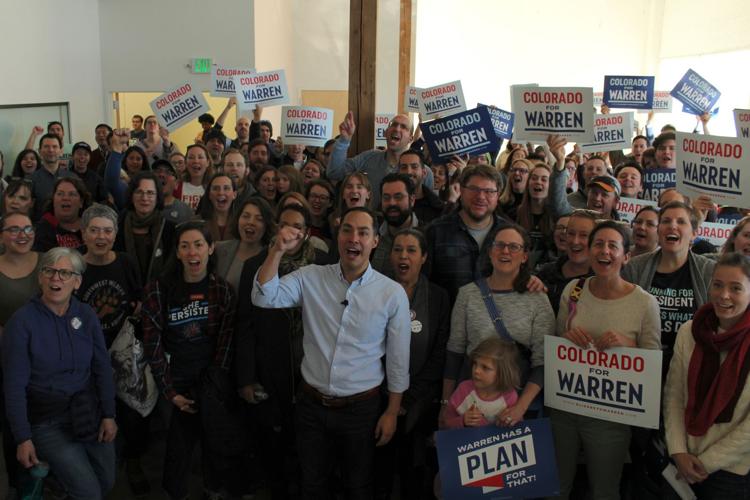 Warren is among 17 Democrats on the ballot in Colorado's first presidential primary since 2000. Front runners include Bernie Sanders and Pete Buttigieg, who finished neck and neck in the Iowa Caucuses, as well as former Vice President Joe Biden and Mike Bloomberg. 
The centennial state joins over a dozen other states and territories holding a presidential primary or caucus on March 3, or Super Tuesday, and more campaigns are showing up in the state as the date approaches.
The Warren campaign has three offices in Colorado and recently added three senior staffers to her Colorado team. Warren is endorsed by state Sens. Julie Gonzales, Kerry Donovan, Faith Winter and Mike Foote, and state Reps. Dominique Jackson and Chris Kennedy.
Colin Mann of Denver, a Warren supporter, believes canvassing is crucial in this crowded contest where many of the Democratic candidates each have "great qualities."
"My wife is for Mayor Pete. I've got some other friends who are for other democrats. Everyone is kinda of somewhat undecided. ... So having a chance to talk with someone about why you support a certain candidate goes a long way."
Ken Long, a Colorado resident for nearly two decades, didn't come to canvass. As an early supporter and contributor to Castro's presidential campaign, he came to hear why Castro supported Warren instead of Sanders. Although not yet decided, Long said his desire for fair taxation, government accountability and civility have him considering Warren.
Castro endorsed Warren on Jan. 6, after dropping out of the presidential race at the start of the year.
"My campaign was about the idea that everyone counts in our country, that we can't leave anybody behind," Castro told Colorado Politics. "And I endorsed Elizabeth Warren because she's carrying on the values that we embraced in the campaign — our vision that says you have a place at the table of our American family."
Rebecca Zimmerman, a graduate student at the University of Denver, believes Warren can bring the nation together and improve the lives of all of its residents.
"She's a policy genius," Zimmerman said. "She carefully thinks through the evidence and efficacy of her policies." 
She's excited to canvass for Warren. 
With the sun shining, the temperature rising and Friday's snow melting, another canvasser noted that there could hardly be a better day for door-to-door campaigning — especially considering ballots will be mailed to Colorado voters starting Monday.
As Castro closed his remarks to the group gathered before him, he made a point to remind volunteers what is at stake.
"On behalf of Senator Warren, on behalf of all of us who want a president that will be a president for everyone, all of us who want a president who will be a president with integrity ... make sure that she goes on and wins Colorado. Our help will propel her to win the democratic nomination. With your help, I know she will beat Donald Trump."